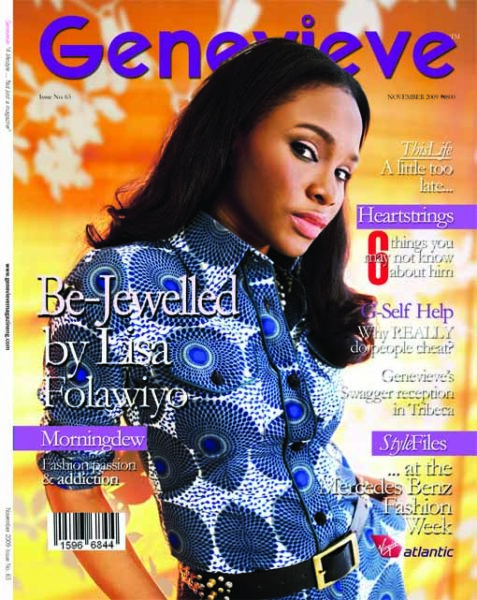 Lisa Folawiyo of Jewel by Lisa appears on the cover of the November 2009 edition of Genevieve Magazine.
In this issue, Lisa gives an in-depth interview and talks about her journey from lawyer/stay at home mum to internationally recognized designer.
This year's November issue is Genevieve Mag's 'Fashion, Passion & Addiction' edition. The 'G Team' chronicles their successful New York visit including meet-ups with the Editor in Chief of Essence Magazine, front row at New York Fashion week and other interesting tidbits.
In other Genevieve Mag news, Saheed Sulaiman has been announced as the new Genevieve Style Editor. From what we hear, he is already doing a fab job.
In Jewel by Lisa news, the brand is expanding! They will be launching a couple of new lines soon: 'Pretty Precious' – a children's line, 'J by Lisa' – a lower priced diffusion line and 'Jewel by Lisa Privé' – Exclusive and luxe line. Jewel by Lisa will remain their flagship brand.
We are especially excited about the diffusion line! Earlier in the year, Tiffany Amber announced their diffusion line, TAN and now J by Lisa is here. We hope other designers do this as well. It will go a long way in progressing the Nigerian fashion industry and making top notch Nigerian fashion brands accessible to a larger audience.
To buy Jewel by Lisa online, visit myasho.com
To subscribe to Genevieve Mag online, visit chicnicityllc.com (they are giving away a JBL dress to one lucky subscriber!)
To buy Nigerian mags including Genevieve Mag internationally, visit naijareads.com
Finally, our fave fashion blog is shopliquorice