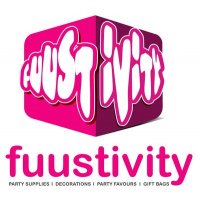 We are basically at the halfway mark of our BN Presents 25 Days of Christmas project.
Thanks so much to everyone who has entered and the fab vendors.
It's the season of celebrations, from Christmas to all the weddings, birthdays etc…
Therefore this is the perfect contest to add a bit more cheer to your season.
Today is all about F.U.U.S.T.I.V.I.T.Y
Throwing a fabulous fest and need fun stuff to add character to the event? Planning a Bridal Shower? Baby Shower? Hen Night? Themed Birthday? Child's Birthday Party? Any kind of party?
From DECORATIONS to FAVORS, GIFT BAGS for children and more, Fuustivity can provide all kinds of PARTY SUPPLIES that will add character and fun to your event.
If you need that extra special something at an affordable price, contact us at Fuustivity and we'll make your fest a fabulous one
Contact Information:
Email: [email protected], [email protected]
Phone: 07034124521
[nggallery id=188]
_________________________________________________________
Today's BN 25 Days of Christmas prize is a special F.U.U.S.T.I.V.I.T.Y goodybag containing candy canes and ornaments for your christmas tree!

Fuustivity Questions
The colour of the Fuustivity logo is?
2 services that Fuustivity offers?
Fuustivity has provided 'themes' for several recent events. Name the theme for one of these events. Clue: 2 of the themes start with H
Steps to Enter
Join Fuustivity on Facebook – Click to Join – FB Fans will be given preference in the event of a tie-breaker
Answer the easy questions
Send entries to [email protected]
Subject Line: Fuustivity
Entries should be received before 11:59PM (Eastern US Time) – Today 13th of December
Good Luck! We can't wait to read your submissions!
Terms & Conditions for Fuustivity
Entries are open to all BN readers but prizes can only be retrieved in Lagos, Nigeria.
Contest is only valid where contest terms do not contravene local laws
Entries should be submitted to [email protected]
Winner will be chosen at random from pool of correct entries
Only winners will be contacted
To promote transparency and fairness, winners names will be published on BellaNaija.com
One prize per person throughout duration of promotion
We will work towards ensuring that you receive your prize expediently.
___________________________________________
Winner!!
Ify Obi
Answers:
1. Colors of fuustivity: pink and white
2. Hen night and themed parties
3. Halloween