We just love 'Our Wedding Story' because it goes beyond the ceremony. We always seek out couples with a unique story to share! We are so happy that Lande and Popoola decided to share their wedding story with us.
Wishing them continued blessings in their marriage.
___________________________________________________________________________________
The Couple
Lande Adeyeri & Popoola Aremu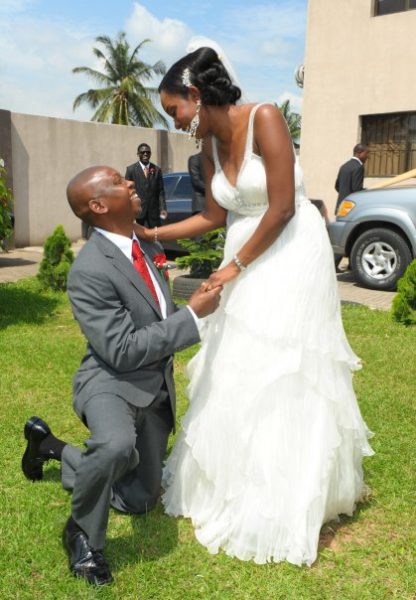 Lande & Popoola's Story as told by the bride, Lande
Our story is not like the regular stories you are used to.
We met in January 2004 through Popoola's sister's friend because he had mentioned to them he was looking for a nice girl to settle with. We had spoken on the phone for a few weeks before we actually met and of course when we did, he said he knew "I Was The One" as soon as he saw me but it took a few more weeks for me though.
Well, he proposed about 6 months after we started dating, a bit fast but I was convinced about him so I happily said yes. I was still in school so we got married at an Illinois City Hall with family and friends and decided to have a wedding ceremony afterwards. So here we are five years later with a 2 yr old in tow having our wedding ceremony as we had planned, thanks to God.
___________________________________________________________________________________
Traditional Engagement
The traditional engagement on September 24th 2009 at beautiful Hillview Estate in Ogudu, Lagos. The bride was beautifully dressed in traditional Yoruba iro and buba with coral bead accessories. The couple shone in ivory and bronze while their friends were vibrantly garbed in green which perfectly complemented the lush outdoor venue of the wedding. Their beautiful daughter also had the pleasure of enjoying the special day with her parents dressed in her colourful dress! It was a festive ceremony as both families celebrated, prayed and ushered the couple into their lives together.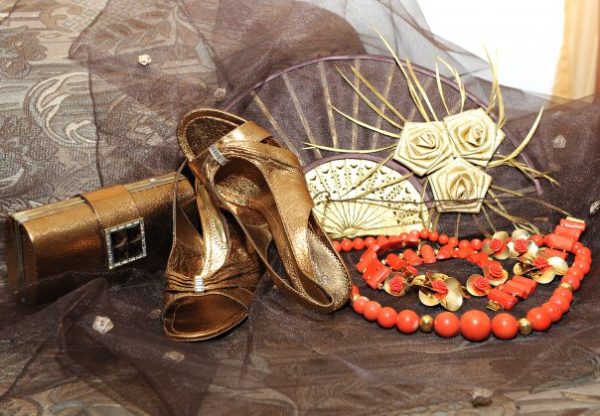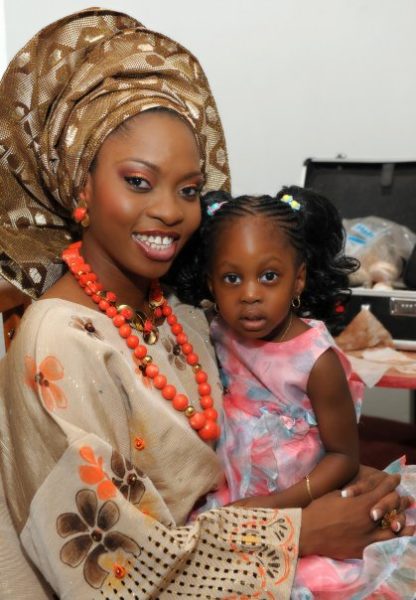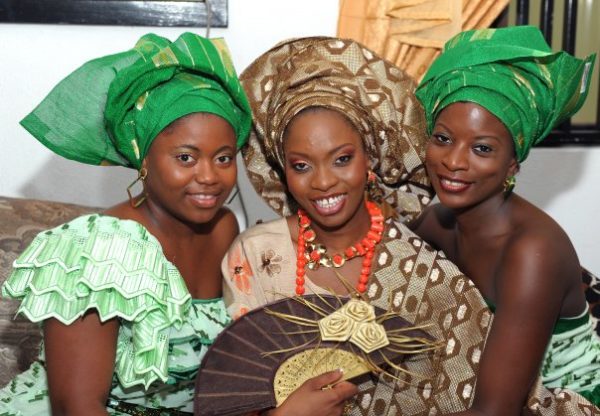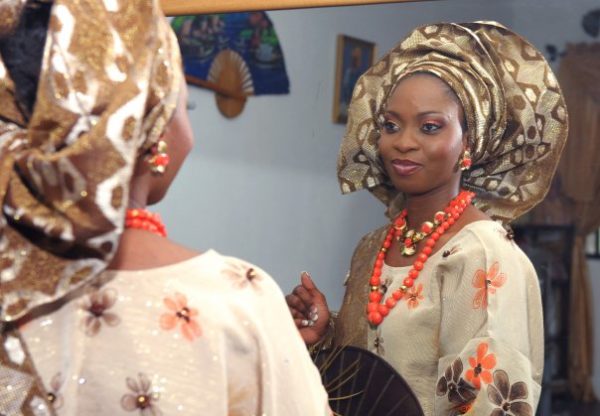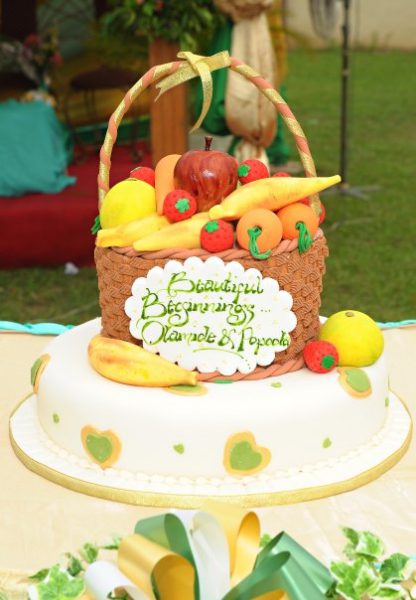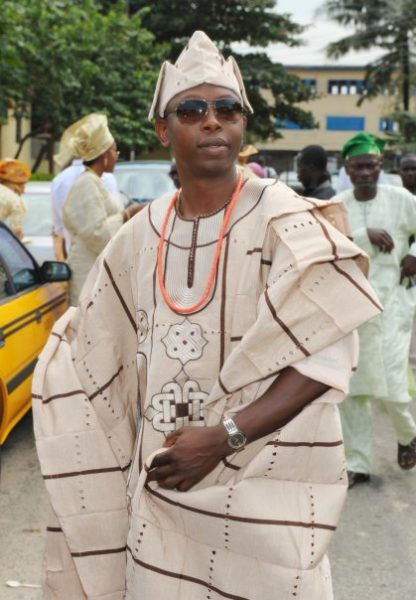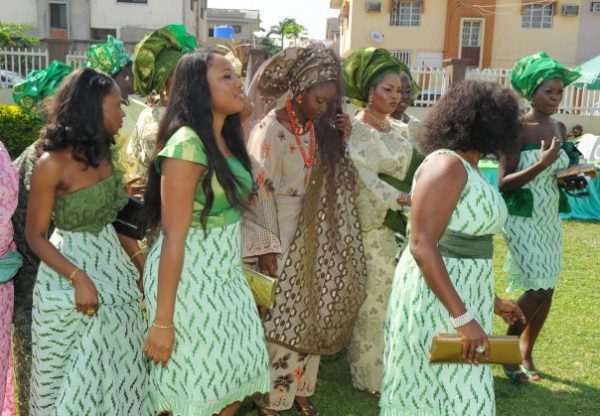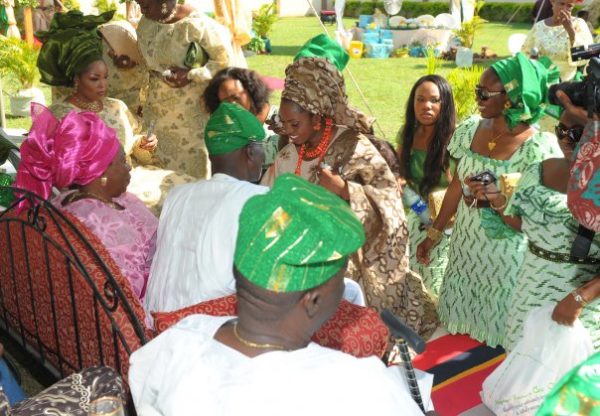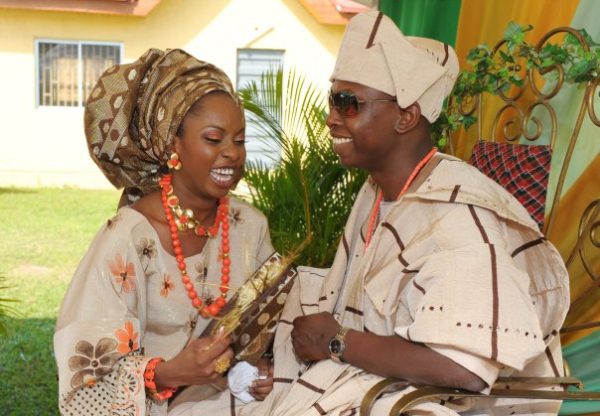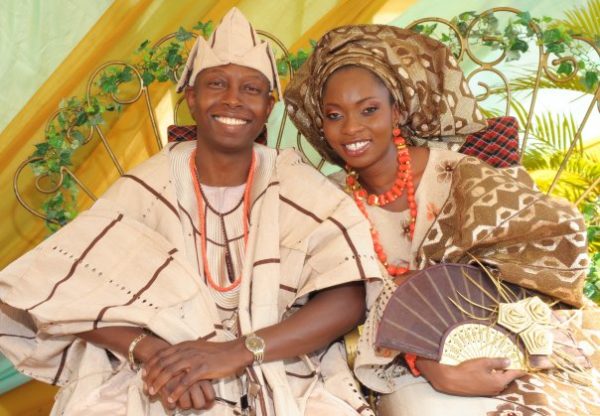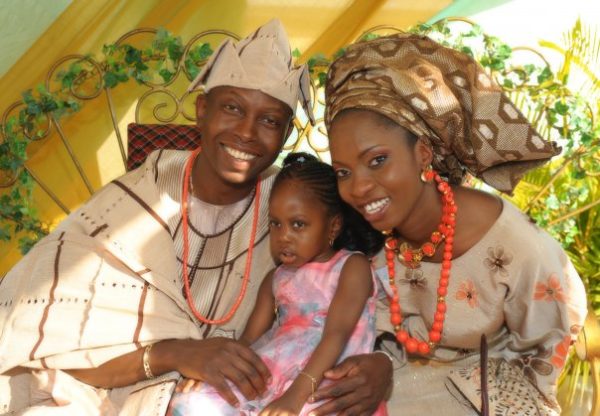 Nikkai & Reception
The Nikkai wedding ceremony was held on September 26th 2009 at Memorable Gathering Hall in Ikeja, Lagos. Red and orange shone all through the venue and ceremony as the flowers, decorations and even the bridesmaids embraced the colours with their dresses.
The bride looked absolutely chic in her layered chiffon wedding dress with intricate crystal embellishments by Manuel Mota for Pronovias. The groom looked great in his grey Ralph Lauren suit paired with a red tie and pocketsquare.
The reception was a fun-filled affair with lots of romantic moments, dancing and well-wishes for the couple!