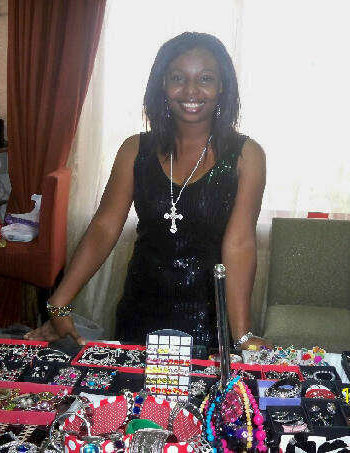 It is the small businesses that make a buoyant economy, and here at BN we make it our responsibility to encourage individuals who have taken the bold step to set up their own businesses.
Chiamaka Iwunze is young and doing something entrepreneurial in fashion. She took her love for jewelry and transformed it into Livinia Accessories. Her passion, persistence and drive in running her accessory retailing company have taken her accessories from the University campus to various  fashion shoots, shows and magazines.
BN chats with Chiamaka on the success of Livinia Accessories.
Bella Naija: Why did you decide to go into accessory retailing?
Chiamaka Iwunze: I decided to go into accessory retailing mainly because I love jewelry. Also, my friends always admired the jewelry I had on so I decided to make some little cash on the side while as a student by selling them. My sister was my rock; she was the one who bought all the lovely jewelry I sold back then.
BN: Did you experience any difficulty in establishing your business and gaining customers?
CI: I started selling accessories about five years ago and that was when I was a student so getting customers wasn't difficult. When I finished school it was a bit more challenging. I took part in photo shoots with fashion magazines such as Genevieve magazine, True Love magazine, Exquisite magazine, Next's Elan magazine, Sideview magazine and a host of others. Livinia was also fashion partners with Zebra Annual Ball, The Future Awards, Celebrity on the Runway and Naija Sings showing on Mnet. All these and God's special grace made establishing and gaining new customers easy and interesting.
BN: How do you generate new customers?
CI: Fashion shoots and shows are one of the ways I use to generate new customers. Apart from that, I try to ensure that my jewelry are unique and affordable because I know word of mouth is still one of the strongest means of advertising. Many of my new customers were generated as a result of a friend or two telling them how good my jewelry were. I also place advertisements in some magazines. Facebook has been a blessing to me because most of my clients who are celebrities were contacted through facebook and appointments were fixed. Lastly, I keep my ears open to news on sales and exhibitions and take part in them e.g. Le Petit Marche
BN: What's the atmosphere like for a young entrepreneur?
CI: Being a young entrepreneur has had many advantages. I have been blessed and I would say many of my clients especially the ones who are fashion designers and celebrities are always impressed and encourage me for my efforts and success. Though, it has not always been smooth. All in all, it's been very fun and full of new experiences.
BN: How is Livinia Accessories run?
CI: I have another full time job as a pharmacist so my business is run to fit into my job as a pharmacist and it is not so tasking because we run shifts so when I am not working in the pharmacy, I am doing Livinia Accessories stuff. Every week, I set goals I want to meet for Livinia Accessories and I try to achieve them. I place my orders for my jewelry, send some jewelry to customers who want to buy either in their offices or homes because I find that many working class ladies don't seem to have enough time to go shopping for their own indulgences, do a few bank checks and keep my books.
BN: What skills are necessary to run a successful accessory retailing company?
CI: I think to run a successful accessory retailing company one needs to be have passion for what one does, be determined and accountable. Determination keeps you grounded and on your toes even when things are tough. One needs to be accountable to yourself, to your company and your customers. Accountability to yourself means being able to separate your personal money from your business money and not mixing them up, accountability to your company in the same sense and treating your company like a separate entity that should be treated specially and accountability to your customers in the sense that they are reason why you are running your company in the first place and earning their trust and respect is paramount. All these skills and are the keys to running a successful accessory retail company. Also, God has been the key to my success.
BN: With clothing retailers keeping up with seasonal trends is very key, is it the same with accessories?
CI: Keeping up with Seasonal trends with jewelry is not as tasking as it is with clothing. Most jewelry are timeless and could come in handy for many seasons. However, I try to watch out for particular accessories which become a popular trend. Like brooches, they were associated with our mums and grandmas for church but now they are back and capturing the hearts of every generation. Generally, many of my clients have their own individual style so I try to meet every client's style demands.
BN: How are you able to deal with the new consumerism patterns with the onset of recession? Or has nothing changed?
CI: Things have not really changed, Nigerian ladies are very fashion conscious and would always try to keep up with trends and look their best in any situation. However, I encourage my clients to buy more jewelry by selling at very affordable prices, offering discounts as well as free gifts for specific purchases. In general, it has been good and hopefully, can only get better.
Livinia Accessories operates a stall at Le Petite Marche (La Saison 42 Raymond Njoku street, Ikoyi Lagos) every last sunday of the month.
Call : 08033856831