Our Wedding Story is Bella Naija's special wedding feature that delves a little bit deeper. Our very special couple is Oyinlola Sawyerr & Tagbo Azubike.
Oyinlola and Tagbo both reside in Lagos, Nigeria where she's a banker and he is a medical doctor.
The couple tied the knot on Monday, December 28th 2009.
This is their wedding story.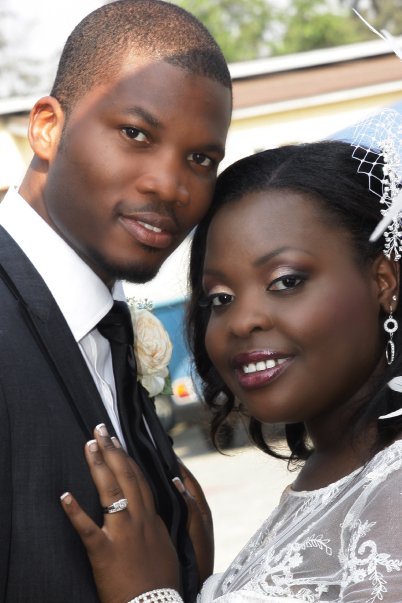 ________________________________________________________________________________________
How They Met:
The Bride, Lola's Version
How do I begin, well for anyone that knows us well you would know that Tagbo and I met as a case of "Mistaken Identity". So you can understand, I have to start my story from the year before I met my boo. In 2001 just before I left Nigeria to university, a family friend had come to my house with a classmate of his from law school, we were introduced and I did not see him after that day (unknown to me this was the beginning of things to come).
Now lets fast forward, in 2002 I had come home for my first Christmas vacation and boy was I excited. On one of my very frequent outings with my best friend, Keji, I had gone to a very sketchy place called Mimi's bar. While sipping on Gordon sparks (which was the IN drink at that time) I notice this tall, light skin guy standing at the bar across the room from me. My mind races and I immediately recognize him as the guy who had come to my house with my family friend in 2001, so with my 'yankee' boldness I walk over and introduced myself and refresh his memory of how he met me. I noticed he had a puzzled look but I still went on blabbing.
When there was nothing else for me to say, he said "lets go outside its noisy in here" hmnnnnnn I think to myself I've just gotten the cutest guy in the room's attention and my confidence level went through the roof (little did I know). So we step out, he looks at me and says "I don't want you to be embarrassed but I don't know you". He then explained that he knew my family friend and I must have met his brother and not him. Boy was I embarrassed. He went on to gist with me and then asked for my number. I started feeling all giddy inside but this was soon interrupted by Keji who came out to say we had to leave to another club. Reluctantly I said my goodbye and he promised to come meet me at the other club.
Getting to the other club I met up with some other friends but I kept looking at my phone waiting for his call and true to his word he called and complained that his friends were wasting his time but he was still coming. He called again and again and kept calling reassuring me that he was still coming. After waiting for about 2 hrs, my friends were ready to leave and I was so sad that I didn't get to see him again. Just as I walked out I saw him coming towards me (I had this unexplainable excitement in me), he held my hand walked me to the car and said goodbye. We spoke and saw a couple of times after that but nothing really kicked off.
We lost touch for a while but in December 2003 as God would have it he saw my sister, collected my number and called me. We kept talking and looked forward to seeing each other in Christmas. I came back home and the moment I set my eyes on him I knew I was in love. We went on a number of dates and got to know each other really well. He met my family and everyone loved him. Shortly before I was to return back to school, he came to take me out and while having a conversation in the car he said "u know my girlfriend is very possessive" I look at him and say "your girlfriend" and he says yes my girlfriend I smiled and in my mind I screamed yesssssssssssss its offfficialllllll..
I returned back to finish my final year in school and it was the longest 8 months of my life. We were determined to make it work and we spoke every single day for 8 months there was no day that passed that I didn't hear his voice. I finally moved back in August 2005 and we have been inseparable since then. My boo boo has been with me through the toughest time in my life (losing my dad) and through the happiest moments. I know in my heart that this is the way my destiny was written.

The Groom, Tagbo's Version
Cliché's are inevitable in describing the first time I saw Lola. It was love at first sight ?…… just joking it didn't happen that way. The real story began in 2002.
It was a boring night in medical school so my boys and I decided to go to a reasonably priced joint on the island. I notice this girl across the room smiling at me & I smiled back…she keeps smiling and now I'm wondering what's going on. She begins to walk in my direction (my heart starts racing and beating fast, but I try to remain cool). She says 'hi' and goes on about how it's been a while since we last saw each other at her house. She asks after a mutual friend (who coincidentally I happen to know). At this point I asked her if we could talk outside because it was way too noisy. We walk outside together and I can't stop thinking about the glint in her eyes. Well, I still had to do the needful, so I go on to explain to her that she had mistaken me for my brother. Oh well the smile still did not fade and we continued our conversation like I had said nothing.
I was in la la land, until her friend came to yank her hand out of mine (how we got to holding hands is still a mystery haha). So she said she had to go and we exchanged numbers. I promised to meet up with her at her next destination. Well I go in to hurry up my boys but contrary to my plans my man of honor Ladi Abudu was in the dancing mood and refused to leave. After hours of persuasion and many phone calls promising to see her soon we eventually left. Headed out to meet her and alas she was on her way home. Saw her on two separate occasions after but just like that we lost touch….
Fast forward to summer of 03.. was in Germany on an exchange program and tried to get in touch with her but I kept getting her voicemail. Unknown to me she was in Greece and also looking for me. In the Christmas of that year I bumped into her sister (Bosi) who I recognized, so I introduced myself and she gave me Lola's details promising to let her know I asked of her. I contacted her and we started talking again over the phone and I looked forward to seeing her again. I got a pleasant surprise that Christmas when she called me saying she was in town for her sister's wedding. Boy was I shocked!!!!!. She came to visit me in school and we hugged for such a loooooonnngg time. I still remember the green t-shirt she wore and her fragrance (Burberry weekend).
I met her entire family that Christmas and my early days with Lola had so many significant moments that it's hard to edit them. But three of such moments that altered the course of our relationship were 1) Meeting with her aunty Iyabo who told me of how welcoming their family was. 2) Walking into her sister's traditional wedding reception and Lola hugging me warmly planting a kiss on my lips right there in front of everyone. I really wished at that moment for the super power of invincibility. I must have turned a flush red. "Lolaaaa". Then of course the last but most important was meeting her dad. It was a hilarious situation because the first time we met and really spoke was when I took Lola and her friend out and saw her dad standing outside the club (lol). I offered to give him a ride home and we had a good laugh all the way home (May his gentle Soul rest in peace. I miss him so much).
We started dating that Christmas and were in a long distance relationship for 8 months. We have been inseparable since she moved back home. Lola, I can never forget the light in your eyes the first time we met. That night at Mimi's bar although a case of mistaken identity will always be one of the most important turning points in my life because I met you. I love you Boo-Boo.
____________________________________________________________________________________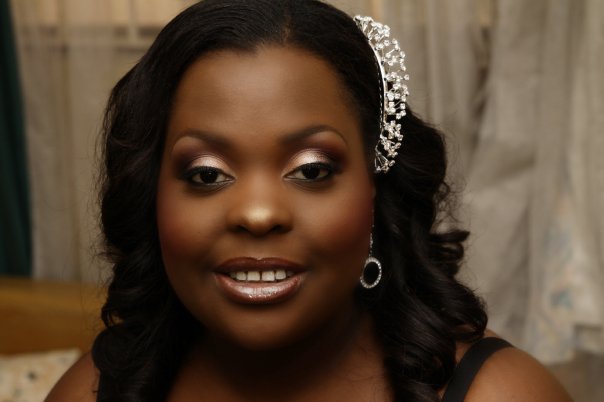 How He Proposed by the Bride, Lola
Well we had always talked about marriage, I mean its only natural after you have dated for almost 4 years. He would always crack jokes of how embarrassed he felt to still call me his girlfriend. So I had always known in my heart that he was the one for me. Well one August evening last year (2008) shortly before I was to travel to start my masters, he had informed me in the morning that he wanted to take me out to the movies and then dinner. He went out and returned in the evening to find me in the same spot on my bed watching TV. Totally frustrated, he asked to me take a bath and get ready. I said okay but after my TV programme. I later informed him that I thought it was too late to be going out and that we should bust the outing. He looked really sad but I didn't think much of it. I apologized saying I was too lazy and comfortable to start getting ready so I continued watching my show.
The next thing I heard was Lola I love you, and of course I replied with I love u too, he then kept talking about how much he loved me and our relationship. For anyone that knows Tagbo you know he loves Lola (lol) so I thought this was just one of his usual emotional moments. I kept nodding my head at everything he was saying but my eyes were glued to the TV. He then proceeded to kneel down, and said "I want to spend the rest of my life with you. Will you marry me?" I glanced at him, smiled and kept watching TV. After a min of silence he says "it's okay if you do not give me an answer now". At this moment everything stops and it hits me. I realized this was the real deal this time and I said of course I'll marry you. In retrospect I probably should have just gotten dressed and gone on that date. But really nothing can be taken away from perfection. The day you formally asked me to be your wife will continue to remain one of the most perfect days of my life.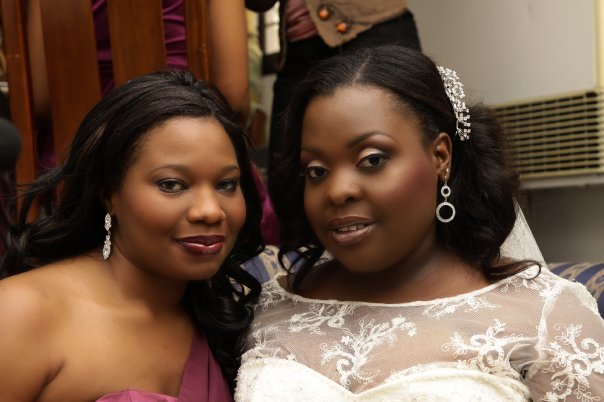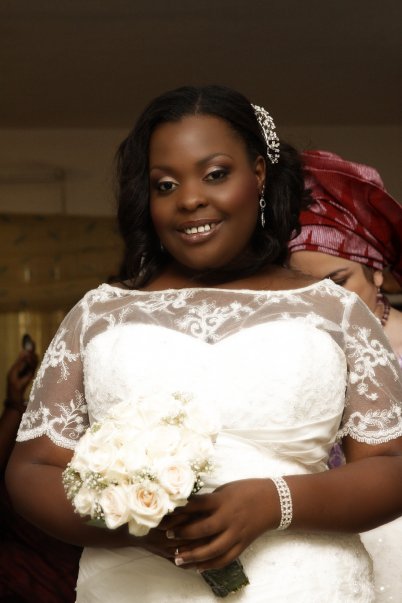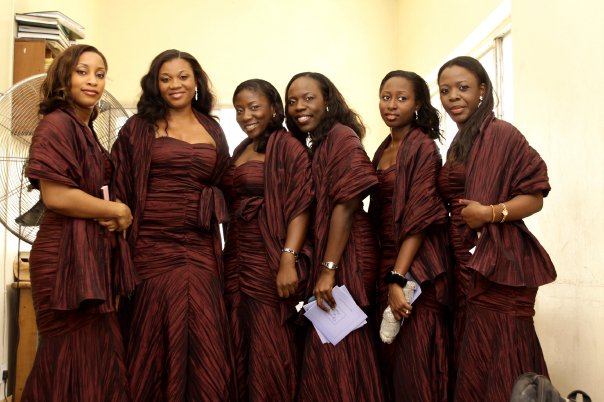 The Wedding:
Date:Monday, December 28th, 2009
Colours: Wine & Lilac
Venue – Church: Ikoyi Baptist Church
Venue – Reception: Airforce Officers' Mess, VI
Wedding theme: The wedding was all about celebrating Lola & Tagbo's romance in classic style!
Wedding dress: Lola looked stunning in her white strapless gown. The dress was truly showstopping with its sweetheart neckline, a crystal beaded lace overlay, asymmetrical draping and corset tie-back paired with a classic chapel length train edged with a scalloped lace. It was the perfect gown for the beautiful bride on her special day.
Grooms outfit: Tagbo was a handsome groom in his grey tonic slim fitted one button suit, with two tone black and grey tie.
Bridesmaid dresses:
Maid of Honor & Chief Bridesmaid – Bell chiffon/charmuese, One shoulder with train and pin detail at shoulder. (Rasberry & Berry)
Bridesmaids- Black/Red Strapless, sweetheart bodice with sash at waist, mermaid skirt with matching shawl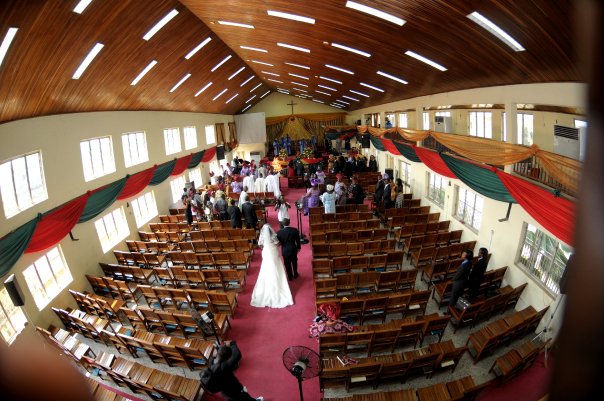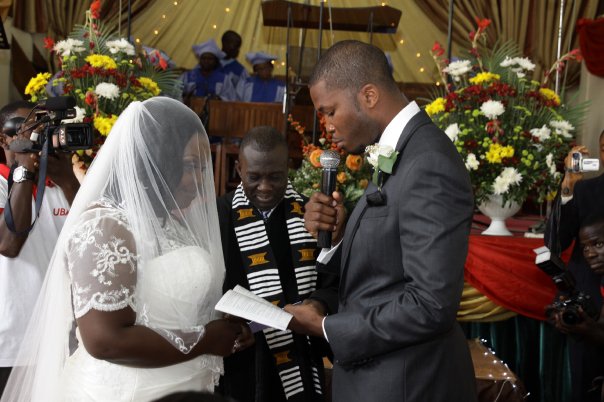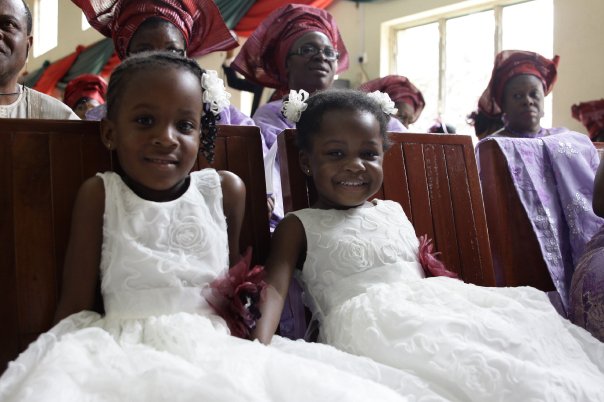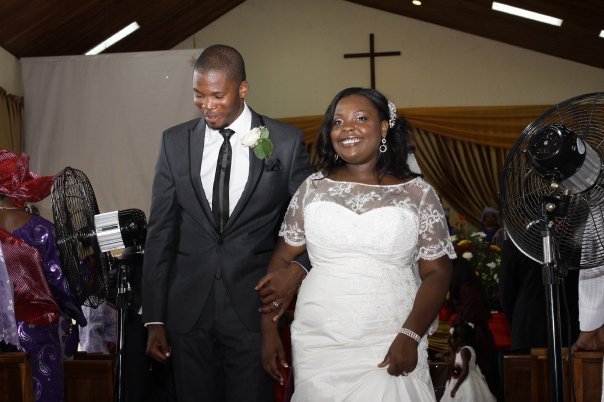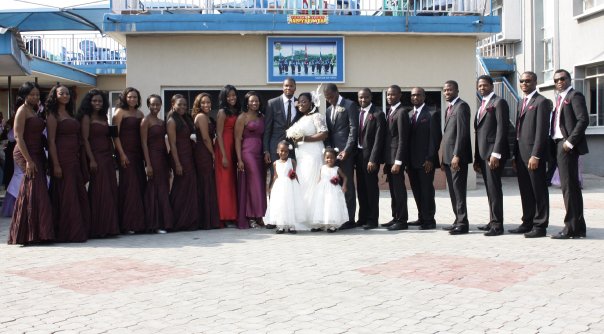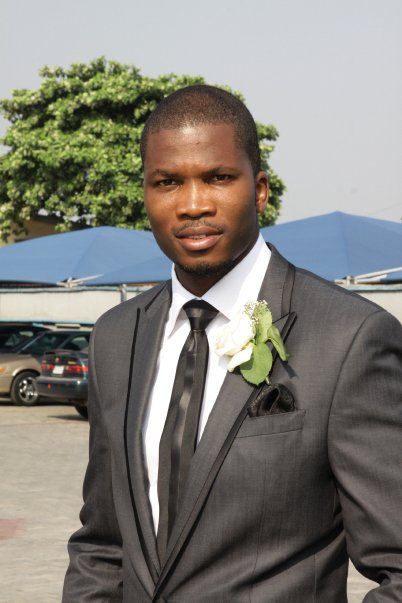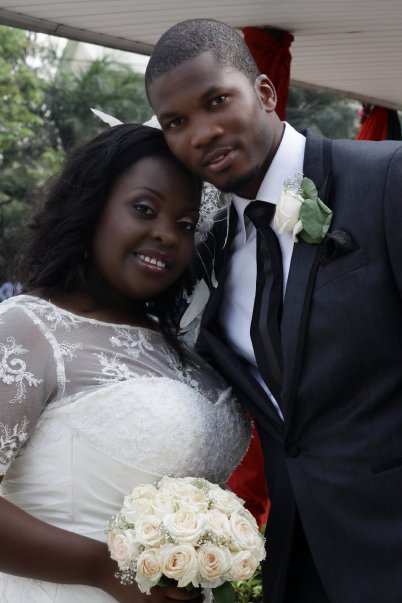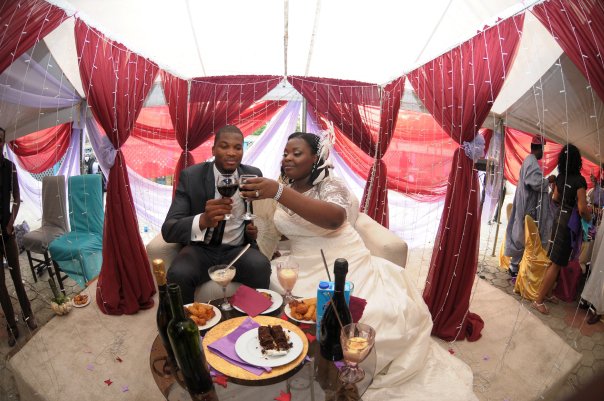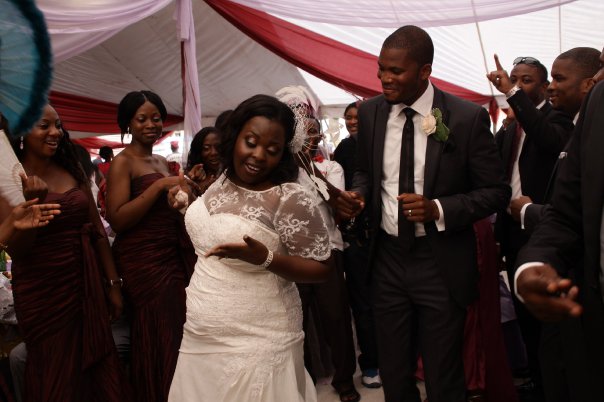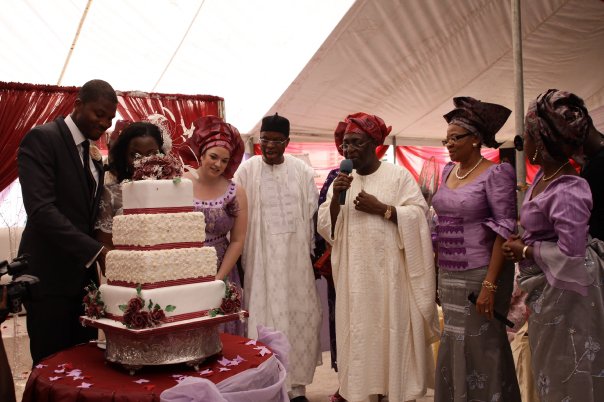 Traditional Engagement/Wedding
Traditional/ Engagement – Sunday, December 27th, 2009
Colours: Turquoise & Silver
The traditional wedding was a wonderful mix of two cultures. Lola started the day in her powder pink iro and buba with matching pink gele while Tagbo was dressed in white agbada. After the ceremony, both Tagbo and Lola was transformed once again as they emerged as husband and wife.