Here's something that ought to get you excited!
There are some women of African heritage that have been killing it on the international red carpet and we've decided to do a special 'mini-series' on them.
We will be featuring 4 international style queens of African heritage once a week over a month long run. We kick off our run with London 'It girl', Tolula Adeyemi.
Tolula Adeyemi is a Nigerian-born model, DJ and budding actress; with her debut performance as a jazz singer in Dustin Hoffman's movie; Last Chance Harvey (2008). She also owns La Taetra, a theatre company.
Discovered at the age of seventeen at high street store Topshop she has captured the attention of the media and the fashion industry with her successes as Vivienne Westwood's muse (she appears in the acclaimed designers 2008 Gold label Ad campaign), being the current face of British luxury sports/active wear label Hari and editorials in Vanity Fair, British Vogue, Hello and various other magazines.
Tolula is one of the darlings of Britain's fashion scene. Her quirky yet glamorous style has made her a favourite on the red carpet. She often describes her style as 'a mixture of masculine and feminine shapes, lines and structures' and regards actresses; Josephine Baker, Jean Seberg and photographer Lee Miller as the inspiration behind her stylish looks.
Tolula successfully pulls off a unique looks effortlessly. Her style is retro glam, fun and flirty. She moves beyond style boundaries, and takes risks which make her style distinctive and interesting to follow.
Take a look at some of her best ensembles below:
Tolula combines two metallics and looks flirty in this futuristic mini dress.
I love the textures in this outfit. There's a lot going on, but she manages to put it all in balance.
I really love this look; casual yet dressy. she epitomizes tomboy chic here!
Tolula opts for a simple dress which graciously skims through her delicate curves.
This is a dramatic piece, she manages to pull it off without the dress seeming like its engulfing her petite frame.
This Dolce and Gabbana dress is a very sexy choice for her as it does wonders to her curves.
Tolula seems to have a thing for Manjit Deu, the pieces are quirky and suit her personality. She stands out in this piece at the British Fashion Awards.
What we see here is a monochrome ensemble exuding what Tolula will call 'Drama Queen'.  It's the Elle Style Awards, she definitely puts her best foot forward!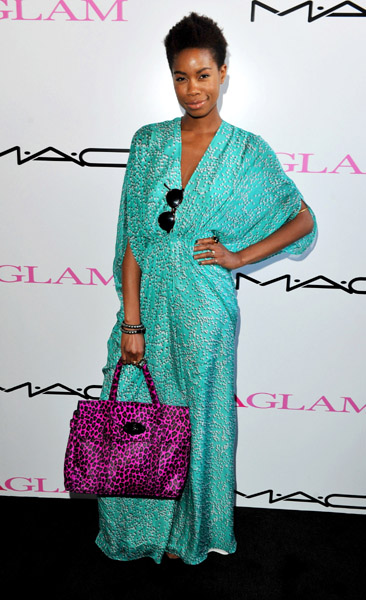 This is a very nice look…the colours, the fusion of the prints, it's effortless, it's chic!
She opts for a simple silhouette but spices things up with her accessories and leopard print shoes.
Taking a risk, she combines a busy print dress and a bold oversized clutch.
Credits: WireImage, Vogue, Gettyimages, Life