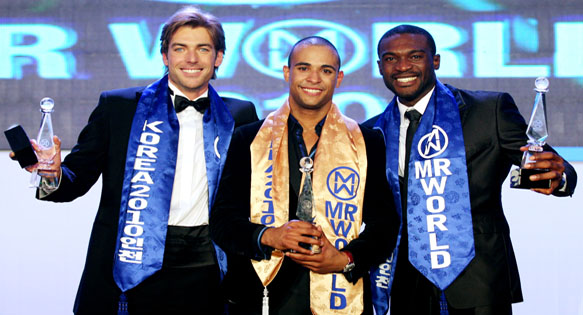 Over the past weekend, Nigeria's representative at the Mr. World competition Kenneth Obinna Okolie took the 2nd runner-up position. Kenneth is a 25 year old graduate of Valley View University, Accra, Ghana. He won the recent Mr. Nigeria competition which was organized by the Silverbird Entertainment Group and earned the right to represent Nigeria at the Mr. World competition which was held in Korea. Coincidentally, the winner of the competition is also of Nigerian heritage, Kamal Ibrahim who represented Ireland has a Nigerian father and an Irish Mother. Congrats to both men!
So according to Mr. World, Nigerian men are hotties…
BN had a brief chat with Kenneth before he left Nigeria for Korea and here is what he had to say
Why did you enter the Mr. Nigeria Contest?
I was interested in the platform that being Mr Nigeria represents. For one, being an ambassador to my country, as well as a role model. I also hoped that the exposure would open doors for me through networking opportunities for my future goals and aspirations. I also admire the organizers, Silverbird and am inspired by the way they support young people in reaching greater heights. They basically make something out of nothing…like finding diamonds in the rough and bringing them to the limelight to be valued and valuable. Not many outfits are like that.
Before you entered the Mr. Nigeria competition, were you in the modelling industry?
Yes, I got into the modeling industry because it looked like so much fun and I had a lot of free time while in school so I had to indulge myself in something lucrative that would allow me express my flare for being trendy and fashionable.
How did you feel when you won the Mr. Nigeria contest?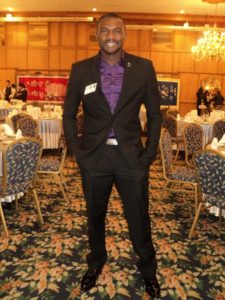 I was very excited and elated at the opportunity presented. Entering the contest I was quite confident but on getting to camp I met 9 other young men like myself who were also as confident and could have easily won the title. I was never intimidated because I knew that I stood out and was one of the top three to beat. Now here I am. Overwhelmed not just by family and friends but the expectation of the entire nation. I have to say that this could not be possible without divine intervention and I thank God for that.
The previous Mr Nigeria has been very successful, what is your plan for success?
Brian Okwara did very well with the platform and I hope to achieve more than that by not just using it for my own benefit but also to use it to create awareness about issues that I am passionate about and also inspiring the youth, particularly young boys who don't have very many wholesome role models they can relate to in the entertainment and glamour industry.
Any other interesting information?
I am a bonafide Momma's boy, and I have two little brothers (10 and 9) and a lovely sister (24)
**Update**
How do you feel being the 3rd most desirable man in the World?
I feel blessed!
Hobbies: Dancing, Swimming, Volleyball
Favorite Food: Rice and Stew, Oha or Bitter Leaf Soup with Pounded Yam
Favorite Designers: David Wej, Modella, Guess, Rock and Republic, River Island
Favorite Actor: Will Smith
Role Model: My FATHER
[nggallery id=214]