It's so amazing how each wedding is truly special and unique in its own way. From the couple's love story to the interpretation of their wedding vision on their special day. Marriage is such a beautiful and blessed institution.
Our Wedding Story is our treasured wedding feature on BN. Today, we feature the spectacular wedding of Rola Maurice-Diya & Yemi Adeboyejo. The beautiful couple wed on the 10th of April 2010 in Washington DC, USA.
We love Rola & Yemi's story! It shows us that fate is very real, if God says the love is meant to be…it will be!

___________________________________________________________________________________________
How Rola & Yemi Met
By Rola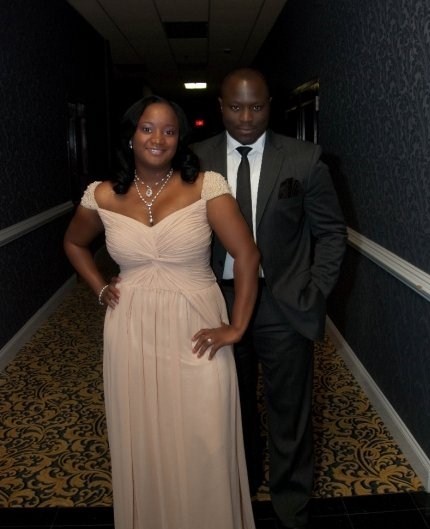 It was your typical Saturday night in a typical college town. Frat parties, sorority parties, reggae parties, Naija parties. On this particular night, I was having none of it. I had planned a nice quiet evening in; TV, food, phone, bed. My friend on the other hand had no such plans. She was hosting a friend of hers from her old school who had come into town for a conference and would be showing him the sights and sounds of the Eastern Shore. Would I like to meet him, she wanted to know. I, assuming she wanted me to meet and approve of the guy she was interested in, reluctantly agreed.
He was cute. He was interesting. He was funny. We talked extensively about my addiction to gadgets, particularly phones. It was fun but it violated every single Article in the Single-Girl-Code to go after the guy your friend is interested in, so when he asked for my number that night, I politely declined. As life would have it, by the time I realized that there was no interest there whatsoever and they were in fact more like brother and sister, I did not see him again for months.
When we finally ran into each other again back home over the summer it was at one of those great, summer, Maryland barbeques that everyone shows up to. Pretty much, after that cookout, I knew there was something special there, I was giddy just talking to him BUT somehow when the topic of exchanging numbers came up again.
I refused. I remember leaving the cookout thinking I had clearly lost my mind and my last chance with him.
Fate played a very strong hand when he randomly showed up at my doorstep a week later with a mutual friend who he was giving a ride to, he was supposed to drop us off at the mall but he ended up offering to stay with us and drop us back home. The strongest memory I have from that evening was just how comfortable I was, how perfectly at-ease and completely myself I was with him. This time, he left with the digits. I was sold. Totally, utterly, unequivocally sold.
Life was to get in the way again because while everyone else was chilling at home that summer, I had foolishly opted to go back to summer school. All I can say is I got to know the insides of a Greyhound bus really, really well because I ended up coming home almost every weekend to spend time with him. He could probably drive the route from Silver Spring to Eastern Shore blind-folded now for how many weekends he made that six-hour round trip.
It was rough, but I would not trade that experience for the world. For one thing, he actually made living in Eastern Shore bearable. And for another, the weekends were absolutely priceless.
He was not your typical guy. I mean, he cooked a three-course meal for me the first time we hung out, for goodness sake! Our first formal date was just as special – dinner reservations, fancy restaurant, dressed up nice. He did it as a first date should be done! Attentive to detail, thoughtful, sincere.
After a whole summer of hanging out he asked me to be his girlfriend. I had never been formally asked by a guy the way he did. It felt more like a marriage proposal, but that is how I knew he was not just any other guy and this was not just any other relationship. Because some things must stay sacred, I will spare you all the details, but he promised simply to never break my heart. Honestly, what more can you ask for?

By Yemi
It was Saturday, February 19th 2005, and I was attending a conference held by Alpha Phi Alpha Fraternity Inc., at University of Maryland – Eastern Shore.
That evening after the conference, I met up with an old college friend of mine to hang out and catch up on old times. During the course of the evening, some of her friends joined us; and she introduced me to all of them. I was instantly in my element surrounded by all these babes…lol.We all ended up spending the rest of the evening together laughing and just enjoying each other`s company.
Interestingly enough, throughout that evening, I paid a lot more attention to one of her friends in particular – Motunrola. Even though she was the youngest person in the room, there was a mature, classy, and loving demeanor about her that had me at hello.
The babe was fine, and I remember trying all night to get her attention, but she was not even checking for me at all. I tried making fun of her name to break the ice by calling her Motorola. That didn''t work because she just gave me a blank stare. I even took a picture of her (stalker-ish) in an effort to strike up a conversation, but she was so not in the mood for any of my charm (in my mind). But being the persistent guy that I am, I didn''t give up just because she obviously wasn''t interested.
I finally found a way of getting her attention when she pulled out her then new phone – Motorola Razor to take a call; and as soon as she finished the call, I immediately struck up a conversation about phones. Anyone that knows Rola, knows that the babe`s phone game is on point!
So we had our own side convo about phones for a good 30minutes. Although, I had no clue about most of the phones she mentioned, but I faked the funk. But just when we seemed to be building a rapport, she had to leave all of a sudden. Her uncle had come to visit her. I then thought to myself, now is the time Yemi. Go for broke. So I proceeded to ask her for her number and she said, thanks but no thank you. Ouch!!
Anyways, she left and I thought I probably wasn''t going to see her again. I felt like a genuine opportunity was missed. I thought wrong.
It's June 2005, and I''m at a cookout with some friends. Guess who I run into? I immediately walked over to strike up a conversation. Which was easy because she already had a new phone (that babe does not play). We hung out and talked all afternoon. Once it was time for her to leave, I asked for her number again, a request she politely declined for the second time. I was very disappointed because I felt I had won her over this time with my boundless wit and charm (once again, in my mind). Nevertheless, I didn't give up my pursuit.
A couple of days later, a friend had asked me to give her a ride to another friend`s house in Bowie, MD which I grudgingly obliged. We arrived at the house in Bowie, and guess who opened the door?
She smiled, and said `hi Yemi`. Can you imagine? She actually remembered my name.I knew at that moment that I was going to do everything I needed to get this babe`s number.
Even though I was just supposed to drop off my friend at Rola`s place, I included myself in the rest of their afternoon plans just so I could spend more time with her.I ended up driving them all over the place that afternoon and noticed that she dropped her guard a little as the day went by. That afternoon. I got the number… touchdown!!!
After that day, we started hanging out together and talking on the phone more and more.We ended up spending almost the entire summer together, and we quickly grew very fond of each other. I then asked her to be my girlfriend (very corny I know) but in true Rola style, she made me wait for a while before she agreed.
The rest, as they say, is history.
He's The One
by Rola
Fast-forward four years and with the lessons learned from the realities of relationships having made us stronger, the subject of marriage had come up several times; what we wanted, when we would each be ready, the works.
Knowing how much I hate public surprises, we even talked about the proposal.Sometime after this, he went to Nigeria for Christmas. He spent some time with my family, which pleased me to no end as it had always been important to me that the man that I married would love and be loved by my very close-knit family.
I learned later that during that trip, he had asked my parents for my hand in marriage. Thoughtful, classy, old-fashioned, Yemi.
Not long after, I got the proposal of my dreams, the ring of my dreams and the man of my dreams.
And to that man, I say this. I have not a doubt that when God created you, he had me in my mind. You are my soulmate, my best friend. Everyone dreams of what their partner will be like but you are more of a gift to me than what I could ever have dreamed for myself. You are the one person who shares my deepest thoughts, loves me in spite of them, lifts me up when am down and always stands by me at all times. You are my problem-solver and there has never been a burden that you have not rushed to lift off my shoulders.
I love that you are so smart; you are my dictionary, my thesaurus, my historian, my librarian. I love that you complete me; you are bold where I am shy, you are silly where I am serious, you are frugal where I am…not so frugal. I love that God spoke to me directly and unmistakably about you and about my future with you.
I am so excited that I have found the one my heart loves. I cannot wait to wake up next to you every day. I cannot wait to grow old with you.
She's The One
by Yemi
Skipping through time, it's now late 2008. We had spent almost 3.5 years going through the roller-coaster ride of being in a relationship but as the saying goes, sometimes, being in a relationship can feel like being on a roller coaster ride; but the Love in it is what makes the ride worthwhile. I am so grateful to the almighty God that the Love never faded, and I''ve had Motunrola by my side this whole time.
I was now beginning to get that itch to get hitched. No one can tell you when you're ready as a man. You just know!
As the Bible says, he who finds a wife finds a good thing and obtains favor from the Lord. I was certain I had a very good thing. Here I was lucky enough to be with a woman that I love more than anything in the world. A woman that loves, respects, and accepts me despite my flaws (and trust me, I`ve got some flaws). A woman that has matured right before my eyes and blossomed into a very beautiful, intelligent, caring, selfless, and kind person.
A woman that I definitely want to be the mother of my children and want to spend the rest of my life with. I knew I had found my life partner, my best friend, my lover, MY WIFE! And I knew God had blessed me for putting her in my life. I prayed intensely for God to confirm the feelings I was having and he did so in such a unique way. Only things left were to ask her father and then ask her.
So I flew to Nigeria to have a face-to-face with her dad.
Speaking with her dad was surprisingly smooth. I had imagined he would give me a really tough time being she is his only daughter and all. Instead, he gave me his blessings and prayed for us. I bought a ring and planned a very private but yet romantic proposal; and this time, she said yes right away. Of course she was totally surprised and cried like a baby.
I am now certain, more than ever, that I have made a Godly choice; and I know God is behind us 100 percent.
He`s been with us throughout the 5 year journey we've been on so far, and I know he`ll continue to be with us in Jesus Name. Amen.
___________________________________________________________________________________________
The Wedding
Date: 10th April 2010
Venues:
Wedding Ceremony – RCCG Victory Temple, Bowie, Maryland.
Reception Cocktail & Dinner – Andrew W. Mellon Auditorium, Washington, DC.
Colours: Coral and Grey
Photography: Kirth Bobb
Wedding Website: www.rolawedsyemi.com – Site Design by Kirth Bobb
Truly elegant and romantic – those words can be used to describe Rola & Yemi's spectacular wedding. As the bride, Rola walked down the aisle with her father, she simply glowed in her strapless white lace trumpet style wedding dress paired with a classic mantilla veil and beautiful diamond accessories. She walked towards her groom, Yemi who was handsome in his classic black tuxedo and eagerly awaiting the moment when the love of his life, Rola would be pronounced as his wife. The church blessing was inspiring and emotional as Rola & Yemi were joined as husband and wife.
After the church ceremony, the wedding proceeded to the reception which was held at the Andrew W. Mellon Auditorium. The bridal party vibrantly entered the venue – the bridesmaids were in long coral and grey gowns while groomsmen were in grey suits with coral paisley ties. They danced in and got 'the party started' ahead of Rola & Yemi who danced into the reception venue in grand style to applause, joyous cheers and music.
It was an absolutely fun day as Rola & Yemi enjoyed all the wedding activities including their first dance, the tossing of the bouquet, garter toss and of course, cutting of their wedding cake.
The night ended with a rocking party with an exciting mix of Nigerian and international sounds. A fabulously joyous wedding for a truly special couple!
BN wishes Rola & Yemi a blessed and happy marriage filled with joy, love and God's blessings.