It just keeps getting better! A few months ago, BellaNaija.com broke the news that Genevieve Nnaji had been chosen as the face of MakeUp Designory – MUD Cosmetics in Nigeria. Now, we are excited to bring you exclusive photos and video from the MUD Cosmetics campaign featuring Gene. Genevieve flew out to Los Angeles with the MUD Nigeria team for the advertising campaign photoshoot. The plan was to capture images that would represent the essence of the MUD Nigeria Campaign – fresh and innovative! The shoot was styled by celebrity stylist, Mr. Bradshaw and shot by renowned photographer, Deverill Weekes who has shot images featuring Beyonce and other superstars.
According to co-Managing Directors of Bellezza Cosmetics and Spa (the official franchise owners and distributors of MUD in Nigeria), Chinny Onwugbenu and Onyinye Onwugbenu "It was a collaborative effort between ourselves and our parent company in LA to pull off the shoot. From coming up with the concepts to actual execution of the shots, it was a great experience, and a lot of fun for all involved! And Genny is such a trooper. She allowed herself to be totally covered up in real mud for so many hours, but still managed to take amazing shots and looked fierce while doing it."
We love the glam shot of Gene in the colourful dress with the statement necklace (made up of MUD eyeshadow pots!), however. there is an earthy quality of the final photo of her covered in MUD. It really lets her natural beauty glow which is what MUD is all about.
You can also visit the official MUD Blog to read more about the collaboration and see another shot from the campaign – CLICK.
MUD will be rolling out a number of exciting products, promotional and training events in Nigeria over the next few months. Stay tuned to BN for more exclusive information and photos.
Visit mudnigeria.com for all MUD related news and events.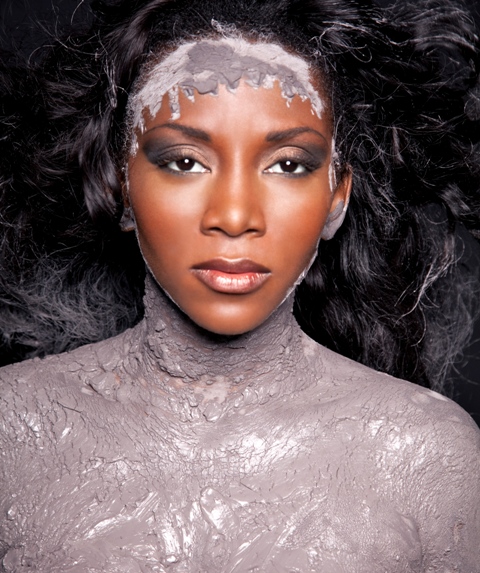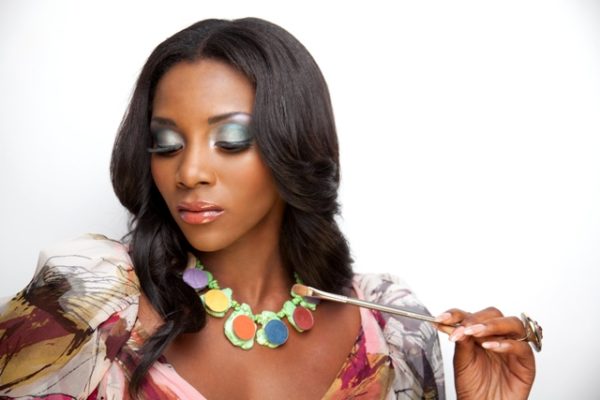 Exclusive – Official Behind the Scenes Video for Genevieve Nnaji's MUD Cosmetics Campaign Shoot