T.W.O: Dynamic Duo. Love Unending. Legitimate Music.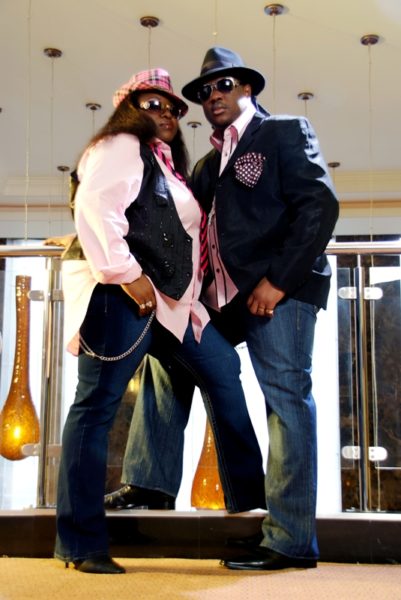 The Charly Boy Show was an integral part of the Saturday ritual for those who grew up in Nigeria, in the early 90s. The show was popular for segments like 'Joker,' 'This is Not the News,' 'Madam Zizi,' as well as the highlight of the show 'Candid Camera'. It  was the crux of Saturday afternoons back then (If you didn't have cable, there wasn't much to watch on TV).
Specifically, Wunmi  made spoofs as Miss Snowbottom and Tunde was a regular with the Joker segment.  In 1998, it became common knowledge that Tunde and Wunmi had gotten married. It was no surprise seeing as their chemistry on-screen was scorching to say the least. What most people do not know however, is that they'd met years earlier  while they both were students of the University of Lagos .
They were members of the on-campus music band, Turning Point. The story began with Tunde's initial indifference to her presence, then the gradual warming up,  the eventual friendship and the (still) blossoming romance. The relationship which has spanned over 20 years has given birth to a happy relationship with lots of good and wholesome music. With their exploits on TV behind them, they delved solely into music – the reason they'd met in the first place. Their brand of music  is lighthearted, high spirited and fun. Over the years they've added great songs like Mogbomoya, Zombie as well as Like a Fool in their kitty.
Last year, there were rumors that they'd given up their music for TV. And as if in answer to those rumors, they began recording a new album titled TWO legit. They released the said album, titled TWO Legit on  August 2nd, 2010. The LP boasts of production credits from heavy weights: ID Cabasa, Puffy T, Rymzo, and Foster Zeeno amongst many others.
Find below a selection of their videos: