Vector Da Viper Set To Release Debut Album – "State of Surprise"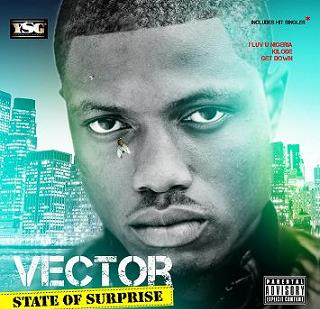 It would seem that it is album season, with all the albums released and due to be released in this month alone. Next of course is Vector's – due on the 29th of October. When he debuted, there were recurring comments questioning the similarity between his voice and Hov's.
He made his dislike for such comments well known every time he was on track. In the time since his debut he has come full circle – from working with the biggest acts: 2face, Naeto C, Da Grin, Pype, Sasha and J. Martins; to recording the Big Brother theme song along with Maye Hunta.
With three singles released: Get Down, Kilode, I Luv U Nigeria; Vector shows a huge amount of promise and is definitely one rapper to watch out for.
On State of Surprise, he worked with 2face Idibia, General Pype, Chuddy K, Ade Piper, Emmsong as well as Sista Soul.
Tracklisting
1. The Truth (Intro) – (Produced by Vector)
2. Sha Ma Wa Lo – (Produced by Vybes Productions)
3. Get Down feat. Tuface Idibia – (Produced by H-Code)
4. Mary Jane Skit – (Produced by Culture)
5. Mary Jane – (Produced by Da Piano)
6. Kilode feat. Emmsong – (Produced by Samklef)
7. Di Mi Mu feat. Shogon – (Produced by Shogon)
8. I Luv You Nigeria – (Produced by Vector)
9. Denge Pose – (Produced by Samklef)
10. Downtown feat. Chuddy K – (Produced by Van Beats)
11. No Be Say feat. Emmsong – (Produced by Da Piano)
12. Freestyle Interview on SlyGriff Show – (Produced by Culture)
13. Legendary – (Produced by Vybes Productions)
14. Mary Jane REMIX feat. General Pype & Ade Piper – (Produced by H-Code)
15. The Movement feat. Sista Soul – (Produced by Da Piano)
16. Feel Me Pass feat. H-Code – (Produced by H-Code)
———Bonus——–
17. Warm & Close REMIX feat. Ade Piper – (Produced by J-Smith)