BN Collection to Closet is all about 'the African Fashion Scene in Motion".
What does that mean? Over the last 5 years, the African fashion scene has evolved tremendously.
Yes, we have always been fashionable and we have designers that have been making clothes for decades. However, the ultimate test is this…Are people wearing the clothes? Yes they are! Are people buying off the rack? Now they are!
We are so elated whenever we see people wearing clothing by African labels.
So far in the BN Collection to Closet series, we have featured labels; Grey & Alter Ego. Today, we feature iconic Nigerian label, Tiffany Amber.
We have always loved the Tiffany Amber silhouette, however we were really excited when the label shook things up with their last collection, the "Eclecto Chic" collection for A/W 2010/11.
We spotted Funmi St. Matthew Daniels at the Smooth FM luxury concert a few days ago, she rocked the 'Fife'  pants from the Tiffany Amber Eclecto Chic collection. The dyed  colour effect , the contrast of the lemon drop hue and the black plus the  draping make this piece special. Funmi paired it with a short sleeved lacy black top, black peep-toe platforms and black accessories. She added an additional splash of colour with her small multicolored purse. J'adore!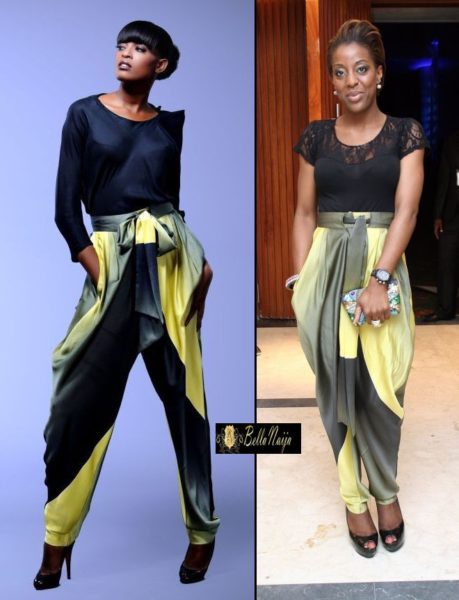 Photo Credit: Moussa Moussa for Tiffany Amber | Kola Oshalusi