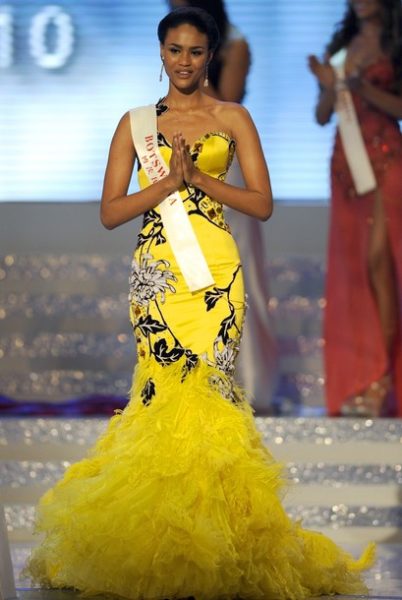 The finale of the 2010 Miss World competition took place in Sanya, China on Saturday, 30th October 2010. 18-year-old, Alexandria Mills from the United States of America was crowned as the winner. However, it was a close call as one of the African queens, Emma Wareus of Botswana was the 1st Runner Up and Adriana Vasini of Venezuela was chosen as the 2nd Runner Up.
Among the Top 25 were several other African contestants including Miss Kenya, Miss South Africa and Miss Namibia.
The contestants have all been in Sanya over the last couple of weeks and have taken part in various mini-competitions including the Miss World Sportswoman and Miss World Top Model 'fast track' events. Miss Kenya, Natasha Metto won the 'Beauty with a Purpose' competition for her Miss Kenya project. She is currently working with Miss Kenya 2005 to create awareness to help treat the jigger worm epidemic in Kenya.
Though the Nigerian representative, Most Beautiful Girl in Nigeria 2010 – Fiona Afoma Amuzie did not win the competition, Nigeria was well-represented as Miss World 2001, Agbani Darego, was one of the judges.
Better luck to Nigeria next time and congrats to Miss Botswana – Emma Wareus.
The Day After the Miss World 2010 pageant
Photos from the Miss World 2010 Finale
Miss World 2010

The African Queens of Miss World 2010
Photos submitted by National Pageant Agencies
Miss World 2010 – The Crowning Moment

Photo Credit: The Miss World Organization