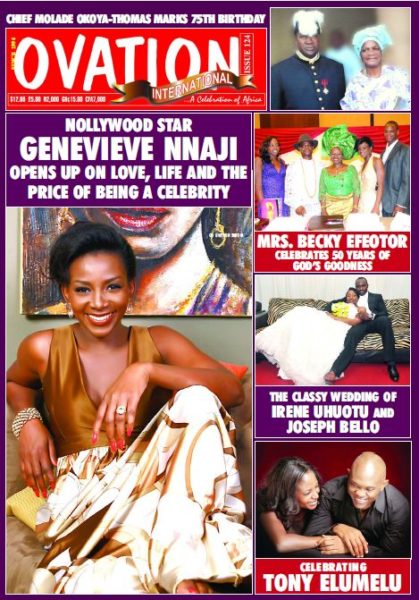 Just when we thought Ovation was strictly for the older folks, they grabbed a scoop that will entice the younger generation to pick up a copy of the magazine. In what can be described as her most in-depth interview ever, Superstar Nigerian actress and Face of MUD cosmetics Genevieve Nnaji sat down with Ovation's Patience Ikpe and chatted about love, life, charity, family and so much more! Ovation also shot an exclusive photospread – for the shoot, she rocked pieces from her St. Genevieve line. Buy your copy of Ovation to read the entire interview as well as other features.
Here are quick facts and excerpts from the interview and check out the exclusive photos below:
Quick Facts
Genevieve started her acting career at the age of eight with Ripples.
She is hoping to hold the annual charity fashion show for her St Genevieve line in December.
Her favourite colour is black. According to Gene, "I like white as well but, in general, I like dull colours. I'm not a bright coloured person" This explains why we see her in a lot of black on the red carpet.
Gene considers acting as her job and designing her hobby. In terms of St Genevieve clothing production, Gene says, "I don't cut, I don't sew, I design. I make sketches and I have my tailors, people who cut and sew. I basically describe in the best way I can, what I want and I pick the fabric."
Excerpts
What has been your most challenging role in a movie?
(Exhales) All of them come with their different challenges. But I would say playing the role of a blind girl in Wind of Glory was extremely challenging and I still consider it one of my favourite movies.
Do you have plans of going into producing or directing movies?
Yes obviously, I do.
Have you ever had any surgical beauty enhancements?
No. Not yet.
What does love mean to you?
Love, (exhales) well, what is love? (laughs,) love for me is when you derive joy in giving not in receiving. When you are happy loving someone and doing things for that person without asking
anything in return, that is love, genuine love.
Are you in a relationship?
In God we trust.
Any plans for marriage?
As for marriage, it's every woman's dream to get married. We can't lie to ourselves. I do want to get married but overtime I have had opportunities to get married but I realise getting married is not actually the problem. The problem is finding someone you are compatible with because I'm born Catholic, I'm raised Catholic, I don't believe in divorce. If I get married, I really want to stay married and staying married is not an easy thing. It means you are completely in tune with your partner. It means you've found your soul mate because you'll have to be able to stand a lot of disappointments that would definitely come but then again you have to learn to forgive. For me, before I choose a partner I have to ask myself if this is the kind of person I would be willing to forgive no matter what when the time comes. If the answer is no, then that person is wrong for me. That person is not the person you want to get married to. If you know you can look into someone's eyes and say yes, this is the most you can do to me. if you actually cheat on me the first time, I can find it in my heart to forgive you. If you can answer that question honestly and truthfully to yourself then you'll know if that person is your partner or not. So compatibility is the word aside from the physical attributes that have to go with it. I need to be comfortable because I'm a woman and I'm used to a certain lifestyle.
What should your ideal man look like?
My dear, let's not go there, I don't want to chase market (laughs).
Any word for your fans
To all of you, for whatever reason you love me, I want you to know I appreciate it. I would not be where I am today without you obviously and as much as I come first in everything I do, I always consider you because you are a part of the decisions I make in my life.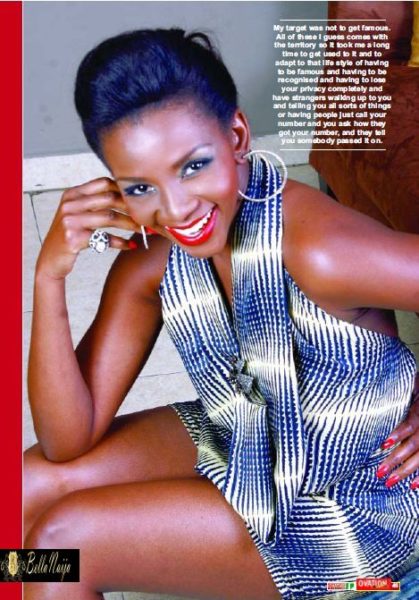 Photography: Koya Adegbite
Makeup: Bayo Haastrup
Cosmetics: MUD
Clothing: St Genevieve
Venue: Robert's Cafe