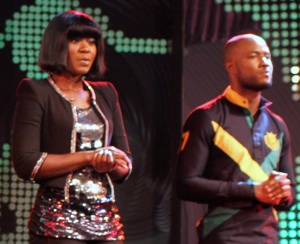 As the Sunday 16th November 2010 episode of Glo Naija Sings began, we had a feeling that something was awry.  The host Olisa Adibua was dressed in all black, a somber colour that matched the mood of the contestants who were jittery about the forthcoming double elimination. Olisa split the contestants into 2 groups – Boma, Ekeng and Najite in one and Rasine, Da Brodas, Casey and Peace in the other. Suddenly, he announced that Boma, Ekeng and Najite were indeed the bottom 3 – the contestants with the lowest number of viewer votes.
Olisa handed the results card to Boma to read, she read out the sad news. Ekeng and Najite had been voted out! It was a shock as Ekeng was one of the strongest contestants and has been an audience favorite since the beginning of the competition. Ekeng and Najite thanked their fans for all their support and Ekeng urged fans to look out for his first single which will be released in 2011. Best of luck guys!
Now back to the competition, the theme of the week was "Naija Classics". Classic Nigerian hits that we all know and love. Check out the performances below. Our favourite of the night was Peace. She totally rocked the stage and 'owned' the song!'
The guest celebrity commentator of the night was Kenny St Brown and we also got some welcome surprises when we spotted superstar Glo ambassadors – Rita Dominic and Ini Edo in the audience! They even commented on some of the performances!
View all the performances below and don't forget to vote for your favourites.
The Elimination

Ekeng's Goodbye Performance


Najite's Swansong

___________________________________________________________________________________________
Top 5 Performance: Boma
Boma rocks an Onyeka Onwenu classic.

Top 5 Performance: Da Brodas
Da Brodas dedicate "Sweet Mother" to their mom – and all moms.

Top 5 Performance: Rasine
Hoping her Bunny Mack rendition is "sweet" enough, it's Rasine

Top 5 Performance: Peace
Peace uses the stage (and her body!) to do Rex Lawson justice.

Top 5 Performance: Casey
Casey's Naija classic is from Felix Liberty.

Celebrity Commentators

___________________________________________________________________________________________
Showtimes
M-Net West:
Sundays at 21:00 CAT (from 19 September until 5 December)
M-Net East:
Sundays at 20:00 CAT (from 19 September until 5 December)
AFRICA MAGIC REPEATS
Sundays at Midnight CAT
Wednesdays at 22:30 CAT
MAGIC WORLD REPEATS
Mondays and Thursdays at 19:00 CAT
NTA
Saturday and Sunday at 21:00 CAT
Nigeria is CAT -1
___________________________________________________________________________________________
Remember: You are voting for the Glo Naija Sings contestant that you want to win!
Voting opens after the Sunday night show and closes on Thursdays at Midnight in Nigeria (01.00 CAT).
Tune in next Sunday to see how your favourite fared, only on M-Net.
Each week, lucky voters (SMS Voters only) stand the chance to win a Blackberry Bold, an iPod Touch and 10 Glo subscribers will have their accounts recharged with 1000 Naira of airtime. Plus one lucky viewer that votes via SMS also stands the chance to win a Toyota Corolla from Glo at the end of the series, so vote now to get in line to win some fabulous prizes!
There are four ways you can vote:
Via the Website
You can vote once per hour per registered email address. Voting on the website is free. Go to www.mnetafrica.com/naijasings
Via the Wapsite
Type www.mnetafrica.com/naijasings into your mobile browser and start voting. You can vote once per hour and voting via Wap is free.
Via Mobile:
In Nigeria: Text just THE NUMBER that corresponds to your favourite contestant to 33364.
NB: Mobile voting is exclusive to Glo subscribers and SMSes cost N50.
In the Benin Republic: Text just THE NUMBER that corresponds to your favourite contestant to 7099.
NB: Mobile voting is exclusive to Glo subscribers and SMSes cost 150 CFA.
Outside Nigeria and Benin: Text just THE NUMBER that corresponds to your favourite contestant to +2783142100400. This is open to all networks – international SMS rates apply.
You can vote up to 100 times per mobile number during each voting period.
The dedicated numbers for each contestant:
Boma – 1
Casey – 2
Da Brodas – 3
Peace – 8
Rasine – 9
Via MXit
Open your mobile phone's browser and type in m.mxit.com to download MXit for free. Then locate MXit on your phone under the applications or games section and register. Once in MXit, go to Tradepost>Entertainment>MNET and then add the Naija Sings Voting contact.
Voting on MXit is free and you can vote up to 10 times per voting period.
___________________________________________________________________________________________
Sponsored Content