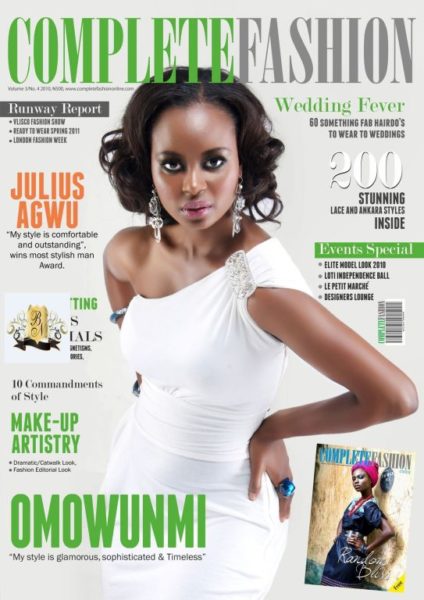 When we heard that Ex-beauty queen, Omowunmi Akinnifesi was the November 2010 cover girl of Complete Fashion Magazine, we were excited but not sure what to expect. Would she be styled in a series of long gowns and placed in various beauty queen poses? or would she push the envelope just a little bit.
We love the final result!
Omowunmi was styled in several looks from upcoming designers including Ejiro Amos-Tafiri, Akpos Okudu and Babushka. Plus pieces from her own wardrobe so we get a peek into Miss Akinnifesi's personal style.
The accompanying interview covers the regular topics including her favourite designers – she loves the new crop of designers – Ejiro Amos-Tafiri and the classics – Tiffany Amber. Omowunmi also shares what she is presently involved in – she is a Lagos State Environment Ambassador and recently represented Lagos State at the Clinton Global Initiative event in New York. She is also relaunching her company – Elle Poise. Elle Poise has now ventured into International Etiquette consultancy specializing in Corporate, Business, image and communications etiquette. Our objective is to fill the gap in the Nigerian education system that unfortunately does not cater to the needs and resources required by the morden day individual to excel on a personal level. In addition, we aim to expose the average Nigerian to new codes of contemporary behavior and develop the quality of people in the society, in Politics, Service based businesses and at home.
Great feature. Pick up your copy of Complete Fashion Magazine for all the scoop!
Photography: Moussa Mouusa
Styling: Ebun Aboderin
Hair & Makeup: Carolyn Ebbah