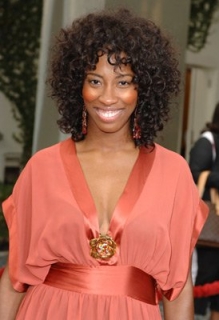 African-American actress Shondrella Avery has quite an interesting filmography. She has featured in television comedy series including "One On One" and "Cutz", on the other side of the spectrum, she played "LaFawnduh Lucas" in the cult hit – "Napoleon Dynamite" and also the critically acclaimed drama "The Secret Life of Bees" which featured Jennifer Hudson, Alicia Keys and Dakota Fanning.
Shondrella is exploring new terrain with her "mockumentary" – The Shondrella Adventures.
The Shondrella Adventures focuses on "An African-American Woman's Journey to Africa". Shondrella is married to a Nigerian man, Ade Kester and they have been together for over 10 years. She admits that there is a lot of ignorance in the US about Africa even within the African-American community.
After being inspired by a dream, Shondrella Avery-Kester who resides in Los Angeles, California sets out on a journey to explore Africa starting with her husband's homeland, Nigeria. She starts off by telling her family and friends including Keisha Whitaker and Marques Houston about the planned adventure.
Here is a clip from the pilot episode,  we expect that when the show is completely developed and the first episode is shot, it will blossom beyond what we see in the pilot. We heard Shondrella on the Beat 99.9 FM when she was in Lagos a few months ago and she was actually really funny and down to earth. Definitely see potential for the show!
The Shondrella Adventures-Pilot from beat.productions on Vimeo.
Photo Credit: TV Fuse