The inaugural FAB Night Out – Fashion, Music and Awards event took place this past weekend on Sunday 5th of December 2010.
BN will be bringing you all the scoop on the runway fashion and who grabbed those FAB Awards tomorrow.
Today,we are focusing on the red carpet!
We were so excited by what we saw on the FAB 'Black Carpet' and this was for one major reason!
So many young stylistas and gentlemen were rocking pieces from young Nigerian designers. Many of these designers have not released their first official collections but did us proud on the FAB black carpet.
We spotted pieces by Babushka, Uyai, Wana Sambo, April by Kunbi, Iamisigo, Onyx & Pearl and Viv La Resistance and many more.
***
We spotted blogger Adaku Ufere (http://thirdworldprofashional.blogspot.com/) in this grecian-inspired look by Babushka. Adaku totally 'committed' to the look – from the white draped maxi with its gold-sequined shoulder detail to her gold armband, flat slippers and centre-parted swept up hair. It could have looked 'costumey' but it worked!
All through 2010,  Gideon Okeke has given us different iterations of the geek look. At the FAB event, Gideon brought it once again with his thick rimmed glasses, plaid bow tie and waistcoat paired with a pink shirt and maroon trousers. Gideon is a handsome lad and we love spotting him on the red carpet, however we hope Gideon will switch things up next year.
Valerie Dawodu rocked this look from Lanre DaSilva-Ajayi's Reflet de Lumiere collection for Vlisco which debuted at the AAIS fashion show in Abuja a few months ago. She paired the dress with a statement necklace, nude heels and voluminous curls! Eleanor Goodey looked pretty in a lace dress with a bold black bow belt paired with black accessories.
Love this look for Funke Obruthe! Honeycomb print shift dress from Jewel by Lisa's new Global Minimalism collection. Love the shoe choice as well!
Designer Chichi Iyiegbuniwe always embraces individuality on the red carpet. She is never predictable. For the FAB event, Chichi chose to go for the bright and bold look. We love her multicoloured volumized  skirt with the large bow.
The last time we spotted young designer, Wana Sambo on the red carpet, it was at the House of Nwocha launch and she was rocking a red dress. Seems as though Miss Sambo loves the colour of passion as she  wore another floor-length red dress from her soon-to-be released label at the FAB event.
Designer Mo Alatise has a rebellious streak when it comes to fashion. For her label, Viv La Resistance, she always experiments with fabrics – for her FAB Night Out look, Mo rocked a purple lace dress. We love the tulip cut of the skirt.
We see so many fashionistas going for the edgy look on the red carpet that it is sometimes refreshing to see something 'simple and pretty' – Ezinne Alfa's grey and black striped skirt paired with a black chiffon top and grey shoes topped off with pale pink lippy is the perfect girly chic look for the red carpet.
Joke Saro's look is definitely not basic black! Her long sleeved shift dress paired with black platform heels  is simple yet chic. Her blue shoulder bag and smile brighten the look.
Animal prints (done well!) always creates a sensation on the red carpet. Aisha Bello rocked an asymmetrical animal print dress yet kept it young and sassy by pairing it with playful accessories and a red pout.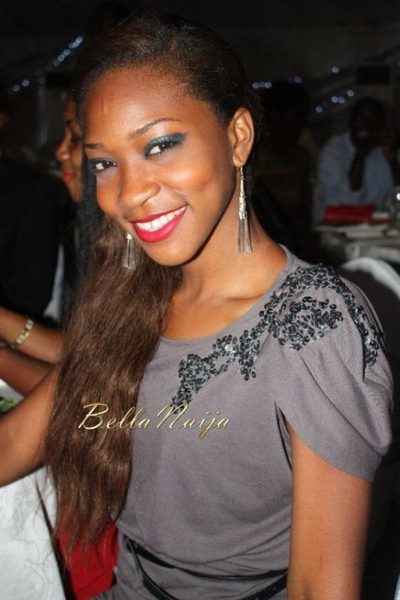 ***
Photo Credit
Huge thanks to
Tyna Ezenma – http://www.blogbytyna.com
BlackHouseMedia – http://www.thenetng.com
Niyi Tabiti – http://gistmaster.com
Yemi Olowu – http://fashioneyenaija.onsugar.com
Do Check Out Their Sites!