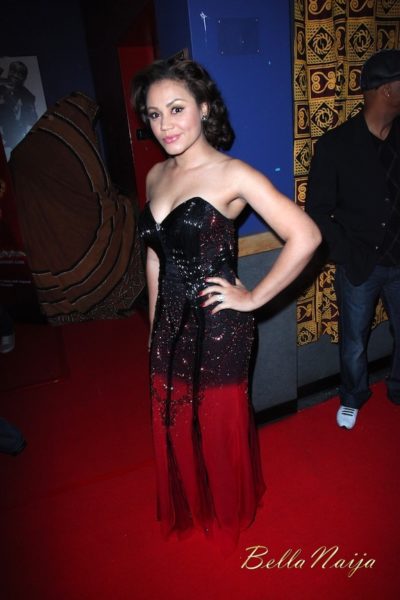 The Pan African Film Festival celebrated the start of the 19th edition of the festival on Wednesday 16th February 2011 at the Culver Plaza Theatre in Culver City, Los Angeles, California. In 2011, the Pan African Film and Arts Festival (PAFF), America's largest and most prestigious Black film and arts festival is screening more than 100 films made by and/or about people of African descent from the United States, Africa, the Caribbean, South America, the South Pacific, Europe and Canada. PAFF holds the distinction of being the largest Black History Month event in the United States of America.
Films including 'Africa United', 'Anchor Baby', "The Figurine', The First Grader' and 'Desert Flower' will be screened during the festival.
The first film screened was '35 and Ticking', a film by radio personality Russ Parr which stars Nicole Ari Parker Kodjoe, Tamala Jones, Kevin Hart, Keith Robinson, Meagan Good, Mike Epps, Kym Whitley, Clifton Powell, Jill Marie Jones, Dondre Whitfield and Aaron D. Spears. The film was screened at the PAFF opening gala. stars including Boris Kodjoe whose wife, Nicole stars in the movie alongside international stars Omotola Jalade-Ekeinde and Nadia Buari rocked the red carpet at the event.
In addition to the film screenings, the festival will honour several distinguished individuals. Phylicia Rashad was bestowed with PAFF's highest honor, a Lifetime Achievement Award for her work on stage, television and film. Other award winners include Hope Foye – Lifetime Achievement Award, Tessa Thompson – Beah Richards Rising Star Award, Lamman Rucker – Canada Lee Award, Councilwoman Jan Perry – Community Leadership Award, Hlmola Dandala – The Africa Channel's Creative Achievement Award, Ngugi wa Thiong'o – The Africa's Channel's Literary Achievement Award.
Awards were presented during the 'Night of Tribute' on Thursday, February 17, 2011 at the Nate Holden Performing Arts Center in Los Angeles.
PAFF was founded in 1992 by award-winning actor Danny Glover ("The Color Purple," "Lethal Weapon" movie franchise), Emmy Award-winning actress Ja'Net DuBois (best known for her role as the busybody neighbor Willona in the TV series, "Good Times") and executive director, Ayuko Babu, an international legal, cultural and political consultant who specializes in African Affairs. PAFF is a non-profit corporation dedicated to the promotion of ethnic and racial respect and tolerance through the exhibit of films, art and creative expression.
The goal of PAFF is to present and showcase the broad spectrum of Black creative works, particularly those that reinforce positive images, help to destroy negative stereotypes and depict an expanded vision of the Black experience. PAFF believes film and art can lead to better understanding and foster communication between peoples of diverse cultures, races, and lifestyles, while at the same time, serve as a vehicle to initiate dialogue on the important issues of our times.
Photos from the Pan African Film Festival 2011 – Opening Night Gala/Screening of '35 and Ticking'
Photo Credit: Hiltron Bailey
Additional Photo Credit: Michael Adegoke