On Thursday 24th February 2011, Empire Leicester Square in London will play host to a truly unique occasion that is set to become known as the biggest premiere of an African film held in the UK. This international gala occasion is the much anticipated world premiere of The Mirror Boy, the latest, and many say one of the very best, in a long line of movies that have been flowing out of the Nigerian film industry for the past few decades.
Written, produced & directed by Obi Emelonye, an award winning UK based Nigerian filmmaker and starring Genevieve Nnaji and Osita Iheme – the biggest screen talents Africa has to offer – The Mirror Boy aims  to "captivate global audiences and become the blockbuster that fans of Nigerian cinema have been waiting for".
It was in 2010 that the world finally became aware of the enormous growth in the fledgling Nigerian film industry, now popularly known as 'Nollywood', as it surpassed Hollywood to become the world's 2nd biggest movie producer. Nollywood already holds the position of being the No. 1 cinema art form across Nigeria, Africa and the global African Diaspora, with many millions of eager fans worldwide.
The Mirror Boy is a universal family adventure film that tells the uplifting story of a young teenage African British boy taken back to the land of his mother's birth, but then gets mysteriously lost in a foreboding forest and embarks on a magical journey that teaches him about himself and the mystery of the father he has never seen.
Shot in the truly beautiful terrain of the Republic of The Gambia and boasting high quality production values, despite its low (by international standards) budget, The Mirror Boy is said by many in the international movie business to be the Nollywood movie that can finally match it's industry's new found status,
The Mirror Boy's much anticipated success is hoped will elevate and redefine Nollywood and turn international curiosity into a bold statement of cinematic identity, creating a landscape where new Nollywood will 'crossover' and become more widely recognised within mainstream channels.
The Mirror Boy was produced by The Nollywood Factory in association with Akin Salami and Patrick Campbell of OH Films, the film arm of OH TV.
The Mirror Boy is set to be released across Odeon cinemas in April, with international premieres scheduled for Gambia, Nigeria and Ghana over the coming months.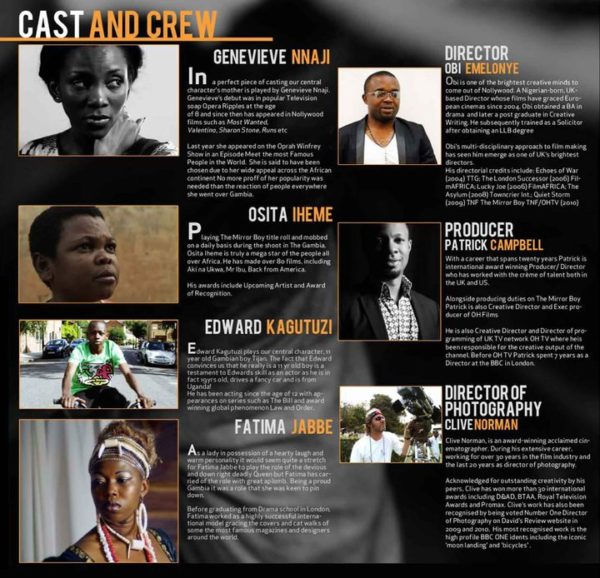 Mirror Boy Trailer

CNN – What's Next for Nollywood? – Mirror Boy Production Team Featured

Genevieve Nnaji confirms attendance of the London premiere

On Set/Gambia Visit Photos for "Mirror Boy"
[nggallery id=269]

***
Tickets are available for the London premiere:
Online Booking – Click HERE
Contact Number: +447946811253
DJA Media
___________________________________________________________________________________________
Press Release