In this maiden issue of the BN Book Review, we have chosen to review "The Secret Lives of Baba Segi's Wives", the highly acclaimed first novel by Lola Shoneyin. In a book which uses humour, charm and what can only be described as astute literary skill, Lola Shoneyin sheds light on a deeply rooted aspect of Nigerian culture –  Polygamy. Two members of our Book Review Panel, Myne Whitman and Chiedu Ifeozo give us their candid opinion on the book, and if their opinions are anything to go by, Lola is definitely on to a winner with her debut book.
About the Book
For a polygamist like Baba Segi, his collection of wives and a gaggle of children are the symbol of prosperity, success and validation of his manhood. Everything runs reasonably smoothly in the patriarchal home, until wife number four intrudes on this family romance.
Bolanle, a graduate amongst the semi-literate wives, is hated from the start. Baba Segi's glee at bagging a graduate doesn't help matters. Worse, Bolanle's arrival threatens to do more than simply ruffle feathers. She's unwittingly set to expose a secret that her co-wives intend to protect, at all costs.
Lola Shoneyin's light and ironic touch exposes not only the rotten innards of Baba Segi's polygamous household in this cleverly plotted story; it also shows how not educated or semi-literate women, in contemporary Nigeria can be as restricted, controlled and damaged by men – be they fathers, husbands, uncles, rapists – as they've never been (Synopsis from publisher, Cassava Republic).
Myne's Review
The Secret Lives of Baba Segi's Wives is a book that explores the dynamics of a polygamous home in urban (circa 2001) Ibadan in Nigeria. It is told with a dry wit, very satirical and earthy. The author employs irony and honesty in equal bits as she carefully develops her characters, each chapter – except for the first – is told from the point of view of all the major characters. This makes the plot line more interesting as the reader has the back story filled in by installments. So a story which could have been hackneyed becomes elevated by the voices of the character-narrators, to something higher, more like a psychological study of these women in this polygamous home.
Chiedu's Review:
After first discovering her poetry in 2007, I've been a follower of Lola Shoneyin's work. I became intrigued by the captivating title of one of her collections aptly labeled as, "So all the time I was sitting on an egg", but the fantastic thing about Shoneyin is that there's more to her work than just a catchy poetic title.
In this book, Lola spins a tale, bound by such natural & flowing humor that the reader is immediately caught up in a sense of warmth or understanding for the characters, even where they are the antagonists.
The book intendeds to portray what could be the different mirrors of a polygamous marriage, told from different points of view. Set in Nigeria, Lola paints an interesting perspective on such a thorny issue by speaking mainly through the wives. She attempts to build a familiar relationship between the reader and these women, by connecting us to the how, the why and the ways in which these women have managed to cope in what is a clearly difficult environment to the observer.
Through the character Bolanle, Lola attempts to be the voice of reason & society. Bolanle seems the obvious misfit in the household, as she's an educated university graduate joining the family as the fourth wife. On the surface, it's hard to understand why she's gone into polygamy. However that is the beauty of the human element at the heart of this story, all of the characters come across as ordinary people, on different paths, but trying to survive all the same.
Baba Segi's character, who likes to appear in control of his household, is unaware, as with most polygamous households, that there's a lot going on right under his nose, yet his male ego is kept protected.
What Myne loved: I loved this style of narration, and the language employed by the author in the book. It is warm, lively, and sometimes, tongue in cheek. Lola Shoneyin is first a poet, and it shows in this novel. Her use of metaphors and similes were spare, but very fitting, and the imagery in most instances very lucid. There was very little verbosity, and it was effortless to hear the voices of the characters in my head. I later read a commentator mention that the author uses a kind of English from transliterated Yoruba, I don't know how true this is since I do not speak Yoruba, but the style certainly works for me in the book.
It is not only the style and language that refreshes in this book, but the empathy with which the women of Baba Segi are portrayed. They are not 'tear-eye' monsters out to use Baba Segi's money for lace and gold, neither are they lazy buffoons, content to sit on their backside just because they are now married to an affluent man. In addition to their back stories; Iya Segi as an shrewd businesswoman, Iya Tope as industrious, if slow-witted, and Iya Femi as a hardworking maid with dreams of marrying the madam's son; they are as wives who bear this stirring secret, women you find it easy to identify with, to cheer on, to like, even if not love. Even when their secrets drive them to extremes of behavior and tragedy, we still see the humanity that lies beneath.
Lola Shoneyin's book is a definite conversation starter and is written with an occasional humor that only adds to the depth of the work. The book tackles the sometimes deplorable status of women in Nigeria, and is not afraid to say it like it is. The author writes about real issues and real women, and made an often-told story one that engages and edifies. There are many secrets in this book, just like a lot of us have in our lives, and it is sometimes only by letting the secret out that we achieve true liberty. This was an enjoyable book and I will recommend it to anyone.
What Chiedu Loved: The book is littered with astute statements from the characters who display a certain sense of wit that is uniquely theirs, here are just a few;
"When we stand before God on the last day, will he ask whether we went to university" -p66
"Men are like yam. You cut them how you like" –p75 and my favorite
"Those educated types have thin skins, they are like pigeons. If we poke her with a stick, she will fly away and leave our home in peace" –p53
Having chapters written from multiple perspectives could be difficult for some readers to follow as the story moves from one character to the next, but I would say Lola handled this task well, and the result turns out not to be as confusing as it may first appear.
I found "The secret lives of baba Segi's wives" an interesting read. Beautifully written, it hits a deep personal tone with the reader thereby making it easy to relate to. Though it's entertaining and humorous, it is at the same time thought provoking and does a good job at holding up a mirror to the roles and treatment of women in the traditional Nigerian marriage.
Things Myne could have done Without: There are only a couple of things that grated in this book. I have to point out that is just personal, and could be because I already knew of the author's bias before, from previous interviews she gave in promotion of the book. It is clear that she does not care for polygamy and even though she avoided the authorial narrative, this bias was still apparent as I read Baba Segi's wives. I prefer reading stories where it is left to me to make my judgments on the themes explored, rather than being force-fed. In a country like Nigeria, where a woman's status is still so closely tied to whether she's married and who she's married to, I felt it was a bit disingenuous to make polygamy the bogeyman.
The other issue that did not tie together for me was the character of Bolanle. She is at the same time wise to the ways of the world and yet so weak-willed to be almost unrecognizable. A college graduate who makes the choice to marry a man who already had three wives, it struck me as very odd that she would accept all the humiliation in the Baba Segi household. It would have been more believable if it had been for a few months or a year, but this went on for several years. Cowed by her mother, as well as the other wives, she was fulfilled buying crockery (of all things!) from the local market. One is left to worry that she will continue to make mistakes with her life, and there may be no happenstance to save her.
____________________________________________________________________________________________
Now that we have the official opinion of our reviewers, we would love to hear your own opinion on the book. Have you read "The Secret Lives of Baba Segi's Wives" by Lola Shoneyin? What were your thoughts? Are they similar to our review panel or completely opposite? Does the book do a good job of addressing the cultural issue of polygamy and the treatment of Nigerian women in society or does it merely scrape the surface of what is a deeper more entrenched issue? If you are yet to read the book, does our review encourage you to do so? Let us know!
March 2011 Edition of BN Book Review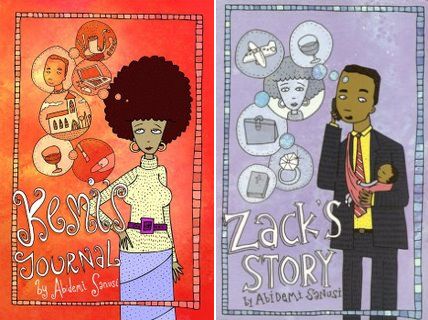 We have a bumper edition planned for March. We will be reviewing two books, from Cassava Republic. Kemi's Journal and its sequel Zack's Story by Abidemi Sanusi. In Kemi's Journal, Abidemi tells a story of a twenty something, high flying, born again Christian woman who struggles between her new found commitment to Jesus and her other more secular pleasures. The second book, Zack's Story, provides us the opportunity to hear Zack, her boyfriend's, side of the story. The book throws up various issues which tear at the heart of the moral decisions many of us can relate to-virginity, race, religion, etc. Zack's story also gives us a first hand glance into the man's perspective of things. The review of both books will be done by Nkechi Eze and Chiedu Ifeozo, both reviews promise to be riveting!
But before we publish the review, how about we give away the books first? For a chance to win copies of either Kemi's Journal or Zack's Story please answer the following questions:
1. Who are the members of the BN Book review Panel?
2. Abidemi's book, was short listed for the 2010 Commonwealth Writers' Prize, what is the title of the book?
Send your name, address and telephone number along with the answers to the above questions to [email protected] Please make sure the subject of your email is BN BOOK REVIEW COMPETITION. Only successful entrants will be contacted. Winners MUST be able to pick up their prize (or arrange for their prize to be collected on their behalf) from Bella Naija office in Lagos. Employees of BainStone & Bella Naija and Cassava Republic may not apply.
The winners of our last BN Book Review competition are Adenike Oke and Jumoke Aderemi. Congratulations! You will be contacted shortly by a member of our Contest team.