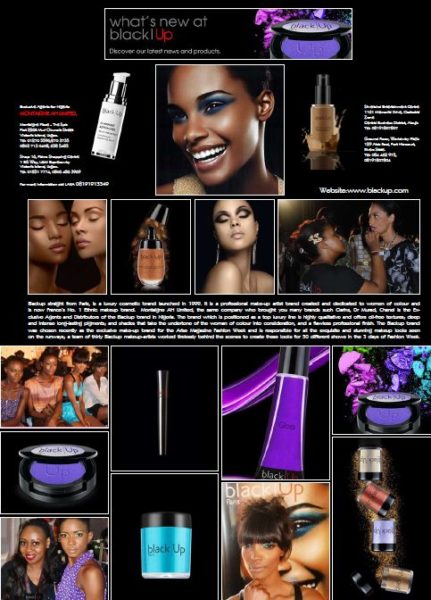 At the 2011 ARISE Magazine Fashion Week Lagos which took place in March, Paris-based cosmetics brand, black|Up made a strong impression as the official makeup brand for the event. black|Up was responsible for all the stunning makeup looks seen on the runways; a team of thirty black|Up makeup-artists worked tirelessly behind the scenes to create these looks for 50 different runway show at the AMFW.
In Nigeria, black|Up is exclusively distributed and marketed by Montaigne AH Limited, the same company that has the exclusive rights for international cosmetics brands including Clarins, Dr Murad and Chanel. In 2011, black|Up will be expanding its presence in Nigeria with makeover sessions, sampling activations, makeup artist training sessions and much more. BN will keep you updated as details emerge.
About black|Up
make | Up artist brand
Founded in 1999 black|Up Cosmetics is both the first makeup artist brand created and specialized for women of color, yet suitable for all women, as well as an upscale cosmetics line of unprecedented elegance and luxury, respecting the unique nature of ethnic skins and celebrating their intrinsic beauty.
creativity | innovation
As the French selective makeup artist brand for women of color, black|Up Cosmetics was born from a desire to express creativity and drive innovation in the world of cosmetics.
renowned | French brand
Today black|Up Cosmetics has garnered a substantial fan base in France among women of color and has risen to become the nation's #1 ethnic makeup brand*, distributed in approximately 200 retail locations.
dedicated | to women of color
All black|Up products are developed by a team of professional makeup artists and are specially formulated to meet the unique needs of women with deeper skin tones. From their best-selling foundations, available in a wide range of luxurious textures and shades, to their bold, rich and highly-pigmented color collections, black|Up Cosmetics is the an excellent makeup artist brand for discerning women of color.
BlackUp Video

Outlets:
Lagos
Montaigne Place – The Spa Plot 226B Muri Okunola Street Victoria Island, Lagos
Tel: 01 270 5596/ 01 270 3735
M: 0803 713 0408/ 0803 658 5485
Shop 16, Palm Shopping Centre
1 BIS Way, Lekki Expressway Victoria Island, Lagos.
Tel: 01 851 7774
M: 0806 486 3966
Abuja
Silverbird entertainment Centre 1161 memorial Drive,
Cadastral Zone Central Business District
Tel: 081 9180 7807
Port Harcourt
Ground Floor, Worldway Plaza 129 Aba Road,
Port Harcourt
Rivers State
Tel: 084 462 975
M: 081 9180 7904
For more information: Lara – 081 9191 3349
Website: www.blackup.com
___________________________________________________________________________________________
Sponsored Content