___________________________________________________________________________________________
An Evening with Live Afro Jazz with Duro in Memory of Angelbert
New Age production in conjunction with Alliance Francaise, Smooth 98.1FM and The Life House cordially invites you to a memorial concert by Duro Ikujenyo and the Age of Aquarius to mark the 10th anniversary of the death of ANGELBERT THEUZER BECHER, an Austrian film maker and philosopher, in 2001.
Date: Friday 29 April 2011
Time: 7PM
Venue: The LifeHouse, 33 Sinari Daranijo Street, Off Younis Bashorun Street, Off Ajose Adeogun, Victoria Island, Lagos
RSVP & for more information: 0703 403 0683
___________________________________________________________________________________________


Grand Premiere of "Jozi Kings"
A must watch movie that shows the hustle and bustle Chuks has to go through to become the King of Jozi. The "Jozi Kings" movie is set for a grand premiere this weekend. Live performance by Collinzo and Korkormikor whose music feature on the movie's soundtrack.
Date: Friday 29 April 2011
Time: 6PM
Venue: iCinema, 119 Stadium Road, Port Harcourt, Rivers
Tickets: N2000 Each
RSVP: Uwa – 0802 362 9988
___________________________________________________________________________________________


The Girlfriends – The "Cookery Class" Event
The Girlfriends hosts regular events which provides women with the opportunity to relax, network and learn. The theme this time is a cookery class. Have fun and learn something new!
Date: Saturday 30 April 2011
Time: 12Noon
Venue: Natives Restaurant, 5B Oju Olobun off Idejo Street, Victoria Island, Lagos
Tickets: N2000 Each – Covers tuition, full meal and cocktails
RSVP: Uwa – 0802 362 9988
___________________________________________________________________________________________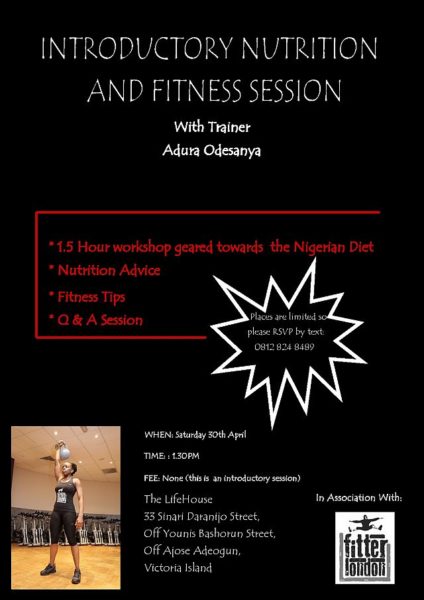 Introductory Nutrition & Fitness Session with Adura Adesanya
Adura is in Lagos and will be running a short but very informative Nutrition and Fitness session this weekend. This hopefully will be the beginning of regular workshops and events in Lagos.
Date: Saturday 30 April 2011
Time: 1.30PM
Venue: The LifeHouse, 33 Sinari Daranijo Street, Off Younis Bashorun Street, Off Ajose Adeogun, Victoria Island, Lagos
This event is FREE
RSVP: [email protected] or via SMS: 0812 824 8489
___________________________________________________________________________________________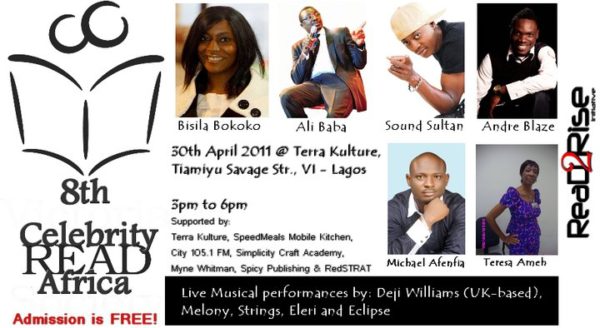 CelebrityRead Africa – 8th Edition
Come watch celebrities read off their favorite book, alongside invited authors! And get the chance to chitchat and network with them, the students and their fans amidst so much media glitz and grandeur.
Reading: Bisila Bokoko | Ali Baba | Sound Sultan | Andre Blaze
Special Guest Authors: Michael Afenfia (Writer/Author of the book 'When the moon caught fire') | Teresa Oyibo Ameh (Children Books Writer & Author of 5 bestselling children's books)
Live Musical performances by Deji Williams, Melony, Strings, Eleri and Eclipse + Loads of exciting poetry performances.
Date: Saturday 30 April 2011
Time: 3PM to 6PM
Venue:Terra Kulture, Tiamiyu Savage Street, Victoria Island, Lagos
Website: www.celebrityread.com
___________________________________________________________________________________________


Inner Circle presents the Underground
The Underground is an open Mic night for upcoming artists. The Underground features mainly unsigned acts and over time has seen a great mix of energetic and thrilling performances. The event will be hosted by Illrymz.
Date: Saturday 30 April 2011
Time: 5PM
Venue: Ember Creek, 32 Awolowo Road, Ikoyi, Lagos
Contact
Email: [email protected]
Twitter: @the_underg
YouTube: www.youtube.com/UndergroundNigeria
Blog: www.the-underg.blogspot.com
___________________________________________________________________________________________


Twiterave 3
Amidst the fun and laughter of the party, awards will be presented (nominations via www.twiterave.com/awards3.htm) and also the Champions League Competition will be played on large screens by football lovers (entries are already coming in – emails with names, phone numbers and twitter IDs are being sent to [email protected]). Voting for the award categories begins about in 2weeks.
We expect a lot of celebrities to be present as well, giving their fans on Twitter an opportunity to meet and interact with them. Celebrities expected at the event include Banky W, 2Shots, Rooftop MCs, Dokta Frabz, Wizkid and a whole lot more to be confirmed. There will also be a few musical performances.
Date: Saturday 30 April 2011
Time: 9PM (Red Carpet) | 11.30PM (Party)
Venue: Tribeca, Adetokunbo Ademola Street, Victoria Island, Lagos
Follow @Twiterave
___________________________________________________________________________________________

Brad E presents Family Fashion Fling Fair
Date: Sunday 1 May 2011
Time: 12Noon to 7PM
Venue: The Moms Civic Center, Airport Road, Warri, Delta State
___________________________________________________________________________________________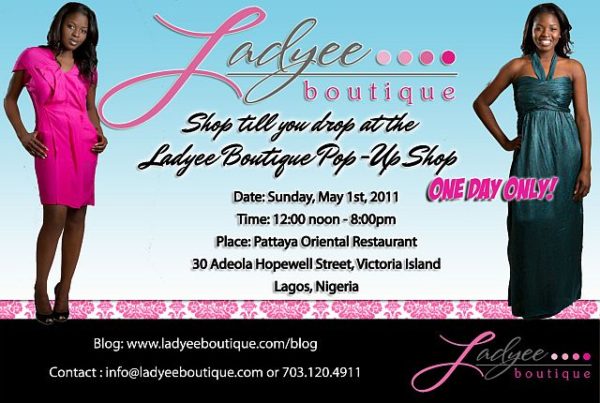 Ladyee Boutique – Pop-Up Shop – One Day Lagos Sales Event
Come and shop till you drop. Elegant evening wear, structured work dresses, trendy and versatile separates, contemporary daywear, clutches, statement necklaces and lots more! Bring a friend…
Date: Sunday 1 May 2011
Time: 12Noon to 8PM
Venue: Pattaya Oriental Restaurant, 38 Adeola Hopewell Street, Victoria Island, Lagos
Click HERE for more information and photos
___________________________________________________________________________________________
Launch of Modex Recherge Lounge
Good Food, Awesome Ambiance, Groovy Music From DJ Consequence & Drinks at Very Affordable Prices.
Date: Sunday 1 May 2011
Time: 4PM to 1AM
Venue: 34 Olakunle Selesi Street off Asa Afariogun, Ajao Estate, Lagos
Finger food for the First 50 Guests
For Membership, Table & Party Bookings –
BB: 2394B904
Mobile Phone: 0705 908 9219
Twitter: @ModeXLounge1
Website: www.modexlounge.com
___________________________________________________________________________________________



AY Live on Worker's Day – Another Invasion
Date: Sunday 1 May 2011
Time: 5PM (Red Carpet) | 6PM (Show Begins)
Venue: New Expo Hall, Eko Hotel & Suites, Victoria Island, Lagos
___________________________________________________________________________________________
Taruwa – Series Two
Taruwa (music & poetry event) is here again, expect "strictly amazing performances" as usual!
Date: Tuesday 3 May 2011
Time: 6.30PM to 9.30PM
Venue: No 9, Maitama Sule, Off Awolowo Road, Ikoyi, Lagos
Contact
Twitter: @Taruwa001
Facebook: GbagyiChild Entertainment
___________________________________________________________________________________________
UK & USA
___________________________________________________________________________________________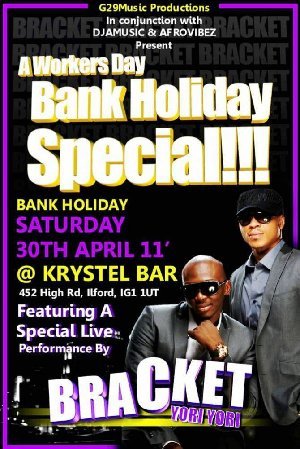 A Workers Day Bank Holiday Special 2011 with BRACKET
Featuring a special performance by Bracket alongside DJs Abass, Whateva, Wiley, Era, Excel & MC Spice
On Friday 29 April 2011 in Glasgow at The Arches
253 Argyle Street, Glasgow, G2 8DL. Contact: 07969 338986
On Bank Holiday Saturday 30 April 2011 in London at The Krystel Bar
452 Ilford High Road, London IG1 1UT. Contact: 07946 811253
On Sunday, May 1 2011 in Northampton @ Aces Club
42 Sheep street, Northampton, NN1 2LZ. Contact: 07727102800

Tickets: Call for Ticket Prices
Contact
Phone: 07946 811253
BB: 22BC1454
___________________________________________________________________________________________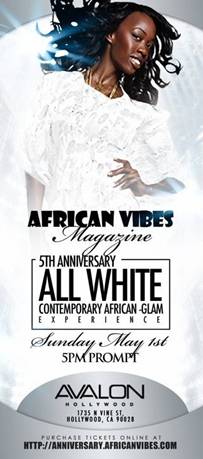 African Vibes Magazine – All-White Contemporary African Glam Experience
Up-and-coming designers from Africa will showcase contemporary African designs at the fifth annual "I Wear African" fashion and award show, presented by African Vibes magazine. The "I Wear African" Runway brings a new and fresh aesthetics to contemporary African style though the interpretive work of some of Africa's hottest and talented designers.
Date: Sunday 1 May 2011
Time: 5PM
Venue: Avalon Hollywood, located at 1735 Vine Street, Hollywood, California, USA
Tickets: Ticket prices start at $35
For ticket information, visit http://anniversary.africanvibes.com or http://avmag2011.eventbrite.com
___________________________________________________________________________________________
BellaNaija.com is not responsible for the organization or further promotion of these events, neither do we have a stake in their sales or popularity.
Inclusion in "Events This Weekend" is Free.
Contact – adsales @ bellanaija.com if you will like your event to be included. Note that BN reserves the right to choose which events are featured. "Pay to attend" parties attract a fee.