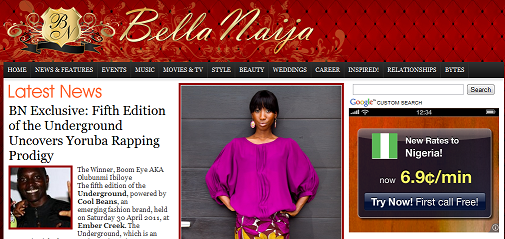 Bellanaija.com has grown into a content rich platform that offers its readers the very best. We strongly believe in promoting African talent and we are constantly in search for talented creatives willing to passionately contribute to the improvement and further development of BN and their talent.
At BN Style we are currently searching for Style/Fashion interns to contribute their articles and share their ideas.
The position would require a weekly contribution to the Style Page. In addition, we require that you have access to the internet in order to be up-to-date with African fashion news and activities.
BellaNaija.com is an African and Global portal as we have readers from all over the globe. We will be accepting all internship applications. However, style interns are required to have an in-depth knowledge on Fashion, Style and the African Fashion Industry. This is a Pro bono position.
At BellaNaija.com we believe in personal and professional development, as a close-knit family the portal not only serves as a medium to expose African talent to the rest of the world, but also, it serves as a platform to showcase the talent and passion within the team.
If you are interested in joining our team and being an intern for BN Style kindly send the following to [email protected]:
– One sample article
– A 150 word profile on yourself
– 2 article suggestions for BN Style
Application Deadline: Friday 22nd July, 2011
I look forward to receiving and reviewing your application.
Ijeoma Ndekwu– BN Fashion/Style Editor