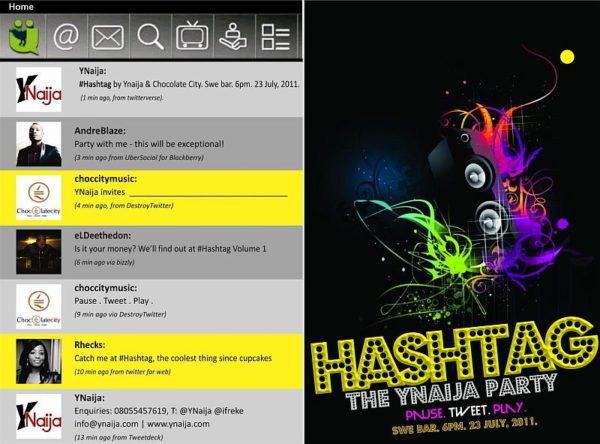 #Hashtag Pause. Tweet. Play. is a social networking event presented by YNaija and Chocolate City. Twitter is guaranteed to come to life in an evening of fine entertainment and great company.
The Beat FM's Oreka Godis and rapper Andre Blaze will on Saturday, 23rd July, 2011, rock the select #Hashtag crowd, as they have been confirmed as anchors of the exclusive event. The party, which will hold at Swe Bar is the latest brainwave from YNaija. The show will also be anchored by the Denrele Edun, who will host special segments – guests will find out at the party!
"It's a great excuse to unwind, network and connect, but prepare to be dazzled by the electrifying ambience and stellar performances from the Choc Boys and other first-rate performers," said Ifreke Inyang,
Assistant Editor of YNaija. "One question – have you been invited?"
More than ever we're looking forward to the #Hashtag party! Pause. Tweet. Play.
#Hashtag – Pause. Tweet. Play
Date: Saturday 23rd July 2011
Venue: Swe Bar, City Mall, Onikan, Lagos
Time: 6PM
Website: www.ynaija.com
Email: [email protected]
____________________________________________________________________________________________________________
Sponsored Content