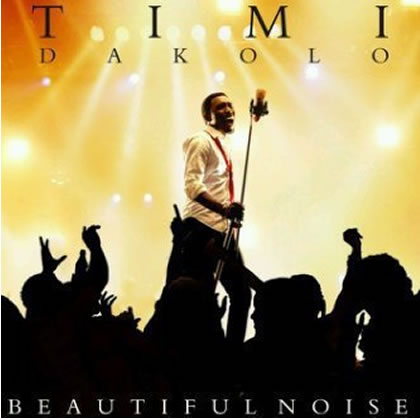 Timi Dakolo is famous for winning the debut edition of Idols West Africa in 2006. He was tipped to be the next big thing for his unique voice and fantastic vocal range. It really has been a long wait for his album from people who first fell in love with him on the show. Was the album worth the 5-year wait?
Hear BNM Contributor, Nono's thoughts on the album, Beautiful Noise.
Enjoy.
____________________________________________________________
With the influx of albums that are ridiculously senseless to say the least, Timi Dakolo's Beautiful Noise is a deep breath of fresh air. The first thing I noticed from the Intro was the production quality. Can somebody say Genius?
Cobhams Asuquo produced the album. I can't talk about Beautiful noise without giving this great man his very own paragraph.
Let It Shine is probably one of my best songs on the album because it talks about being able to achieve whatever we set our minds to. Timi shares with us his own life experiences and the challenges he faced while getting to where he is today. This little light of ours, we're gonna let it shine. Don't give up no matter what you're going through.
There's a Cry brought tears to my eyes. Apt title I must say. Even before Timi started singing I was already dabbing at my eyes. The voices, the sobs of the woman, the gunshots and the sound of feet running at the beginning of the song came together perfectly to create this breathtaking effect. Sorrow. Again, wonderful production. A definite favourite from the album.
"Write me a love song, send me a letter, say that you love me and I'll be ok." The first line from the seventh song on the Beautiful Noise album. This song talks about a couple that are no more together but one's still pining for the other. I'm sure a lot of you can relate. Don't lie o! It's nothing to be embarrassed about. Write her a love song, send her a letter, tell her you love her and see what happens. If it err…backfires, call Timi on 080230420Y0
Possibly the most upbeat song on the album comes in at Track Eight. Raise the roof, is your quintessential party anthem on which he features Cobhams. So Beautiful featuring Elvis Larri is the first song on the album that reminds me of the fact I'm listening to a Nigerian album. I loved the play with the trumpets and traditional drums. This is a song that will definitely be a staple at weddings very soon.
The album has a total of seven love songs. For a twelve track album including the intro, that's a lot of for want of a better word, "awwwwwwww'ing" for the ladies. Love of My life is as the name implies, one of the album's love songs. I had one of those cheesy grins on as I listened. I know he wasn't exactly singing to me but with a little brain fine-tuning, this fact becomes totally forgotten.
In short, I'm unafraid to say that this is a FABULOUS album. I'll defend it anywhere. I've already bought six copies for some of my friends that I know love great music and I'm certain I'll buy more.
In my opinion, Timi outdid himself with Beautiful Noise. This album is totally worth the wait. Now I look forward to everyone finally receiving the memo. Beautiful Noise is one of the best albums from Nigeria this year. Nice one Timi Dakolo.
Track List
1. Intro
2. Let It Shine (Watch The Video below)
3. The Woman I Love
4. I Love You
5. Heaven Please ft MI
6. Is It Over ft Joan Ekpai
7. Love Song
8. Raise the Roof ft Cobhams
9. Love Of My Life
10. So Beautiful ft Elvis Larri
11. There's a Cry (Watch The Video below)
12. I Love You (Remix) ft Jesse Jagz
In case you missed them, you can watch his two videos below:
There's a cry
I Love You