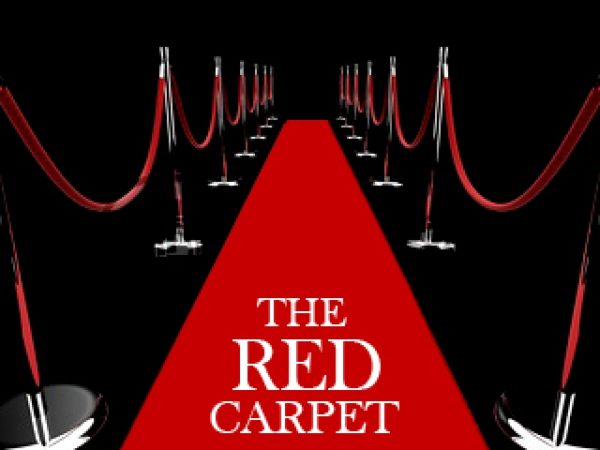 For all you fashionistas and wannabes these are exclusive Rules of Fashion you must take before stepping on The Red Carpet.
Disclaimer: This is a satirical piece for laughs. Any similarities to people alive or dead, real or fake are entirely coincidental!
 (1) You must wear hair that is long and fully loaded with things you cannot explain- whether it's from a dead woman or it's manufactured no consign you. And even if you have dandruff and rashes after loosening the hair, you can still proudly say, "I had longer hair than the next lady on the red carpet".
(2) Your face must be so heavy with make-up as if it is about to drop to the floor and making it hard for you to look straight but at least you can say "I have finally gotten the chance to look like Kim Kardashian." (Even though you look more like Lil Kim).
(3) You feel tonight is your lucky night on the red carpet and you feel like blinging it out, so the shine shine go make fotografa notice you, so you wear a lot of jewellery; bangles, rings and things to accessorise your dressing. Even if you're so tired from carrying so many heavy metals on your body and you have to still keep smiling for the camera, at least you can say, "I am sure Cleopatra would be so jealous that I have more jewellery on me than she's ever had."
(4) Your dress is so tight to show off your curvy silhouette and your stylist tells you to wear a corset. Even if you find it difficult to breathe, you can still be rest assured that you will have a tiny waist to show off to BellaNaija paparazzi.
(5) You want to wear an off shoulder gown and you cannot wear a bra because it will spoil your picture perfect gown and even though your breasts are playing peekaboo with the hem of your dress, as long as you adjust it every 5 seconds you can say, "I'm better than Tara Reid that let it all hang out."
(6) You want to pee, but there is still a million and one interviews you have to do on the red carpet and there is no way you can possibly do that, so you pee on yourself and say to yourself "At least I am wearing a black gown so no one would notice." You tell yourself you're better off than Fergie who peed on herself on stage at a Black Eyed Peas concert. But you'll smell foul the whole night and when you're asked by your co-stars why you smell like that? You'll say, "It's the pesticide I am wearing on my hair to kill flies that might want to bother me because of my cologne."
(7) Your want to show that you have a flawless and radiant skin to make sure you are perfect for the red carpet, so you wax your whole body shouting with pain. Even if you lose your voice screaming, you can gladly say "At least I have hair free skin."
(8) It's summer time and you want people to think that you had a wonderful time on a beach so you fake tan your whole body and show it off on the red carpet. When you're fined by the Fashion Police, it doesn't matter, at least you got the chance to show everybody how you could be more orange than the fruit itself.
(9) Your shoes are so tight because they were a size smaller because they didn't have your size on sale. So your feet are screaming out for help all night. When you get home and have sores all over your feet and you can't walk for 2 weeks, at least you can gladly say "I walked down the red carpet with Christian Louboutins."
(10) You are not happy with the way your body looks, so you go for a breast implantation and buttocks augmentation. Even if you turn out to be a failed plastic surgery scenario like Heidi Montag you can say, "At least Keira Knightley would be completely jealous of me."
So ladies know now that the red carpet isn't something to play with. The divas that have been there know the pains and if you must join the league of the countless number of people walking the red carpets yearly, and to be on BellaNaija.com's Red Carpet Fab abi Red Carpet Fail (for some people o) then you must follow these Painful Fashion Rules For A Red Carpet!
Photo Credit: n4bb.com
_______________________________________________________________________________________________
Damilare Aiki is a 17 year old graduate from Airforce Secondary School, Ikeja. He lives in Lagos state and is currently interning at BellaNaija.com. He recently gained admission to the University of Lagos to study Medicine and Surgery.  His hobbies are travelling, writing and meeting exciting new people. He is a social, friendly and hardworking young man and has been a welcome addition to the BellaNaija team.