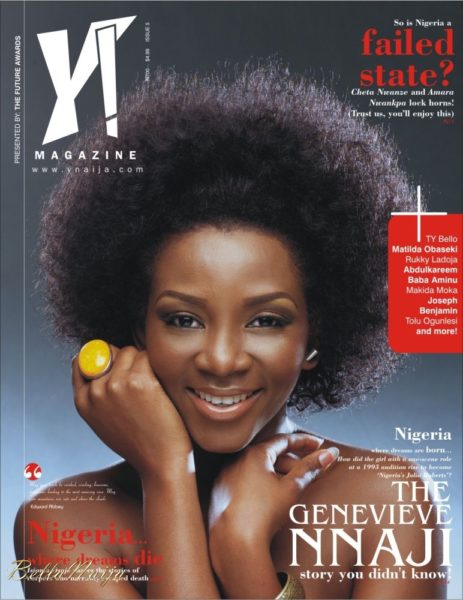 Genevieve Nnaji is the cover star for the new issue of Y! Magazine's "Nigerian Dream" Issue.
The cover feature includes an exclusive photoshoot and interview by Y!
Themed 'The Nigerian Dream' Issue, this edition explores the wide polarities of living and growing in Nigeria – on the one hand, a country where dreams are born and where you can enjoy a full, rich life of fulfilment and excitement; and on the other, a country that gives sp little and takes so much.
"It speaks both to the ideals we aspire to and the realities we live with as Nigerians," says its editor, Chude Jideonwo. "Juxtaposing powerful images of loss, of want and of need with glamorous shoots, sparkling editorials and of course a delightful mishmash of the season's pop culture highlights. It's a full meal!"
Cover girl Genevieve opens up to Jideonwo about her rise from "everyday girl" to "everyone's favourite girl" in a spectacular shoot photographed by Kelechi Amadi-Obi, styled by Maryanne Alabi and Yolanda Okereke with make-up and hair by Ugo for Make Me and David for MUD Studios. Recalling her first audition, the rumours of a Bond girl role, and her many endorsements, Genevieve tells parts of her story many haven't heard before, and makes a clear statement: "I think the problem is a lot of people have forgotten where I am coming from."


Fresh off the captivating Genevieve tale, the theme continues with a piece about the rise of Nigeria's new set of technology visionaries with their eyes of Twitter, Facebook and Groupon; as well the tale of how the revolutionary ReVoDa mobile app was developed. And in Bikes, Boats and Balls, 'Gbenga Awomodu takes a trip through Luxury Lane, profiling Nigeria's fine breed of bikers, golfers and boat lovers.
On the other hand, are exclusive interviews by Isioma Osaje with young youth corps members who almost lost their lives in post-election violence in the North. A gripping essay by 'Funlayo Akinosi on the battle to survive in Nigeria, and a fiery debate between young intellectuals Amara Nwakpa and Cheta Nwanze on the question of Nigeria as a failed state.
In between, are a delicious piece by fashion designer and columnist Rukky Ladoja who makes the case for her obsession with shoes; a feature on the end of Balogun Market as we know it and the rise of sexy new shopping complexes by style columnist Ifeanyi Dike Jr, and a feisty 'Who're You Calling A Spoilt Rich Kid' piece by 'Ifreke Inyang, amongst others. The inimitable Tolu Ogunlesi also takes a critical look at CNN big shot Piers Morgan in 'The second – or third – coming of Piers.'
As usual of course, there are entertainment and lifestyle reviews and interviews – including TY Bello, Lami, Matilda Obaseki, Joseph Benjamin, Makida Moka, and others; and "the high priest of Nigeria's pop culture' also presents fashion extraordinaire with a fabulous photo shoot aptly themed Colour Deluxe. Yemi Olowu, Onyinye, Fafi Obi and Obi Somto light up the pages with summer colour!
"As usual, still working from the masters of the art of the magazine like our model Vanity Fair – we continue to focus on an ideal of a magazine that's extremely well written, with editorials that are well thought out, and painstaking attention to every detail," a statement from the magazine said.
A detailed listing of the stockists for the cover shoot as well as where to buy Y! In Lagos, Abuja and the rest of the country are on the website – www.ynaija.com.

Music


Find Y! with vendors and at stores and newsstands from Monday 8th August 2011
Facebook: facebook.com/YNaija
Twitter: twitter.com/YNaija
Youtube: youtube.com/TheYNaija
Website: www.ynaija.com