Sharpen Your Skills at the 3-Day Intensive Make-Up Workshop by Chanterelle Concepts & MBF Academy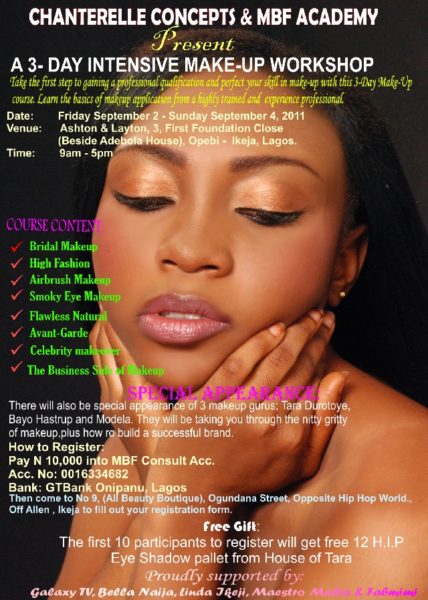 Do you have a passion for beautifying and designing people's faces through make-up to give them that extra-ordinary look we all yearn for? Then this is the perfect opportunity to sharpen those eyeliners – and your make-up skills – as Chanterelle Concepts & MBF Academy presents a 3-Day Intensive Make-up Workshop.
This coming September get ready to take the first step to gaining professional qualifications with this 3-day makeup course. In the course you will learn the basics of make-up application from a highly trained and experienced professional.
This is an ideal way for individuals to learn how to apply their own make-up like a professional or for those who want a refresher on basic makeup application.
Course Content:
– Bridal Makeup
– High Fashion
– Airbrush Makeup
– Smoky Eye Makeup
– Flawless Natural
– Era Makeup
– Avant-Garde
– Celebrity Makeover – learn how to deal with celebrities on set
– The Business Side of Makeup
The course covers also covers color correction, highlighting/shading, foundation application, face shapes, eye shadow application, eyebrow definition, blush and lip color choices, skin types and lots more.
Career Opportunities:
This course will enable a participant carry out practical application of day and evening make-up. It will advance treatment skills within the industry and increase the participant's customer base or help them build one. It will also give one an opportunity to advance onto media make-up skills.
Special Appearances:
There will also be special appearances of 3 makeup gurus – Tara Durotoye, Bayo Hastrup and Modela. They will be taking you through the nitty gritty of makeup, plus giving you tips on how to build a successful brand.

Date: Friday September 2- Sunday September 4, 2011
Time: 9AM – 5PM
Venue: Ashton & Layton, 3 First Foundation Close (Beside Adebola House), Opebi-Ikeja, Lagos
Contact: For more enquiries Call: 08030622601 | 08033779948
How to Register:
Pay N10,000 into MBF Consult Account
Account No: 0016334682
Then go to All Beauty Boutique, No.9 Ogundana Street, Opposite Hip Hop World, Off Allen Avenue, Ikeja, Lagos to fill out your registration form.
Free Gift: The first 10 participants to register will get  free 12 H.I.P Eyeshadow pallet from House of Tara
___________________________________________________________________________________
Sponsored Post