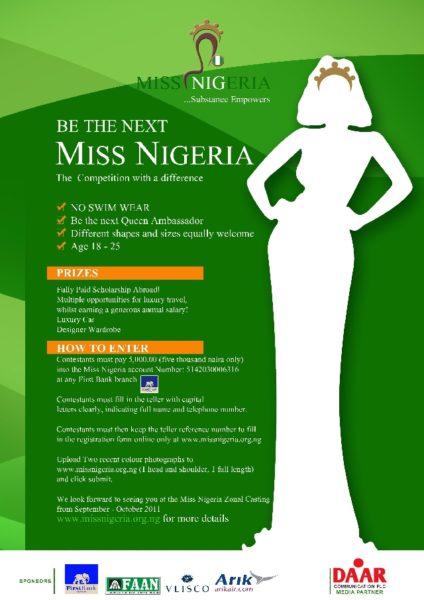 The revitalized Miss Nigeria competition back and ready to transform the lives of a few outstanding young ladies. The Miss Nigeria Competition is distinctive – the competition is family oriented with no swimwear segment and a firm focus on education and  empowerment. With a grand prize which includes a full scholarship to a university anywhere in the world, Miss Nigeria crown is definitely a role to aspire to.
Miss Nigeria has always been a role model to young Nigerian ladies and a spokes person for national volunteerism and charity, while using her title to educate the nation on issues of importance to her and the society at large. Throughout the years, the Miss Nigeria platform afforded past winners with incredible opportunities within Nigeria and abroad. The 2010 Miss Nigeria Competition held in the Federal Capital Territory Abuja on Saturday 25th September 2010 evoked a time when beauty had substance and grace as well as respectability, a time when privilege came with responsibility.Under the stewardship of Chief Adenike Oshinowo-Soleye's AOE Events and Entertainment, the new Miss Nigeria Competition infuses old world glamour with modern elegance.
Empowering women is our passion at the Miss Nigeria office. Opportunities arise on many platforms. To participate in the Miss Nigeria Competition is to be part of a history dating back to 1957.
It is a life changing experience. As the mantra dictates, "Educate a woman, Educate a nation"
Prizes Include
I-Full Scholarship to be educated in an Institution of Higher Learning, anywhere in the world.
II- A Luxury Car
III-One year's salary
IV-Wardrobe for a year from Nigerian designers.
As well as many other gifts from our sponsors.
The 2011 Miss Nigeria Competition is divided into 3 parts:
1-Miss Nigeria Zonal Castings
From Saturday 24th September – Saturday 15th October 2011. During this segment of the Competition, prospective Miss Nigeria Contestants are selected from all our 4 National and 3 International zonal casting locations- London, New York and Johannesburg.36 Miss Nigeria Contestants will be selected to participate in the 2011 Miss Nigeria Competition and will move into the Miss Nigeria Resort.
2-Miss Nigeria Reality Show
From Saturday 29th October to  Saturday 12th November 2011, 36 Miss Nigeria Contestants selected from our zonal casting will vie for the coveted Miss Nigeria Crown, in a 2 week Reality Show "Crowning of the Queen'. 16 Contestants will be eliminated through out the Reality show leaving 20 Finalists to compete at the Miss Nigeria Grand Finale on Friday 18th November 2011
3-Miss Nigeria Grand Finale–  On Friday 18th November 2011. 20 Miss Nigeria Finalists will compete for the title-2011 Miss Nigeria at the Eko Hotel and Suites.
The Competition will also see winners in the following award categories
 1-Miss Congeniality
 2-Miss Photogenic
 3-Miss African Hostess
 4-Best Traditional Wear
Interested?
Then what are you waiting for register today for the chance to be 2011 Miss Nigeria
How To Register
1-Contestants should pay in the amount of N 5,000 into any First Bank Branch, Account Number 5142030006316
2-Contestants must fill in the Teller number with capital letters indicating Full Name & Telephone Number
3-Contestants must then keep the Teller reference number to fill in the registration form online at www.missnigeria.org.ng
4-Upload two recent colour photographs ( 1 head & shoulder, 1 Full length) and click submit.
Miss Nigeria looks forward to seeing you at the Miss Nigeria Zonal Casting From September – October 2011. For more info log on to www.missnigeria.org.ng
The competition is open to ladies of different shapes and sizes and you must be between the ages of 18 -25.