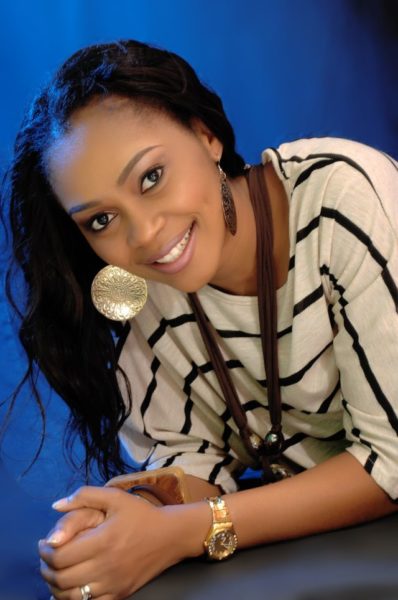 Since auditioning for the MTN Y'hello TV Show in 2002, on-air personality Tana Adelana (nee Egbo) has gone on to perpetually grace TV screens across Africa. The 2005 Grind Awards winner, three-time finalist and 2011 winner of the On-Air Personality of the Year (TV) at the Future Awards, Nigeria's most prestigious youth awards, she has worked with several top brands and on various A-List productions, including the MTN Y'hello TV Show, MNet's 'Let's Dance', LG Karaoke Mega Star Show, Coca Cola FC TV Show, Zain Naira Rain Promo, and Big Brother Africa. In this exclusive chat with BN Editorial Assistant, Gbenga Awomodu, Tana who's currently one of the Peak Talent Show hosts talks about her TV career, growing love for acting, family and other details.
Meet Tana
My names are Christiana Nkem Adelana, born to a royal and Christian home in the early 80's. I schooled in Lagos – Treasure Land Nursery and Primary school in Surulere and St. Francis Catholic Secondary School, Idimu. I studied and obtained a B.Sc. in Urban and Regional Planning at the University of Lagos. I am a TV presenter, an actress and a business woman.
What piqued your interest in the media and entertainment industry, especially TV?
I have always been talkative and I knew someday (didn't know how), I would be talking professionally so when the opportunity presented itself, I accepted, found it a bit challenging initially, got comfortable and fell completely in love with the camera.
Could you briefly describe your journey to becoming a widely celebrated Veejay, whilst shedding some light on the nature of the learning curve?
Hmmm, ok, it started off in 2002 when I auditioned for the MTN Y'hello TV Show. I got the job after series of auditions and nudging. I did the job and I realised it was fun. It was me and it was exactly where I wanted to be. After MTN Y'hello, I started getting calls to do other jobs; that was the beginning of my very busy career. Presenting, like every other job is easy provided you understand what it is. It's like acting: you are giving a script and a brief; you get into character and deliver your lines in the most convincing manner.
What professional courses and trainings have you enrolled in to give your career a lift?
While on different jobs in the past, I have had one-on-one trainings with speech therapists and oral English teachers; in recent times, online courses and the New York Film Academy.
What are those extra ingredients that one could add to become a top-flight on-air personality?
To be a top flight on-air personality, you just have to be the best you can be and let your personality shine through. Never try to be anyone else because it never works; it's like a magnifying glass, everyone will see right through you boldly.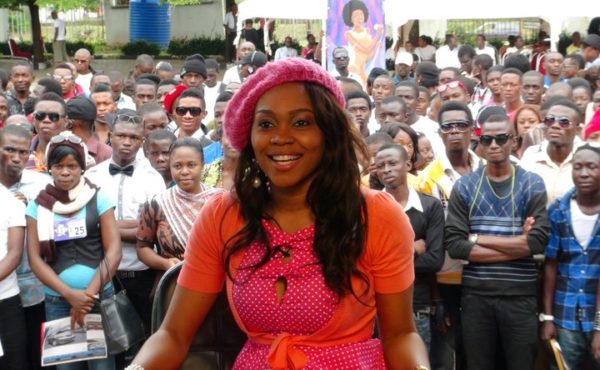 What are the peculiar challenges faced by practitioners in media and entertainment industry, especially for TV presenters?
Most practitioners are faced with inadequate funds. Pure and outright nepotism, and it's like a food chain, we are right under production companies so if they suffer, for the most part, we suffer.
You have also recently started to act in movies. How have you been able to make that transition, and which movies have you acted in recently?
Making the transition to Nollywood isn't so difficult for me as presenting is like acting; you have a script (which is totally different for every production). You get into the character and deliver your lines convincingly. I have featured in 3 seasons of Disclosure (a B Concept production), Flatmates and In-laws (a K.P. Cypress Production), and 2 brides and a baby, which is set for release in October 2011.
Working for long hours and frequent travelling are undoubtedly some of the features of your job. How do you cope with the huge demand on your time as an on-air personality, actress, wife, mother, and mentor?
First of all I will like to mention that I have a very big God by my side and a very loving and supportive husband. God just works it all out for me and my husband helps out in every way he can so it works out well at the end of the day; but you are right, my job takes a lot of my time and looking at my schedule, it may seem crazy to anyone who's not in the field.
How financially rewarding is your profession, especially for new entrants? For how long do they have to hang on in there before the big checks start to come in?
It may not be so lucrative in the beginning for new entrants, but as long as you can prove yourselves to be indispensable, the pay checks will definitely start rolling in before you know it.
Undoubtedly, a great deal of business savvy is needed for one to succeed in whatever field of endeavour. How have you been able to develop your business sense and build your brand?
I am an Igbo girl o! Lol. When you have been in the game for long, you will understand how negotiation works, but it all boils down to what you think you deserve.
You have interviewed and interacted with many aspiring on-air personalities before now. What is your general assessment of the employability of most of those you have met or known of?
I've been to several auditions and have met a lot of aspirants and I must say: Nigeria has got talents!
How can prospective practitioners be better equipped for a rewarding career in the media and TV entertainment industry?
Be yourself, never give up, and if it's truly what you want, you have to approach it with the mind of a hustler.
What are the roles of mentorship in the industry and in what ways do you help in mentoring young people who are new to the profession?
When I meet young entrants, naturally, they want to know every single detail on how I got to where I am now; I advise them and explain the intricacies of the profession as much as I can and when auditions come up, I invite them, because the more auditions you go to, the more experience you gain and that on its own can equip you for greater challenges in the profession.
Could you name a few people you look up to as your role models and mentors in and out of the industry and why?
First, my mum and my sister because they are both very focused and a determined set of people. Angelina Jolie because she strikes me as a very strong woman and to me, being strong is the secret to success and to life.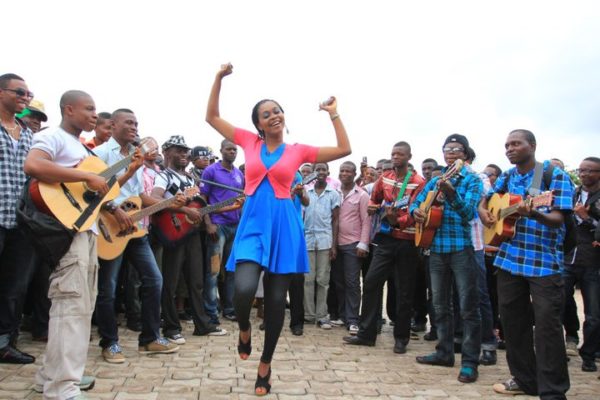 Six years is quite some time to spend on Channel O. What have been the major highlights of your career at Channel O? How have you been able to maintain your relevance?
Channel O was a highlight on its own as everything just happened in a flash; one minute I was in Nigeria working on MTN Y'hello, the next minute I was in South Africa, representing Nigeria. It was all just awesome. Maintaining my relevance is easy. There can never be another Tana Adelana; there's only one of me in the whole world.
What other brands aside MTN have you worked with/for? What jobs are you currently involved in?
I have hosted many notable shows which include MNet's dance reality show, 'Let's Dance', LG Karaoke Mega Star Show, Coca Cola FC TV Show, Zain Naira Rain Promo, Big Brother Africa (I was the Nigerian Correspondent for 3 years), Big brother Nigeria and West African Idol eviction parties for channel O. I also hosted the Hip Hop World Awards in 2007 with D' Banj. I am currently one of the hosts of the Peak Talent Show 3, a show I have been working on since inception. The Show has kicked off screenings and auditions in 6 zones made up of 11 Nigerian cities: Abuja, Makurdi, Enugu, Owerri, Calabar, Uyo, Asaba, Owerri, Benin, Ibadan, Akure and finally Lagos.
Which project would you say has been your most challenging since you started acting and presenting on TV?
Every production is challenging on its own as you have to find every facet to you in other to tackle the job, but "most challenging"? Yet to come. lol.
You have undoubtedly done well for yourself as an On-Air personality. Which are some of the major recognitions you have had for your work?
I won the Grind Awards in 2005 and have been a finalist at the Future Awards, Nigeria's most prestigious youth awards for On-Air Personality of the Year (TV), three times, the last being at the January 2011 edition. I won at that particular edition.
How did it feel being a finalist at the Future Awards three consecutive years, but not winning the first two times?
The industry is very competitive. Everything is not about winning, but the fact that I was a finalist amongst several other young people who were also doing great in this industry is enough satisfaction and this experience made me improve on my art.
How do you spend your time off work and how often do you get some 'me time'?
I try to spend every time I get off work with my family and yes I do get some "me time", I go shopping, to the spa, et al.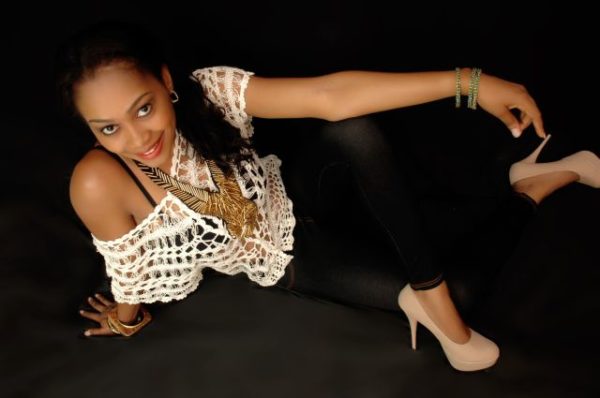 For how long have you been married?
It will be four years in September.
What are some of your thoughts about inter-tribal marriages (since you are in one)? How would you describe the experience?
Ah yes! I am in one! Sometimes, I forget; that's because, when it's true love, nothing else matters, not even the fact that you are from different ethnic groups.
Many people would find it difficult to believe you are already a mother of two. How have you been able to keep a trim figure like an 18 year-old? Any special routines?
Thank you! No special routines o! I just try as much as possible to stay off sweets, but basically, I think it is heredity. My mom had 7 kids and she is a size 14.
Where do you draw inspiration, even when work is overwhelming; what are you reading at the moment?
My inspiration comes from God. I love reading adventures. Right now, I'm reading 'The God of Small Things' by Arundhati Roy.
What are some of your plans for the next five years; what should we be expecting from Tana?
In five years, by God's grace, I will be a force to be reckoned with in this entertainment industry. I will definitely be bigger, hopefully, my show will be up and running season after season. I am off to the New York Film Academy later in the year to study acting for film as I have fallen in love with acting.
Are there other things you would like to share with our esteemed readers?
I really want to thank all my fans and well wishers who have supported me throughout my career. God bless you immensely and you all will be celebrated in your prospective fields of work. Without you, I am nothing. I appreciate and love you all.
Thanks for sharing with us here on BN!
My pleasure!
__________________________________________________________________________________________________
Gbenga Awomodu is an Editorial Assistant at Bainstone Ltd./BellaNaija.com. When he is not reading or writing, Gbenga is listening to good music or playing the piano. He believes in the inspirational power of words and pictures, which he explores in helping to make the world a better place. He blogs at Gbenga's Notebook (www.gbengaawomodu.com).