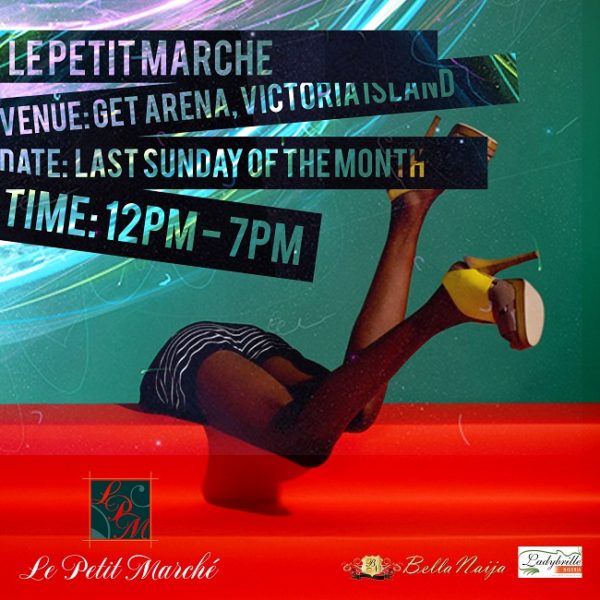 It's here again! The September Issue of Le Petit Marché is only a few days away and we are brimming with excitement at the plans for this weekend! For the fashion-conscious, all roads lead to the 'shopfest' that will be taking place this Sunday.
Take a look at the fab vendors for this month's Marché:
The HD Shop| OremiCraft| Esfans | Dadu Bajo | Republic of Foreigner | Rukkies | Virtue by FocusWear | Cam Cam Sweeties | Ours by Juliada | Wow Fashion | J Shuz | Vitoes | Maju | Rouge Vallari | Jumii Designs |Y. Craig | Bubbles & Scents | Inner Eye | Kikcot | Myda Inc | Literati | DivaNista | Bideux | La Bennis Creations | BebeGrafiti | Raindrops & Roses
Whether you want to grab a one of a kind find, window shop, or just enjoy a nice Sunday meal and cocktail, LPM will be happy to host you.
LPM September 2011
Date: Sunday 25th September 2011
Time: 12 Noon – 7PM
Venue: GET Arena, Opposite Oriental Hotel, Victoria Island Lagos
The growth and success of the LPM over the years is as a direct result of the love and support they have received from the LPM faithful. To show their appreciation, they're handing over the reins for the October Marché to you! Simply send an email to info@lpmnigeria.com telling them your idea or what you would like to see at the October Marché. An uber-fab prize awaits the idea that gets picked! Make sure to send in those pointers we know you've been itching to give them all this time!
____________________________________________________________________________________________________________
Sponsored Content