Happy New Year!
BN Weddings is back with lots of goodies for 2012.
We kick things off by chatting with 10 gorgeous BN Weddings Belles as they tell us all about their dream dresses which they wore on their big day!
Enjoy.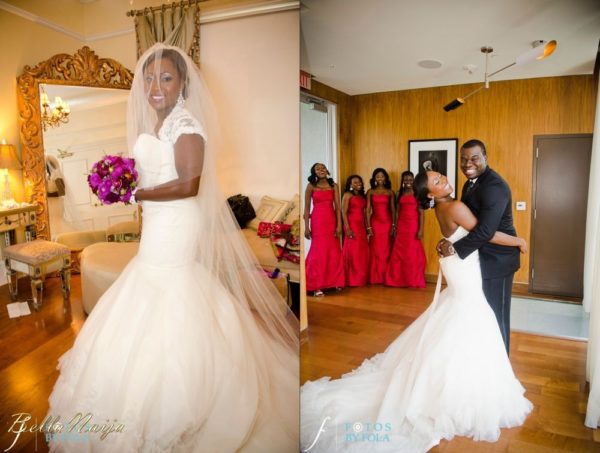 BN Wedding Belle: Susan Onianwa
Wedding Date: 6th August 2011
Wedding Venue: W Hotel, Buckhead, Atlanta, Georgia, USA
All About the Dress! – Lazaro Dress – Off white, sleeveless, simply elegant, flared mermaid dress.
I went dress shopping with my friends at 3 different bridal shops. I've always heard brides say, "oh you will know when you wear it." I was getting frustrated with my search. Then one morning, I went dress shopping with my mother.
We went to Bridal by Lori, famous for the bridal show called "Say Yes to the Dress." I tried on 4 dresses, and felt lukewarm about all of them. Then, the attendant told me that she had the perfect dress for me. When I put it on, I didn't want to take it off. I smiled and cried. I was soo happy. I knew I had found my dress!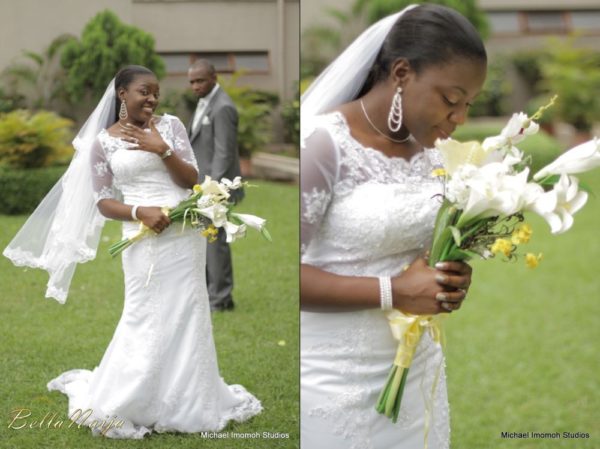 BN Wedding Belle: Opeyemi Anipole
Wedding Date: 2nd July 2011
Wedding Venue: Archbishop Vining Memorial Cathedral Church, Ikeja, Lagos | Anchor Event Center, Ikeja, Lagos
All About the Dress! – I had a picture of my wedding gown already in my head. I was online for weeks trying to get an exact fit. And I found it! The Bridal Gallery made the picture in my head come alive!

BN Wedding Belle: Alimatu Sedenu
Wedding Date: 18th December 2010
All About the Dress! – Monique Lhuillier ball gown.
Alimatu credits her bridal consultant Diara at Bel Fiore for helping her achieve her dream wedding look.
I cant thank Diara enough for all of your hardwork, patience and honest, professional opinion. Look at the gown she picked for me. It looked FABULOUS! I am so grateful to Diara because of her, my wedding dreams became a reality.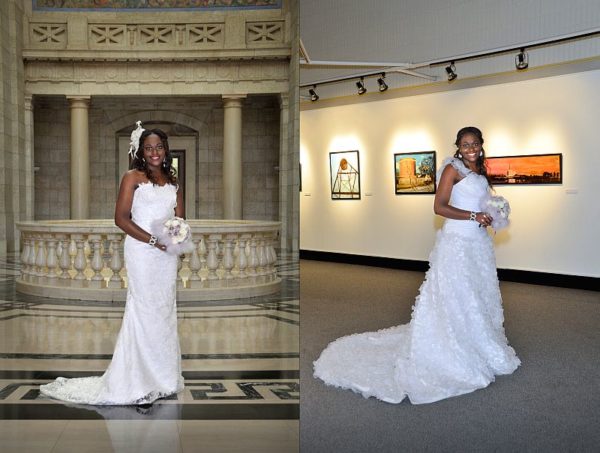 BN Wedding Belle – Odion Oluwatowo Laura Gesinde
Wedding Date: Saturday July 16 2011
Wedding Venue: Immanuel Fellowship Church, Winnipeg, Canada | Reception – Jean-Paulaurry Hall, Franco Manitobain Cultural Center, Winnipeg MB, Canada
All About the Dress! I wore three wedding dresses.
Dress 1
From Pronovias and I chose to wear this dress for our formal bridal photos with the bridal train because of its elegant look.
Dress 2
From Maggie Soterro, I wore this dress for the wedding ceremony because of the ball gown nature of the dress – the Cinderella concept.
Dress 3
This dress is also from Pronovias and I liked this dress because of its classy and elegant look which rhymed with the theme of our wedding reception.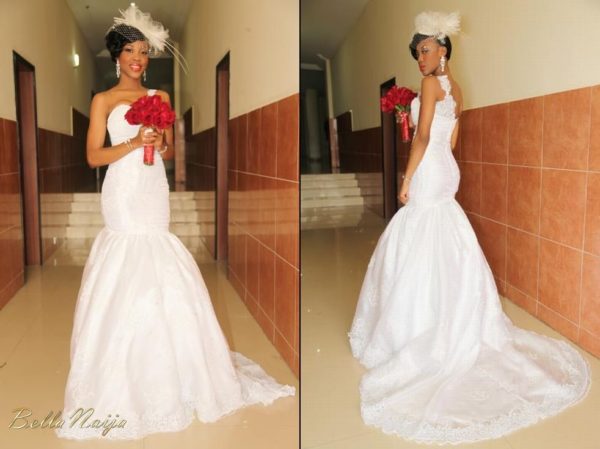 BN Wedding Belle: Uleyi Sandra Itu
Wedding Date: 19th November 2011
Wedding Venue: Sacred Heart Cathedral, Calabar | Reception – Monty Suites, Calabar
All About the Dress! – White Wedding dress designed by the bride, made by Rose Blossom Bridal. I wore a mono-strap mermaid tail dress with silver embellishments and lace trimmings

BN Wedding Belle: Busayo Bakre
Wedding Date: 3rd September 2011
Wedding Venue: Atlanta Marriott Perimeter Center, Atlanta, Georgia
All About the Dress – I pretty much visited almost all the bridal stores in Atlanta. I saw a couple of pretty dresses but I was not wowed about it. When I finally found "the dress," I knew that was it because I never felt any adrenaline rush or excitement when I tried the other dresses. They took my measurements and it took about 6 months for them to sew the dress and get it back to me.



BN Wedding Belle: Ify Ikogho-Ovu
Wedding Date: 24th February 2011
Wedding Venue: Dominion City Church, Ogudu, GRA | Ogra Hall, Ogudu GRA, Lagos
All About the Dress! – Dress by MAI Atafo Inspired. It was a white monostrap fitted dress, the strap had roses on them and the body of the dress was ruched.
When I saw the dress I couldn't stop dreaming about it because it was the perfect style for me and so I knew it had to be that one!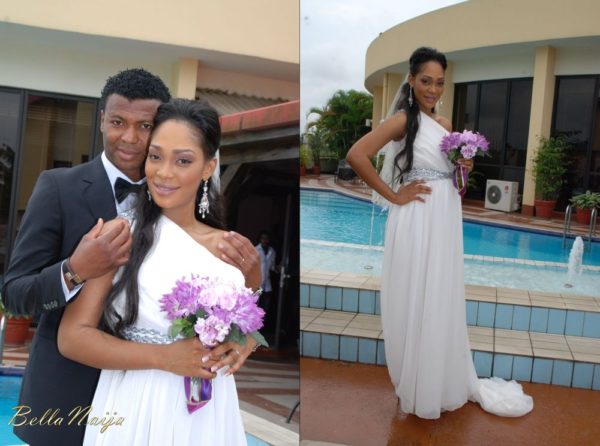 BN Wedding Belle: Stephanie Kalu-Uche
Wedding Date: 18th June 2011
Wedding Location: Port Harcourt
All About the Dress – Grecian Goddess! Perfectly executed by Mimi Lee London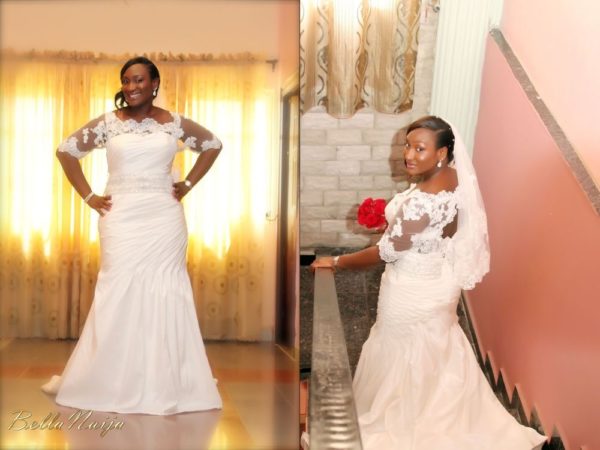 BN Wedding Belle: Amoge Nwajide
Wedding Date: May 2011
Wedding Location: The Event Centre, Independence Layout, Enugu
All About the Dress – My wedding dress criteria was classy, elegant, curve flattering! Dress by Mori Lee, Reconstructed by Yemi Osunkoya of Kosibah.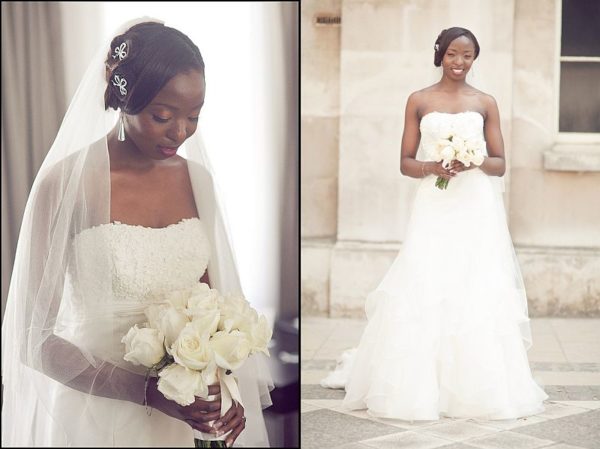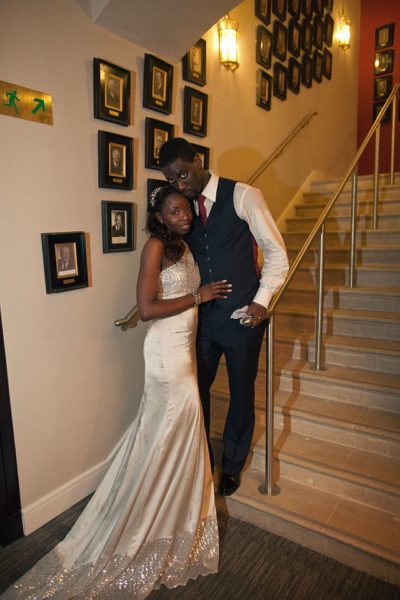 BN Wedding Belle: Lola Ekugo
Wedding Date: 23rd April 2011
Wedding Venue: St Margaret's Church, Lothbury Church, London | Reception – Moorgate Place, London, EC2R 6EA
All About the Dress! – My dress was designed by Madeline Garner of New York. It is a Beaded lace on organza dress with a stunning ruffled Skirt detail. I had been looking around for the perfect dress for a while until I found it. The moment I tried on the dress it just felt perfect. I loved everything about the dress and I absolutely loved the 'Ruffles'! Swarovski Crystal Earrings, Diamond bow hairpieces and Lola by Marc Jacobs perfume. Second Dress – Embellished Asymmetric Silver Dress.

*****
Photography: fotosbyfola | Michael Imomoh Studio | Raheem Osanyin for Rhphotoarts | Frank Yong Photography | Fotostudio Industries Ltd | A & O photography | Fotolighthouse | Alakija & Co | Dimeji for Modii Studios (Replica Digital Studios)