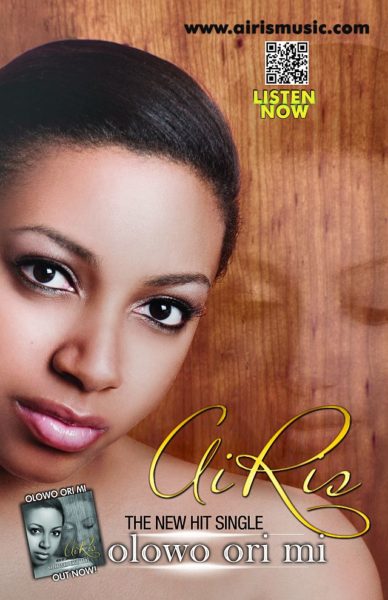 Just when we were about to write off AiRis as a "one hit wonder", two years after her debut "Without You", she is back with a brand new track – "Olowo Ori Mi" produced by Shizzy and Victor 'Spankie Doodle' Oganua.
Here are excerpts from the official press release
After an almost 2 year hiatus to focus on her record label, AiRis branched out in a big way with a new and impressive business venture. On her break, she was working hard to contribute in making an impact in the music industry by officially launching her very own recording studio; Airis Music Studios which is located in Park View Estate, Ikoyi, Lagos, Nigeria.
Noteworthy growing clientele of AiRis Music Studios include Les Nubians among others. There is also a 12-week course available for aspiring Musicians, Recording artists and Producers to learn musical instruments like the guitar, drums, saxophone, violin and the piano. AiRis proves that she is not just a singer/ songwriter but a music enthusiast and a business woman who is passionate about music and artist development.
Olowo Ori Mi is an upbeat Afropop romantic song laced with AiRis' soulful vocals with Yoruba infusions highlighting the chorus for that Afro effect. With the infusion of a Saxophone and dance instruments, upbeat and groovy, this single will get you dancing all the way. This might just become the next wedding party/love song staple. It's an ideal song for the "lovers' season" 
AiRis looks pretty gorgeous in her new promo photo (above). Click play to listen to let us know what you think of the new track.
Airis – Olowo Ori Mi
[audio:https://www.bellanaija.com/wp-content/uploads/2012/02/Airis-Olowo-Ori-Mi-FINAL.mp3]