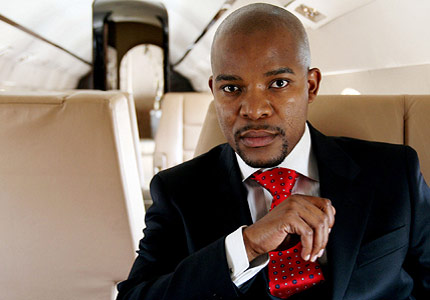 For the past few years, the intrigue and suspense of M-Net's gripping prime-time serial Jacob's Cross has won fans across the continent, who tune in to watch the dazzling, dramatic life of an oil-rich African dynasty unfold against a background of jet-set living, boardroom betrayals and back-room deals.
This week, Jacob's Cross returned to DStv screens as a new season began on M-Net and if the first episode is anything to go by, then Monday evenings are all set to be dominated by the life and times of the fictional but larger-than-life Abayomi family!
At the center of the story once more is South African born Jacob Makhubu Abayomi, a smart and passionate businessman who inherited a vast oil business from his Nigerian mogul father and is ambitious to build a legacy of the next great African empire bringing power and electrification to the continent. His dream is shared by his sister Folake, and his best friend and business partner Prospero, but devious family dynamics are at play as his uncle Ade has plans of his own for the Abayomi's. And lurking in prison is his dangerous brother Bola who remains obsessed with wresting power and control out of Jacob's hands.
In episode one Jacob sets the pace for his older brother Andile with an exhilarating action packed birthday surprise courtesy of a racing track and fast sports cars. The action moved between Johannesburg, Lagos and Nairobi, as Jacob and Prospero pitched their bold plan to list Abayomi Oil on the Nigerian and South African stock exchange.
Meanwhile Folake and Shy, worked with the Inspector General of Prisons to ensure that Bola remains locked up, but found their efforts thwarted when Bola was seen at an upmarket hotel enjoying the company of his wife Adana. As Adana nervously prepared for her first visit to her child, now living with Folake at the Abayomi compound, Jacob's wife Lerato prepared to return home from Nairobi, Kenya where she had been following a lead for a hot news story
It's a tense and exciting time for the entire family and in true TV style, the pressure just escalates when the family receives the tragic news…Lerato is dead!
So with this cliff-hanger start to the new season, it's anyone's guess what will happen next….there's only one way to find out though and that's to stay tuned to M-Net for the next gripping installment in which Jacob journeys to Nairobi and comes face to face with a shocking personal realization that jeopardizes all his plans for the future.
Jacob's Cross, which is produced for M-Net by The Bomb production company, stars Hlomla Dandala, Moky Makura, Fabian Adeoye Lojede, Jet Novuka, Anthony Bishop, Anthony Oseyemi, Mmabatho Montso, Kendra Etufunwa and Xolile Tshabalala. Speaking about the long-running series, M-Net Africa Managing Director Biola Alabi says viewers can expect more complicated relationships, beautiful homes, luxurious lifestyles, dramatic encounters and elegant fashion in the new season.
"Jacob's Cross has a clearly defined audience who know and love the show for its' undeniable drama, its' incredible style and its' riveting storylines. Add a talented cast, compelling scripts and a top-notch crew and this season fans will get more of what they love about the show, plus some unexpected plot twists and some truly unforgettable moments. So stay tuned!"
Jacob's Cross is screened on M-Net East (Mondays at 20:00 CAT) and on M-Net West (Mondays at 22:00 CAT).