I am back and this time it's styling one of my favorite clients, Monalisa Chinda. Catwalq, a soap Monalisa produced with Emem Isong was premiering on the 1st of February. It was going to be a different type of premiere; a press premiere at 11 am! Wowser! Talk about a major style challenge! I was in a bit of a bind, and pondered what style direction to take. My thought process went as follows:
She is the star of the soap and needs to stand out nicely during the premiere.
It is a day time event and so the dress has to be appropriate.
She has to appear as respectable as possible, since it is a slightly formal event.
Monalisa is very curvy; I need to style her in a feminine but not overtly provocative manner.
Take all this into consideration and still style her attractively.
Tall order, right? I started my hunt for the perfect dress immediately. I played with different looks in my head but I knew exactly what I wanted, and wondered where I would find it. I was going for a Marilyn Monroe inspired look, as she has the right figure and poise to carry it off. I hit pot luck almost immediately. I bought a bottle green Vintage Dress from Tope Abiola (FrockitRockIt) and I knew right away that it would work. The color would complement her skin nicely; the delightful slit in the middle for that  little extra oomph. The fabric was thick and would  give the right support and the cute brooch in the bust area was the exact amount of  bling needed.
I rushed off to Monalisa's with a very confident strut! I knew I had my 'A' game on and the dress was going to fit super perfectly. She tried it on, it fit slightly loosely and the length was a bit awkward. However, I could see the big picture and knew that with a little bit of reconstruction, the dress would be beyond perfect! Monalisa, God bless her pretty soul, went with my suggestions. Kemmy Solomon of kemkemstudio did an amazing job reworking and shortening the length of the dress.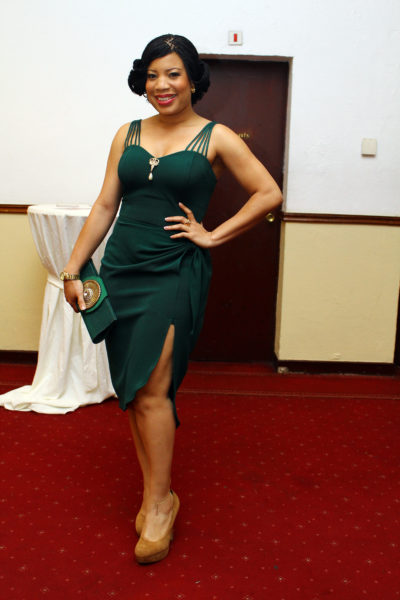 I finished off the look with an exact shade of green purse , from Ruby and Pink, which I found just by chance! The gods were certainly smiling at me! The shoes were a bit of a struggle. I needed a pair that would tone down the whole look. I decided on the tan pair I got from BMPro Studios, The shoes finished up the look and kept the feet area clean and simple.
I decided to wear her hair away from her face, almost like an updo, as it went very nicely with the style of the dress and looked very elegant. Minimal make-up and accessories and I had my look! She was super glad and I thought she looked amazing! Slam, Dunk,Done, Dusted!
I think I hit a home run with this one, do  you agree?
Cheers!
Credits: Photography: Kola Oshalusi| Hair: Ola|Make-up: Tinuke for BmPro | Styling: Ezinne Chinkata
_____________________________________________________________________________________________
Ezinne Chinkata is a leading Fashion Stylist/Image Consultant/Writer/ Fashion Editor in Nigerian Fashion. She has styled numerous lookbooks and editorials and is the current Fashion Editor at WOW! Magazine. Follow Zinkata on Twitter: @Zinkata1; Contact: [email protected]