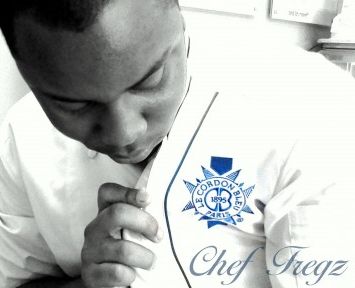 And Yes the Basil Chilli Tikka Prawns took the Prize!
Thank you all for reading and commenting and yes voting this dish! Absolutely grateful!
Late last year, a very good friend of mine, Yemi Spaine had me cook for his family to celebrate his sister's birthday and send-off to school. Amongst the array of things I cooked was the above dish.
In all fairness, someone pointed out that there was squid somewhere in it… Honestly, it made it to the plate by accident, I do remember cooking squid that day, but not in this dish… But oh well, add squid to the recipe by all means!
The inspiration for this dish came when I remembered seeing "basil chilli chicken stir fry" in a cookbook. I always wanted to try it, but never got round to do it. However, finally I got my opportunity when I picked up Thai Chilles and Basil at Shoprite, and had to do a Prawn dish at my friend's dinner…
THE RECIPE
You'll Need…
500g Jumbo Tiger Prawns
250g Calamari/Squid (if you have)
TIKKA MARINADE
One bottle Tikka Steers Sauce
4 Cloves Crushed Garlic
½ Teaspoon Salt
3-4 Tablespoons Sesame Oil
5 Table Spoons Tamarind Sauce
½ Tablespoon Fish Seasoning
2 Tablespoons Coriander Powder
1 Tablespoon Cumin Powder
1 Teaspoon Black Pepper
Chilli Sauce (to taste)
GARNISH
Basil Leaves (100g bunch) – torn up by hand
4-5 Large Thai Chilies (Shombo pepper) – sliced
1 Onion – chopped
1 Teaspoon Ginger – Finely Chopped
Vegetable Oil for stir-frying
Marinade the prawns by mixing the tikka sauce ingredients with the prawns. You must have cleaned and prepped them by removing the black vein that runs down the spine of the prawn. When this is done, leave to marinade for at least 30 minutes, to a maximum of 24 hours (for 24 hours please be sure to leave in the freezer).
Heat up some vegetable oil in fairly large pot or wok. Add the chopped onion and stir-fry with the chilies and ginger on a high heat. Do so for about 2mins till the onions start to catch a little colour, then add the prawns, (leaving lots of the marinade behind, allow for some to fry along to make a loose sauce) stirring over the high heat till the tails start to curl up and turn a bright coral-red-orange colour.
Take a spoon and taste the sauce formed at the bottom of the pot or wok, check for seasoning and if it needs salt or anything, so you can quickly adjust.
As soon as the Prawns have fully curled and turned coral, throw in the basil leaves and stir one last time.
Layout on a large dish or plate, garnish by sprinkling some more basil and sliced chilles, drizzle some sesame oil over for a final finish.
At my friend's we had this alongside other proteins such as grilled pork, Herb Butter Chicken Breasts and Confit potatoes (which is what is next to the prawns) and of course some basmati rice.
I would recommend you do some plain basmati rice or even good potato fries!
Extra Tip
If you want to use squid or calamari, I would recommend you clean it out well and score (making incisions against its flesh) its flesh, so the marinade can penetrate the flesh well and help it cook faster as well as all the way through.
However be careful with squid, it tends to go rubbery when over cooked, and you don't want to serve raw seafood either.
So what I recommend is once it has curled up, take a big piece and cut open. You could either check to see if its translucent or touch to see if its hot inside. It should also be easy to cut through it.
If you buy prawns with shells on, after you peel away from the crustacean, place it in a pot with some sliced onion and boil for 20mins to make a stock. For a better tasting stock, blend the shells with the stock to a rough chop kind of state, and pass it through a fine sieve/colander.
That way you get the maximum flavour out of the prawns
You can use that stock to make sauce or add it to the prawns and thicken with corn flour. Where you can also season with some light soy sauce or salt if you don't have, and then maybe add a bit more basil and Chilli for that extra flavour punch.
Finally, please as much as I have posted a "recipe" do feel free to follow your intuition or adjust things where you deem fit. Recipes are like guidelines… not rules!
Whatever you do, or should I say cook, just make it HOT!
P.S:  When you try it take a nice photo of it and send your experience taste wise to editorial@bellanaija.com
Also I am hosting my event at GET ARENA on the 25th of March 2012, follow this link for the full menu – www.theskinnychefthatcould.com
Be sure to follow the blog and drop a creative comment using the word "tenderloin"on the blog and who knows, someone may get a free meal from me! *wink*
A Bientot!
_____________________________________________________________________________________________
Chef Fregz loves to cook! He is a graduate of Le Cordon Bleu Paris Culinary Arts School in France and hosts monthly "Chef Fregz Specials" where he whips up a yummy menu with a different theme each time then everyone enjoys a taste. He also caters special events and private dinners.
To find out more, visit http://theskinnychefthatcould.wordpress.com/