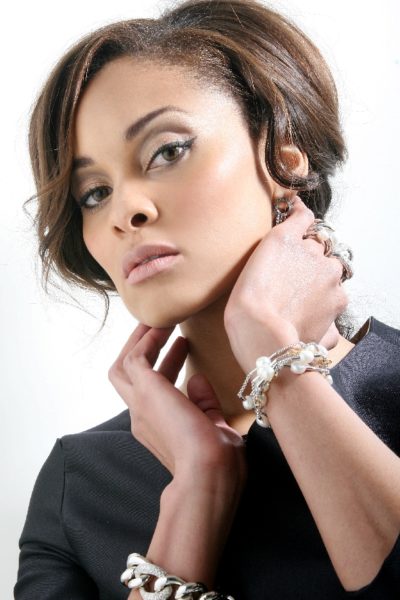 It is the norm of most beauty pageants across the world for the winners to take on a charity project during their reign as beauty queens. However, what is rare is to find these queens continue in such projects after they pass on their titles. Menaye Donkor won the Miss Universe Ghana pageant in 2004 and hasn't turned her back on the charity projects she began since then. Soon after the pageant, she established the Menaye Charity Foundation and took over the running of Menaye International School which her parents set up in 2001. So far, over 500 children have been through the school and the facilities are continually expanding. She is solely responsible for raising funds to support the school which provides free, quality education to under privileged children in the rural areas. Her foundation provides everything for the school from the buildings and equipment, to the teachers' salaries, uniforms for the pupils, books and stationery. Through her charity foundation, she has also helped provide medical care for over 600 orphans infected with HIV or AIDS.
Menaye is married to Inter Milan footballer, Sulley Muntari. She is a model, actress, and entrepreneur, running her own property development company in Ghana. She has graced the pages of international magazines such as Maxim with her striking looks.
Born in 1981, Menaye has a strong passion for children and is not resting on her oars as she is set to touch more lives and put smiles on the faces of even more children. She speaks about her inspiring work with her charity and many more in this interview exclusive to BN readers.
Most beauty queens who run charity organizations during their reign drop it off after they pass on the title. How have you kept on for so long despite the fact that your reign as queen ended since 2005?
Setting up the charity and taking over the school was something I have always wanted to do as I grew up in a family where giving back to the community was very important. It is a part of my life and always has been so crown or no crown, I'm dedicated for the long haul. I have put a lot of hard work into my other businesses to help sustain the charity and school.
Where did you get the inspiration to start the Charity?
My family is my inspiration for everything. Charity has always been important to me because my family, my father in particular, showed me the importance of giving back to the community, so I wanted to do this in my home country of Ghana. I particularly wanted to support children in the deprived central region infected with HIV and AIDS, and make a difference to children's education in my home area.
Why the special focus on children?
I am drawn to the innocence in children. They are put in situations that are no choice of theirs so they deserve the chance in life to create a better and brighter future.
What is the prevalence rate of HIV/AIDS in Ghana especially among children?
There are about 250,000 people living with HIV in Ghana and 27,000 of them are children and the biggest problem is education about the disease.
What are the key focus areas of the Charity?
The Menaye Charity Organisation raises funds for deprived children in Ghana, particularly children infected with and affected by HIV or AIDS. I have always tried to raise awareness and funds to help support these children, especially those at orphanages across Ghana. I have previously worked with an orphanage in Odumasi in the Eastern region of Ghana, which has around 600 children affected by AIDS.
Through the charity, I am also solely responsible for providing the funds and management of the Menaye International School, which has to date, provided an education to over 500 Ghanaian children who would otherwise not have had access to an education.

What specific projects has your charity organization been involved in recently?
The Menaye Charity Organization has contributed to the Korle Bu Fever Unit in Accra in the Central region of Ghana, as well as the Somanya Orphanage in the Krobo region. We have also just funded a new ICT suite and library at the Menaye International School which we officially opened over Christmas. It was a great event and hundreds of people turned up for the celebration to marvel at the new facilities. The kids were really delighted and it was so nice to see all their little smiling faces again.
 Why did you decide to take over the running of Menaye International School? Where do you get funding from?
My family is from Agona Asafo, so when I compared the educational facilities in the village with those in Accra where I studied and lived, I was deeply concerned about the future of the children who resided in the village and in the surrounding areas. My father founded the Menaye International School in year 2000 to give back to our community in the central region of Ghana. I later on adopted the school in 2004 after winning the Miss Ghana Universe pageant. Winning the pageant gave me the opportunity to use my title as a platform to raise money to support the school. In the past I have raised money through fundraisers in New York, where I used to work, and in my home country of Ghana. Currently I support my charity through my own personal funding but am looking to hold some more fundraising events in the near future.
How far do you intend to take your charity? What future plans do you have?
My plans for the Menaye Charity Organisation are to provide not only medical assistance to the orphanages in Ghana but also education at the orphanages. I will also continue to support the education of society about prevention and treatment of HIV and AIDS. I want to continue to grow and develop the Menaye International School in Agona Asafo to meet the needs of more children and I am also hoping to raise enough funds to buy a school bus for the school so that the pupils don't have to walk the several miles between home and school each day.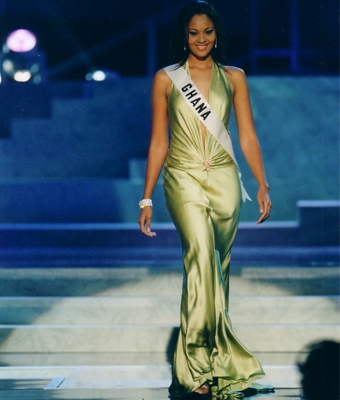 What was your reign like as Miss Universe Ghana?
Winning Miss Universe Ghana meant a lot to me. It completely changed my life as it gave me the opportunity to do everything I do today; from charity work to travelling to forging an acting career. I had just finished my Marketing Degree in Canada and flown back to Ghana to get a job in Marketing when my sister suggested I enter the Miss Ghana Universe Pageant in 2004. I had about two weeks to prepare and believe me, it was the busiest 14 days of my life. Immediately after winning the pageant, I moved to New York and launched my modeling career so it really was a whirlwind life-changing experience. I picked up various modeling jobs, starting off as a model for department store launches, and worked hard enough to appear in Maxim magazine in Italy.
More importantly though, winning Miss Ghana Universe gave me the platform to launch my charity, which is an important part of my life, and which has improved many other people's lives too through providing education and medication to hundreds of children in Ghana.
What was it like for you, growing up in Ghana?
I was brought up by my parents in Accra, Ghana, as the youngest of seven siblings with four brothers and two sisters. Then at the age of seven I inherited the job title of "Royal Stool Bearer" from my paternal grandmother, who was the Queen mother of Agona Asafo. In Ghana, the positive energy is indescribable. You instantly just fall in love with the place – it's like love at first sight. And believe me once you've had a dose of Ghana, you keep coming back for more.
What are your fondest memories of your home country?
There are many. Growing up as one of seven children, there was always lots of fun and happiness and almost all of my best memories revolve around spending time with my family. One very special time in our house, as in most houses, was Christmas morning. My Dad would always cook breakfast for all of us, and we'd all be excited about Dad's cooking. I also have very vivid memories of my Dad taking us back to the village where he grew up. It was very important to my Dad that we all knew where we came from and that message is something that is instilled in me very strongly to this day.
What did you study at the University and how has that helped your modeling career?
I graduated with Honours in Marketing from York University in Toronto, Canada. When I graduated from University, I was looking for a Marketing job in Ghana or Toronto, so my life could have been completely different. Although I have had a successful modeling career, I am glad I got an education first as it is something no one can ever take away from me.
Where are you based now?
I now share my time between London for work purposes, my home country of Ghana and then my home with my husband Sulley in Milan.
How do you combine your duties as a wife to a professional footballer, your modeling career and work with your charity?
Well I am a newlywed, I operate my foundation, school, manage Sulley Muntari and I also operate my own property development company so I really don't know how I fit it all in to be honest. I sometimes ask myself the same question but I never seem to come up with the right answer. I guess I try to prioritize all my objectives, working from top to bottom and just allow the rest to fall in place. But it's never that simple and when things happen to fall off track, I just pray. God always knows best.
My life might seem quite glamorous looking in from the outside but it really isn't. I am a hands-on type of person and like to be involved from the planning to the end of a project and that also means I can ensure that everything is done to the highest possible standard. My life is a never-ending story and I wonder how it will all fall in place when we start a family.
When and how did you meet your husband, Sulley?
It was actually out in Germany at the 2006 World Cup. I was there on vacation with my cousin and we were introduced. I wasn't really a football fan before I went, my cousin convinced me to go so I didn't know who Sulley was. But we got chatting and I realized we had quite a lot in common. We started out as friends though I made him work for me! He persisted for six months though, and eventually I gave in. Of course now we're married, so I'm glad I did.
What is it like being married to a famous footballer?
To be honest, it's just like being married to any other type of man. When Sulley is at home he's not Sulley the footballer, he's Sulley the normal guy, and when we hang out we just do every day normal things. We both have very busy lives, so when we are together we like to just relax and hang out. It's very normal really.
What else do you do apart from your modeling and running your charity?
Well, I run my own property investment company in Accra, Ghana, and we are currently working towards completing a condo which I will start renting out later this spring. I am very hands on, so whenever I am back in Ghana I will make sure that everything is running to schedule and will oversee the development. I also pick all the fixtures and fittings myself. I'm in the process of doing that at the moment. I am also looking to break in to acting, and have been taking lessons in New York and London. I'm used to being in front of the camera through my modeling work, which helps, but acting is not as easy as some people make it look.
What has been the most gratifying response you've gotten from people whose lives have been changed positively?
Seeing the little kids smiling faces and knowing I have done something that would make a difference in their lives.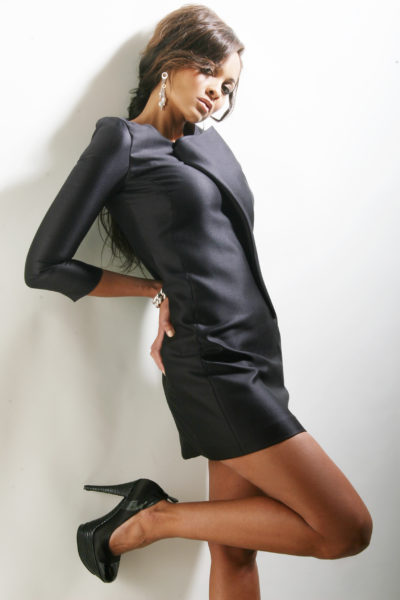 What do you think about the perception of some people that beauty queens, wealthy people and so on start charities just to get attention to themselves?
Although being a 'Beauty Queen' allowed me to launch my charity, it has actually hindered my charity work as well. When I won Miss Universe in 2004, I found it very difficult as a 24 year-old to get people to take me seriously. It was really difficult to get people to listen when I was trying to raise money and setting up my school and charity. I wasn't taken seriously as the founder of what is now a very successful and life changing organization, caring for children in my home country of Ghana. I often find that people look down on me and do not respect me in business because I am a model and I have instances everyday with people pre-judging me because they have seen photos of me and I am married to a footballer. I find people often make assumptions about me and my personality before they know me and then they are surprised when they meet me.
What would be your advice to anyone who has a desire to give back to his or her society?
You must be 100% committed. In my situation, giving back to my society was not only time consuming but it was also challenging, having to prove myself to the officials in the government. It's a full time job that cannot be done haphazardly, but it is also a very rewarding job when you finally see the difference you make in people's lives.
How do you relax?
I sleep. Anyone who knows me knows how much I like my sleep. So whenever I am off work I do that a lot. When Sulley and I are home together relaxing, we just hang out in our PJs, we cook together, we eat a lot and we generally just chill out on the sofa. It's heavenly!
What is your beauty regime like?
It's quite simple really. I wash my face twice a day with Kiel's natural facial wash for sensitive skin. I moisturize, drink lots of water and, you've guessed it, sleep a lot.
What expectations do you have to live up to now as a former beauty queen?
The biggest thing for me is that I continue to be a positive role model to young women. I am lucky enough to be in a position where I can make a difference and contribute to society through my charity, but everyone can make a difference in some small way, even if it's just smiling at people, and being positive. I want young women and girls to think positively about the world and each other. I therefore try and live my life like that every day, and aim to lead by example.