We are back again this year with BN Style Spotlight. BN Style Spotlight is a periodical feature on the style page that provides our readers with a detailed analysis of the personal style of a budding fashion star. We are starting off with a bang and I hope you will all agree with me after reading our style analysis on Eku Edewor.
53 Extra presenter, Eku Edewor is no stranger to the BN pages and I'm guessing our loved BN readers anticipated a 'Style Spotlight' feature on one of Nigeria's most popular red carpet personalities.
A graduate from the New York Film Academy, Nigerian raised Eku Edewor is a presenter, model, actress and producer. Eku's career kicked off in 2010, when she landed the job as the co-host for 53 Extra capturing the hearts of audiences with her amiable character.Eku is one of the busiest personalities in the Nigerian entertainment industry; shuffling through presenting, modelling and producing.
As a producer Eku has worked with numerous artists, producers and writers, including, Producer Damian Jones, Director Mat Whitecross and Actors, Andy Serkis, Naomie Harris. In 2010, she opened Big Brother Africa All Stars as a co-presenter; she was the host for Elite Model Look Nigeria 2010 and 2011 and the Red Carpet presenter for The African International Film Festival in 2010 and 2011. In addition, she has walked in top shows at ARISE Fashion Week and was recently cast as the lead, in the first ever Martini TVC shot in Nigeria.
Eku's style debut and thrust into fashion limelight came at the wedding of Bella Adenuga & Jameel Disu when she wowed audiences in a vintage red dress with frill and lace detail. Since then we have come to admire her effortlessly chic style.
A lot of people find a particular style and solely stick to it, but not Eku Edewor! She loves fashion, loves to play around with cuts, textures, prints and designers too. She always brings something fresh as she hits the red carpet in style oozing confidence and charming observers with the ease of her style.
Putting a look together for 53 Extra or for the red carpet may have come about through hours of consultation with her stylist, Bolaji Animashaun, but you'll never know, she makes everyone want to jump on the fashion bandwagon, because of how easy she makes it all seem! This makes her worthy of a BN Style Spotlight feature.
Jewellete: Eku is every bit a certified jewellete! She always dazzles in JBL pieces. She plays around with the cuts and styles which buttress the versatility of her styles. She pulls off the prints mighty well which she pairs with bold accessories.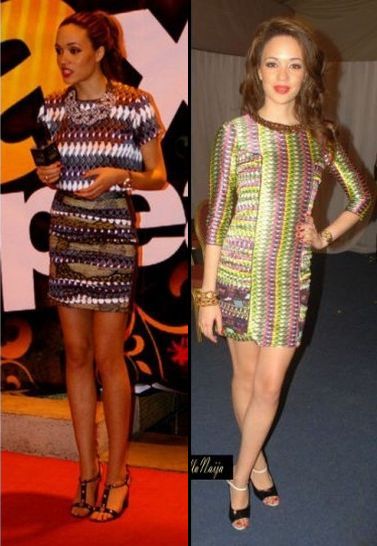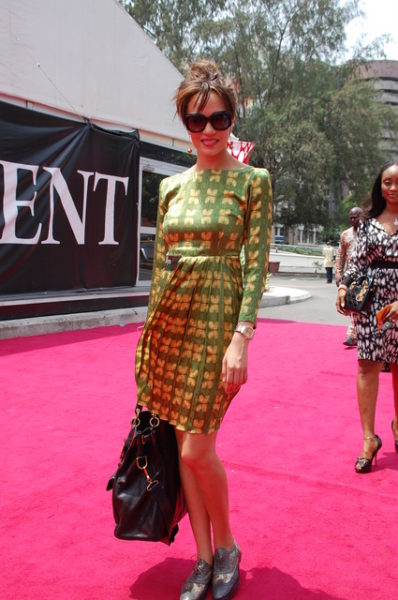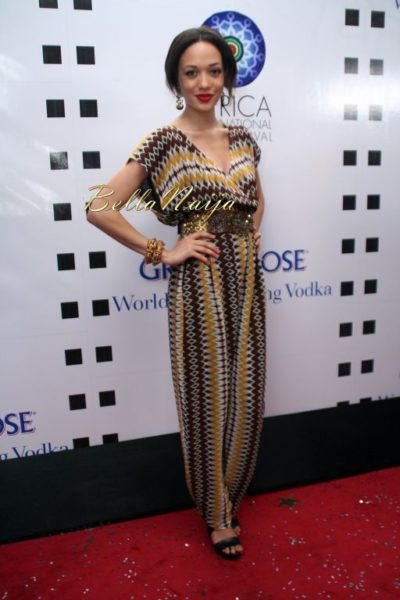 Little Black Diva: Although Eku absolutely loves colours, she keeps a space in her closet for the ever faithful wardrobe stable; the Little Black Dress! For a chic casual looks she pairs black separates with crisp white and allows her statement or demure accessories elevate the look!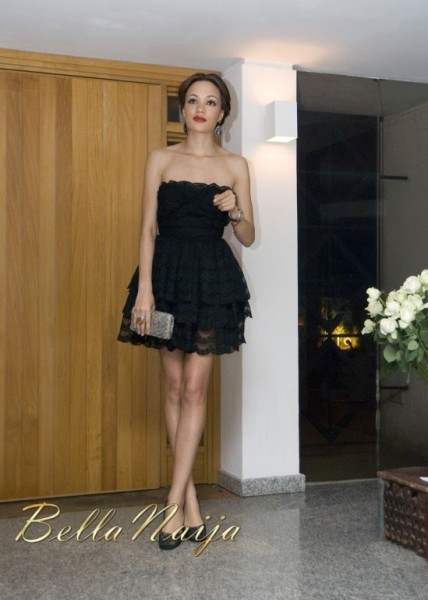 Team Awosika: Eku Edewor and Designer, Bridget Awosika are quite the dream team! Eku experiments in her designs, she opts for different cuts, and styles; from sultry numbers to structured silhouettes and avant-garde designs that play complement to her enviable model physique.
Colour Extra: If there someone who knows a thing or two about colour, it is Eku! Eku embraces bright, fun colours which she complements with prints, monochrome tones and demure or statement accessories.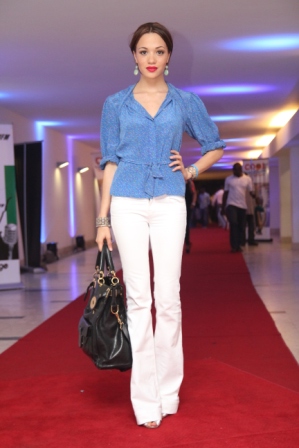 Sparkle Princess: What's a princess without her sparkle? Every girl loves some bling and you can count Eku amongst them! When she isn't bedazzled in JBL, she's in fun beaded pieces. She wears her sequined and beaded frocks anytime of the day and tones down the sparkle with black accessories.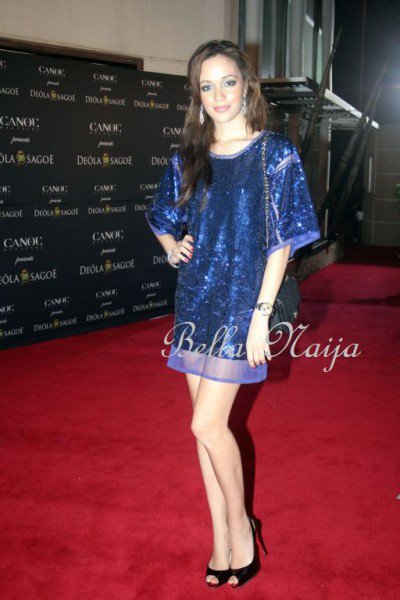 Every Designer's Muse: What I love about Eku's style is its versatility. She is always seen in a variety of styles and cuts. No wonder she can't be tied down to a single designer!  Although Jewel By Lisa & Bridget Awosika designs occupy a moderately large section of her wardrobe, she keeps room for everyone else. She's in Grey today; tomorrow it could be Sunny Rose or KemKem Studio, who knows! She's every designers muse, constantly expressing the complexity of her personality through designs that embrace different aesthetics.  one thing expected about Eku's style is its unpredictability; you never know what she is going to show up in!
Fiery Prints:Eku is daring with her style and she can easily pull off voluminous, textured and printed pieces. She loves to have fun with prints; from animal prints to floral or geometric; she does it all. The allure of Eku in prints lays in the styling, the choice of accessories which mould the look and give it that extra oomph!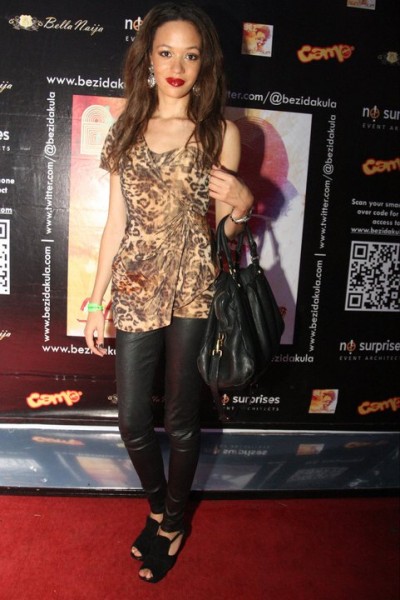 Eku Edewor's stylist Bolaji Animashaun dishes on her working relationship with the style star:
It's a very organic relationship as Eku is a very open minded person. She is willing to take risks and try new things. Her style is very edgy and feminine. On the show, we try to promote African Designers and wear them 90% of the time. I am privileged enough to receive PR Pieces from esteemed African Designers who are willing to see their clothes on Eku. We have a sit down every 60 days to discuss with her Hair and Makeup team, to switch up the style game in terms of hair, color,cut and style.
The Process: The process starts with the establishment of an event, it could be a Daytime Interview, Champagne Brunch, Black Tie Event or just riding a motorbike for Eku's segment on the show. We then have an array of designers to pick from, with regards to their design aesthetic either contact  their Publicist, phone calls, emails, text messages later, samples pieces are dropped off, or pulled in field(shopping). Fittings are scheduled with Eku and we pick the best one of the lot, for that occasion.
For Example the Tiffany Amber Silk dress was a perfect match for the Martini Ad,while the Lanre Da Silva Dress for the AMAAs was an excellent fit. We absolutely adore Grey and went with them for the Hennessy Launch party and Bridget Awosika and Deola Sagoe pieces were dream pieces for the Elite Model Look Hosting Gig while we wore Maki Oh for the Channel O Awards.
I discuss with Debola Falana, Eku's Hair and Makeup expert on what looks would suit. Sometimes I don't really have to say anything. Debola's a genius.
The Looks:
Get This Eku Edewor Look
This look combines the best of Eku's style; her love for colour and prints! Here she stands out in peces from Grey's dimensional collection. Eku pairs a bright yellow blouse with hieroglyphic printed pants. What I absloutely love about this look is that she doesn't play it safe, by completing the look with leopard printed pumps! This look is meant to inspire your personal style, and in doing that, it is advisable that in incorporating this look, you do it in a way, that is distinctively you. Keeping the frame (Eku's Style) in mind, you include elements that express your own style.
Channel this look with less than £100 (N26,000)
Blouse
Although a little pale in comparison, this  blouse is very similar to Eku's, and has the right pop to complement a colour-inspired look!
Purchase here for £25
Pants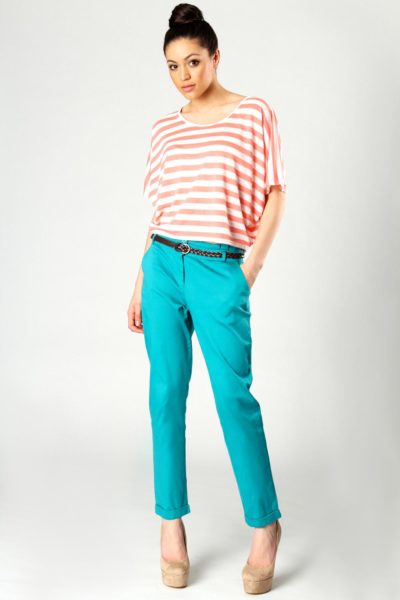 In choosing the pants for this Eku inspired look, I chose to opt for a style that is a less daring; printed pants are a great trend at the moment, and you can join in on it if you please, but one can still capture the allure of this Eku's look in plain coloured pants like this one.
Purchase here for £15
The Bag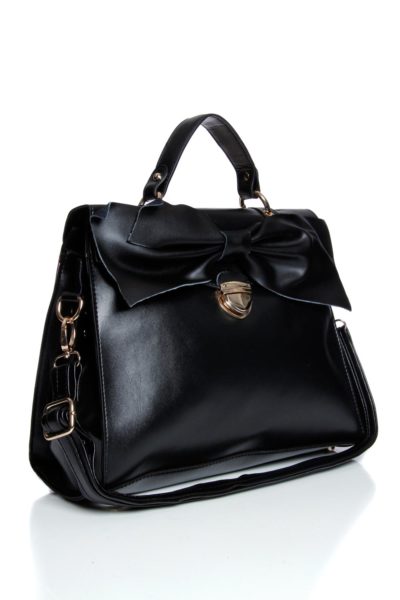 I love Eku's bag, it is very versatile; the structure makes work worthy, but it can also be worn with its long straps for a more casual laid-back look, like we see here. You can never go wrong with a wardrobe piece with multiple style functions!
Purchase here for £30
The Pumps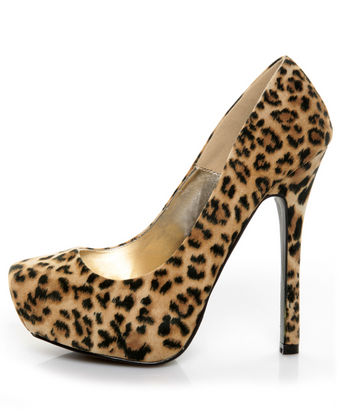 Leopard print pumps are a must-have for anyone building a shoe collection. They can spice up solid palette and add more dimension to colour and texture mix like we see in this look.
Purchase here for £20
Credits:
Bolaji's StyleList
Facebook/Eku Edewor