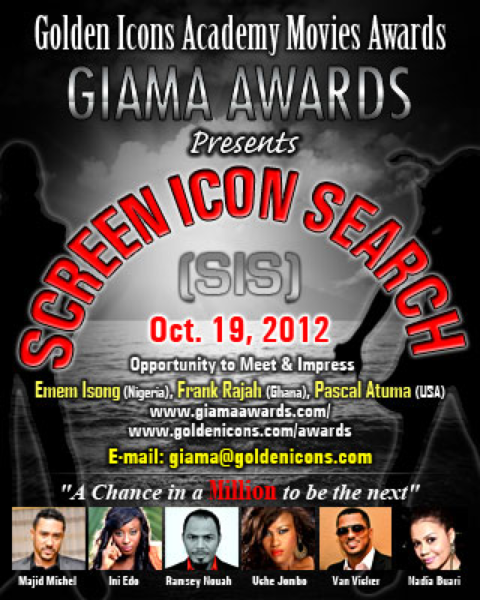 Do you dream of being the next big thing in the movie industry? Then register today for the Golden Icons Academy Awards' Screen Icon Search –   a competition organised by multi-media entertainment company – Golden Icons to help launch the career of an aspiring actor or actress on the big screen.
After registration, 3 renowned African movie makers including Emem Isong from Nigeria (Producer of Bursting Out, Games Men Play, Games Women Play, Critical Decision, Private Sin), Frank Rajah Arase from Ghana (Director of Somewhere in Africa, Hearts of Men, Beyonce, Agony of Christ) and Nollywood/USA producer Pascal Atuma (Hurricane in the Rose Garden, Only in America, My American Nurse) will pay close attention to selected individuals on D-Day ( Friday 19th October 2012)  to pick the winner.
Eligibility Criteria
You must be 18 years of age or older
You must complete a form online at www.GiamaAwards.com
The event is free to attend but all prospective participants are required to purchase a ticket and attend the Inaugural GIAMA awards on Saturday 20th October 2012, where the winner will be announced
You must be able to travel in and out of the United StateS of America (i.e you must have a valid U.S visa)
If you win, you must be able to obtain a Nigerian or Ghanaian visa when needed
Benefits of winning the GIAMA Screen Icon Search
You will feature in a movie production with Emem Isong in Nigeria, Frank Rajah Arase in Ghana and Pascal Atuma in the United States
You will get a free one-way complimentary ticket to enable you feature in the movie productions in Nigeria and Ghana
You will present an award at the 2012 GIAMA Awards ceremony
You will get an exclusive interview and a photo shoot with Golden Icons Media
Registration will kick off today Friday 1st June 2012 and will end on Sunday 30th September 2012.
Watch the Screen Icon Search Promo Ad

Don't forget to also nominate your favorite African actor, producer, script writer, director and executive producer for the first edition of the Golden Icons Academy Awards set to take place on  Sunday 20th October 2012 in Houston, Texas. For more info and general enquiries, call GIAMA U.S.A. on (713) 320 4208 | E-mail [email protected] | Follow them on Twitter @GiamaAwards | Like their Facebook Page – www.Facebook.com/GiamaAwards
______________________________________________________________________________________________________________
BellaNaija.com is an official media sponsor of GIAMA's Screen Icon Search