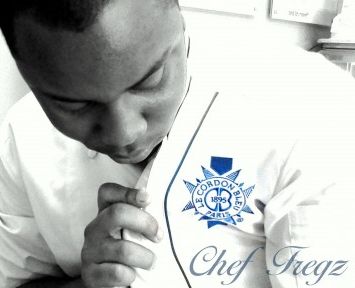 My friend and lover in another life Motunrayo Akinseye the owner of Cafe Licious and Licious Desserts rang me the other day lamenting about how she hadn't seen me in weeks…I chorused with my own lamentation that work had changed my story. She wasn't going to have any of my excuses. The only form of appeasement was going to be that I come and hang with her and of course… COOK!
I asked her what kind of food she wanted and I was already excitedly thinking "oh lets have a hearty salad with prawns"  (Yes we both are on THE PLAN  but *sigh* it's just so much hard work ugh!) She auckly retorted  "Gbubemi abeg I want something greasy and meaty". (My friends won't let me be great!)
A quick trip to Shoprite and N3000 later I was loaded with the following: Neck pork chops, Chinese Leeks,  Rocket leaves, fresh rosemary, 2 apples (one granny smith and one red variety) 2 cans of dry and sparkling cider, 2 sweet potatoes and some baby carrots.
And voila….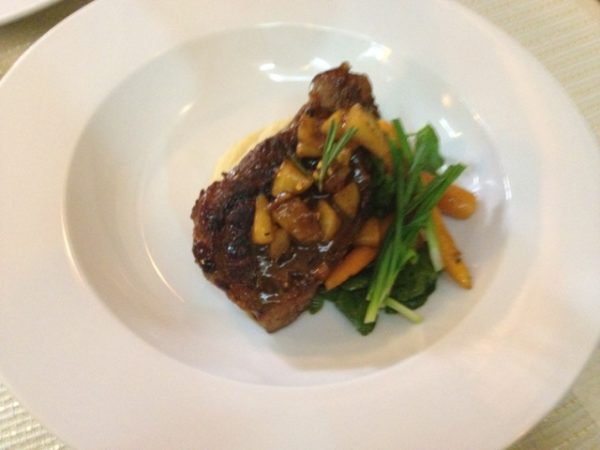 What I made was the result of watching too much of BBC Food and The Food Network. I've learned that pork and apples work together; that sweet potatoes are healthier and baby carrots look nice when they're glazed on a plate. The rocket brought a good contrast to the sweetness of the pork and sweet potato puree i made.
I'll try and share the "How To" and I encourage you to try it this weekend for a loved one (e.g yourself)
So, what do you need?
Pork 3 Neck Pork Chops specifically
Meat flavoured seasoning (I used the Morrocan Spice rub that I had)
 2 tablespoons of chopped Rosemary
2 tablespoons of cracked black pepper
1 teaspoon of crushed garlic
To glaze the pork you need the following
1 glass red wine
3 tablespoons sweet chilli sauce
Honey
2 tablespoons red wine vinegar or plain vinegar
For the Sweet Potato Carrot Mash you need;
2-3 sweet potatoes peeled and chopped
1 large carrot
Salt
1 teaspoon of butter
milk
For the glazed carrots you need;
Baby carrots (peeled and blanched)
Leeks (Cut as many of the little springs as you like and blanch in salted water)
Cider for the sauce
Butter to thicken
For the apple garnish;
Granny Smith Apples (peeled and chopped into small cubes)
Garlic
Butter
Rosemary
Salt
Chilli Flakes
How To
Whip out your chopping board and sprinkle the chopped rosemary and meat seasoning (spice rub in my case) then dab the pork chops. Remember that this should have been thoroughly rubbed with crushed garlic. Set aside to marinade for 30mins.
Then place the potatoes and the carrot to boil till they are pulpy soft and either run it in a blender or if you have a strong sieve pass the potatoes through till you get a puree then return the puree to the stove. Add butter and milk.  Please note that the milk you  add should just be enough to make the puree as silky smooth as possible.
 While the potatoes are boiling, blanch the the other things like the leeks and carrots and set them aside.
Let's move on to the glaze ingredients. You set them aside in a small pot and stir till its a thick syrup-like consistency. Keep an eye on it so it doesn't burn. Once it's done reserve it for glazing the pork later.
For the apple garnish
Place the chopped apples in a pan and stir fry with butter, garlic and rosemary. Season with black pepper, salt to taste and add some chilli flakes for heat cook till the Granny Smiths just start to breakdown slightly.They should still have a little firmness to them.
Putting It Together…
 On a high heat, sear the pork on one side for 5 mins then flip over and turn the heat to a medium flame. Allow to cook for another 7 mins and take out to rest in a dish place in a warm oven. In the pan you seared your pork Make sure that when you seared the pork it didn't burn so that you can use that same pan. Pour some dry cider into the pan over high heat to deglaze the pan juices then reduce the flames and  throw in some very cold pieces of butter to finish it off. By the time you're done it would thicken and have a silky shine. If the sauce has black bits just strain it through a fine sieve.
 Save some of this sauce in the pan and add a touch of butter. Toss the blanched carrots till they are glazed and  glistening.
 Take the rested pork chops and place then in another pan to reheat and glaze them with the reduction you made, don't allow it stay too long otherwise it'll burn.
To Serve
 Place some of the puree on the plate and lay the chops over. Nestle the carrots, rocket and leeks by the side and spoon the sauce over the chops and put some of the apple garnish on top!
and enjoy…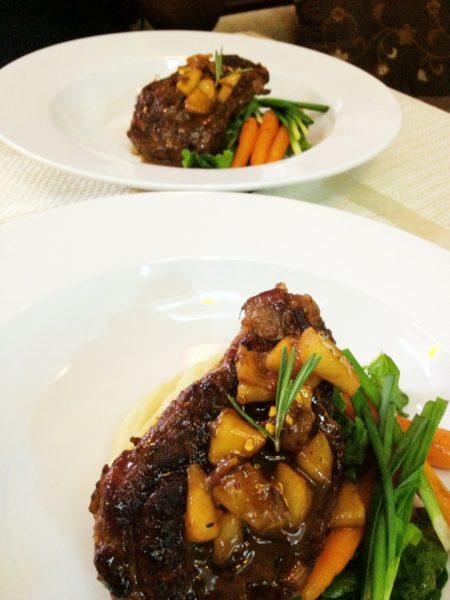 Lest I forget, a glass of cider goes well with this but if you don't drink or don't like cider a cold apple juice would be great here!
If you don't eat pork but wanna try this please by all means use a cut of meat like the rump or chuck steak. These cuts grill well and are juicy like the neck chops of pork.
You should try this at home this weekend. Enjoy something different. If you do try this please send the pictures to features(at)bellanaija(dot)com.  You never know you may win a prize.