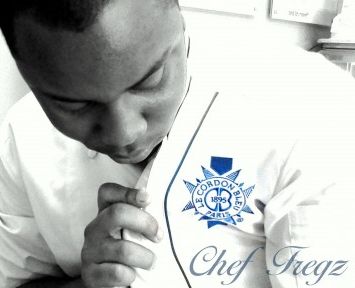 My favorite past time: Faffing about on Twitter and soaking myself in TV shows. So a few days ago while I was 'very busy' doing those two things I started having this strange and persistent craving for okra soup. And like a pregnant woman's own, this craving was very specific "sea food okro"
Where was this craving from? Why now, in the middle of the day? I know everybody in Lagos raves about the Yellow Chilli  version so maybe it was because of that. I remembered that last week, my friend had sent me a message asking  for a recipe on how to make it but I knew I hadn't given it a go myself. So, my next involuntary action was to tweet this…
Eba with Seafood Okro (Grilled Catfish, Spicy Prawns, Endless Shrimp)
I closed Twitter, sighing wistfully and knowing that I had gotten enough people riled up with my tweet. I figured I might as well get up and get to actualizing my dreams "Yes You Can".
Next thing I knew, I was inviting people over! This meant putting a chef's spin on the whole meal. You see, Chef Ade Adeshina (Remember him? the awesome chef from this post)  planted an idea in my head about making Amala Gnocchi and serving it with the sauce and  grilled meat. So that was what I tried to achieve here.
The idea was to use grilled catfish but I didn't find any fresh catfish so I had to use some pieces of red snapper as a substitute. If you have catfish, I suggest you grill it lightly with some pepper, salt and a touch of garlic if you like.
WHAT DO YOU NEED?
Okro (I used about N300 worth which looked like 1.5 kilos as opposed to grating i roughly chopped it I wanted a slightly thick and chunky soup)
1 Kilo of shrimps (cleaned and seasoned with salt and white pepper)
500 grams dried crayfish
500 grams dry fish
Knorr cubes to taste
1 Kilo Crab Claws (or crabs if you like)
500g Jumbo Prawns (marinated with dry pepper, fish seasoning and a hint of garlic)
Chunks of white fish (Red Snapper or Catfish). This should be well seasoned to your preference. I used garlic, knorr seasoning cubes and white pepper.
Salt to taste
For the pepper sauce you need the following:
600 grams Chillies (I used Ata Rodo)
Roughly chopped onions
Garlic
Knorr cubes to taste
4 Tablespoons of Palm oil
Salt to taste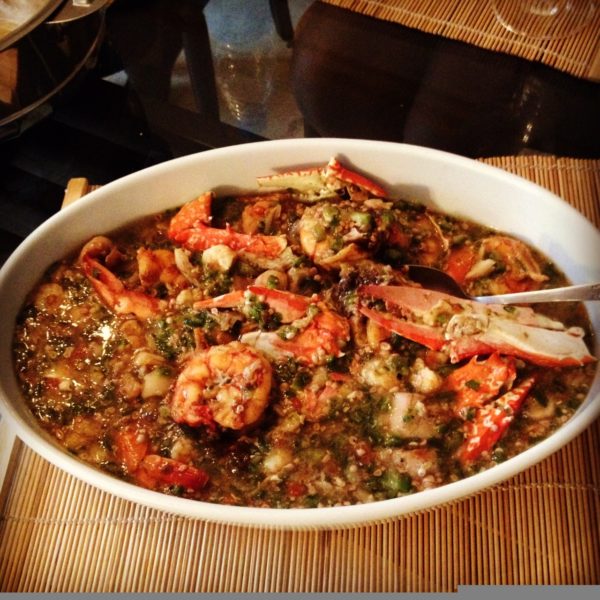 To be honest, this dish is easy to make but you have to get each component of the dish right before putting it all together. Make sure your seafood is well seasoned so when it comes together you're going to be a happy soul.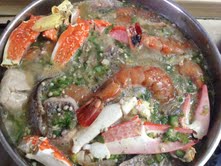 Grab a pot that you feel is big enough for the number of people you're cooking for and put a little water to boil. Add your crayfish to the boiling water along with the dried fish and a table spoon of your roughly chopped ata rodo.  Add the okra and leave to simmer slightly till the okro looks like it almost ready. Stir the soup around and taste for seasoning but hold back because the seasoned seafood may change the taste for better when its added. Add the crab claws (It is important that you crack the crab claws slightly so that the flavours can really penetrate the crustacean). Leave it for about 7 minutes then add the white fish and prawns.  In another 7 mins add the shrimp to cook a little for 2 more minutes and you're done.
Pepper Sauce
In a blender, pulse the pepper (ata rodo) with some onions into a rough chop like for ofada sauce. In sauce pan heat up the palm oil till its smoking hot but not bleached and pour all the pepper and onions in, allowing it to simmer in a medium low heat till the pepper is cooked. Add salt and the seasoning cubes to taste. The pepper sauce is a garnish and a side sauce so you can add as much heat as you like to your own plate of food!
I know this looks so simple and you may wonder why it's so great. There's a lot of greatness in the simple things and I promise you it is delicious!  (Guaranteed to have people licking their elbows! )
 For the Eba Gnocchi: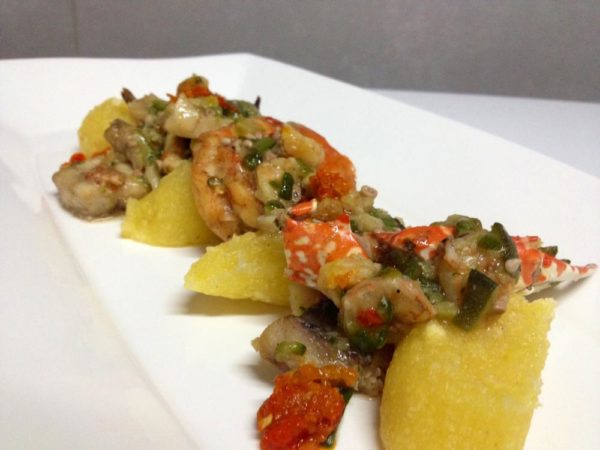 Just make the eba (using yellow garri of course) place some on one of those "white nylons" used to wrap eba. Sprinkle a little water to prevent the eba from sticking. Roll up the paste into a sausage shape and then open it up. Use your knife to make diagonal cuts and with each cut, dip the knife back into water to ensure clean cuts.
Arrange the eba on the plate and place each of the main seafood proteins near each gnocchi then spoon some of the okro on and around the eba then place little drops of the pepper sauce round the the dish and there you go…
Eba and Okro just got a 5star facelift!
Like I always say recipes are just guidelines, so follow your intuition and heart when you're cooking  because that's how the best recipes are born.
Please try this recipe and take pictures and send to features(at)bellanaija(dot)com and you just might win a prize
Have an amazing weekend filled with laughter, good rest and the best food!
Ciao!
_____________________________________________________________________________________________Chef Fregz loves to cook! He is a graduate of Le Cordon Bleu Paris Culinary Arts School in France and hosts monthly "Chef Fregz Specials" where he whips up a yummy menu with a different theme each time then everyone enjoys a taste. He also caters special events and private dinners.
To find out more, visit http://theskinnychefthatcould.wordpress.com/