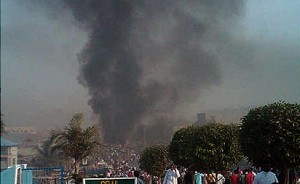 At least 15 people have been confirmed dead and 40 injured in Bauchi state after a suicide bomber drove a car full of explosives into Living Faith Church this morning.
According to Security forces at a road block nearby, the bomber forced his car through the checkpoint and drove into the church in Yelwa, on the outskirts of the city of Bauchi.
The Bauchi State Commissioner of Police, Mohammed Ladan, onfirmed the incident. "We have a checkpoint not far from the church which prevented the bomber from gaining access to his target. So he rammed the car into a security gate and the car exploded, killing him and eight other people. Many people were injured but I can't give you any precise number because the hospital is still trying to take a toll."
However, the head of the Nigerian Red Cross in Bauchi state, Adamu Abubakar, told AFP he counted 35 people injured at an area hospital.
Reports say the suicide bomber drove into the church compound at around 10am and detonated his explosives as worshippers left the early morning service.
Residents say the explosion caused the church building to collapse, prompting dozens of people to flee seeking refuge, but some ran straight into a fire raging outside.
"There was confusion as residents and churchgoers tried to flee. Some of them out of fright fell into the fire caused by the explosion," said resident Timothy Joshua.
According to a mechanic, Aliku Jon who witnessed the incident, "I had just left after the morning service and was out of the church when I heard a loud explosion. I rushed back and there were dozens of people lying in pools of blood…many were injured including two police officers."
Presently, the area has been cordoned off by the security agents who have blocked even the emergency workers from going into the church.
Although no group has claimed responsibility for the attack at the time of this report, many believe that the Islamic sect, Boko Haram is responsible for the attacks.
What a sad loss.
May the souls of the departed Rest In Peace.
News Source: Vanguard | Channels TV