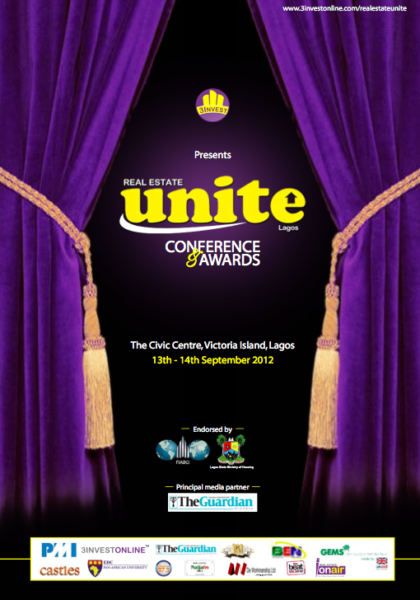 African music sensation 2Face Idibia, top Nigerian comedian Ali Baba  and multi-award winning artist and photographer Kelechi Amadi-Obi are set to hit the Civic Centre Stage in September for the most prestigious real estate awards in Nigeria – Real Estate Unite Conference and Awards, Lagos 2012.
The event organised by 3Invest Limited – a real estate marketing, media and advocacy company, is designed to bridge the gap between business and entertainment. It is a platform structured to open up the potentials  of Nigeria's real estate to an otherwise passive audience who sees the industry as uneventful and uninteresting.
According to Ruth Obih (Managing Director/CEO of 3 Invest Ltd.), real estate is serious business, which has to be made interesting to attract the right people. She further stressed that the huge statistics about real estate on the pages of papers are boring and tiring. Hence, there must be a  way to trend the sector for global investment.
"3 Invest Limited… Bringing Innovation to Real Estate". Since coming into the market in 2007, 3Invest limited has greeted the scene with stunning innovations that has not just raised the profile of the sector , but armed the public with information crucial to investment decisions. With its radio show, Real Estate on Air on Classic FM and Beat FM, 3Invest has earned a reputation of quality and standard. The Real Estate Unite Award is therefore a product of innovation and years of research.
Real Estate On Air is the first Nigerian syndicated Real Estate radio show, which as in the past year of its inception has been in the vanguard of agenda setting and opinion moulding in all aspects of Nigerian Real estate. Real Estate Unite has at separate times been endorsed by Ali Baba, Richard Mofe Damijo (RMD) and 2Face Idibia who spoke about the radio show saying "There comes a time in life when you have to face certain reality and the major reality is to invest wisely, invest in real estate, so me oo, I listen to real estate on air brought to you by 3Invest, I recommend you listen, One Love"
Real Estate On Air is anchored by Ruth Obih (Managing Director, 3Invest Limited and Initiator of Real Estate Unite, Awards). According to her, "The Real Estate Unite Awards plans to be the most prestigious in the industry. What we plan to do is to use the awards to recognize, appreciate and celebrate performance in the industry. Also, we also want to use the dinner as a wind up to the event so that people who have discussed the various challenges about the sector can have time to network, relate and unwind.
The best way to predict the future is to create it. Real Estate is the future of Nigeria's economy. Whenever we talk of being an economically viable nation in 2020, we must always remember to talk real estate. Real Estate has proven itself in countries like Brazil, Russia, India, China, South Africa and so on. So there is a future for the sector. What we are doing as an advocacy company is to attract more people, especially young Nigerians to come and drive the sector with their creativity and strength. We want to organise an event that will not just come and go but one that will be on the lips of everyone – an event that we can all look up to annually.
So the awards night is a sort of an entertainment side to real estate business. Those who attend can be refreshed by the performances of our guest artistes for the night as well as get an insight about the industry, witness what has stood the awardees out and get encouraged to be in the circles. Real Estate has proven to be an answer to the prayers of unemployment, wealth creation, and economic development in other countries. Nigeria can also benefit from the huge potentials of the sector. We have the land, we have the people, we have all it takes, all we need to do is strategize on how to jumpstart the sector and a significant part of our national problem will be solved", she concluded.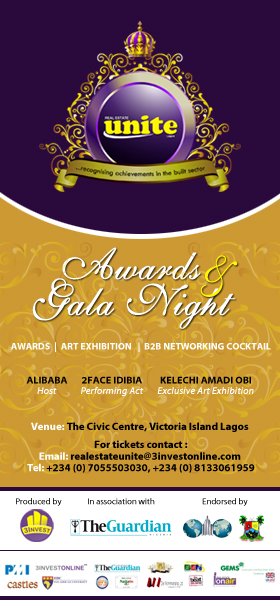 Details on the Real Estate Unite Conference and Awards, Lagos 2012.
In its quest to make Nigeria's Real Estate occupy its rightful place in the economic scheme of things, 3Invest Limited – organizer of Real Estate Unite Conference and Awards – a multi-faceted real estate event billed for September, has announced the commencement of award nominations for Real Estate Player and organisations in Nigeria.
The awards which wind up the two day event, is designed to recognise, appreciate and celebrate performance in the real estate industry, according to Ruth Obih.
She further said, it is common knowledge that the Real Estate Industry in Nigeria is yet to be explored to its full potentials. However, Obih believes that those whose operations and activities have contributed and sustained the marginal growth in the sector should be recognized and appreciated for their dedication, resilience and practices. "Awards all over the world are sources of motivation to encourage performance and stimulate growth. People must aspire and awards are instruments of aspiration and healthy competition. So if we say our industry is not yet matured for it, we might be shooting ourselves in the foot by discouraging performance and signalling to new entrants that anything goes in our industry". So for us, we discovered that the industry has been silent in this regards and we have resolve not just to reward performance through the awards but show to the world and other sectors in global economy that the Real Estate industry, notwithstanding the its current status, has huge potentials and that the industry players are working assiduously to lift the sector".
The 25 category awards segment covers all categories of players in the sector, from core real estate practices in development and construction to services such as finance, manufacturing, design and a host of other real estate activities. It is designed as a carefully managed process of identification, nomination, screening, adjudging and recognition aimed at engendering healthy competition in the quest to make Nigeria a conducive and habitable haven for investment, living and business. According to Obih, Nominations and adjudication for the awards will be on innovation and creativity that translates to economic development, wealth creation, environmental sustainability and demonstrable public good. "The Real Estate Unite Awards aims to provide an opportunity to encourage promote and recognise spectrum of talents, achievements and excellence in the Nigerian Real Estate Sector. With these awards, we seek to expose the entire world to the huge potential in Nigeria. It is also an opportunity to recognize and showcase the same people and organizations who have concluded significant real estate and housing finance deals".In the finance category,, financial institutions will compete for the Most Active Private Equity Firm in Nigeria and Most active Mortgage Lending Institution. In Development, the industry will recognise Estate Developer of the Year, Outstanding Development of the Year, Affordable Development of the Year, Best PPP in Housing and Hotel Development of the Year.While in management category awards will be given to Real Estate Insurance Company, Valuation Company and Facility Management Firms. While in Marketing and Media, the recognition covers Marketing Company of the Year and Most Outstanding real estate Portal.Nominations are open to individuals and organisations who meet the criteria which are available on the event website www.3InvestOnline.com/RealEstateUnite. For more info and general enquiries, call 08133061950 | 0705505030.
Photos from the Media Launch
_____________________________________________________________________________________________
Advertorial – Sponsored Content