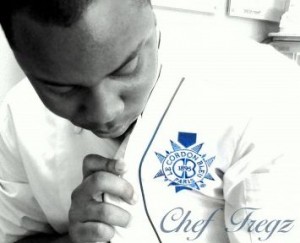 Some people have testified to the goodness of chocolate as being the world's greatest aphrodisiac but then what do I know about these things? For me, chocolate is just sheer BLISS. From good ol' GoodyGoody or plain Dairy Milk, to the  everyday Mars to the Luxury Lindt (my personal favorite), chocolate has a special place in my heart Shout out to ALL chocolate lovers! (Yes, if you don't like chocolate you don't know what you're missing!)
Something more awesome than pure chocolate is having it in its "mutated" or transformed state. Picture this: Chocolate cake  and Belgian Chocolate Ice cream from a tub of Ben and Jerrys.
I'm sure you get my point. Chocolate is simply delightful.
Anybody who knows me knows that baking  and the making of desserts are not my favorite things in the world but I have a big stomach because of my near obsessive passion for eating desserts. (Please don't judge me. We all have our struggles, and God is helping all of us with them). So I had some friends over and I decided to begin my road to change and make sweets
They totally enjoyed themselves.  I'll share the recipe for the two things I made last week. I hope you like it.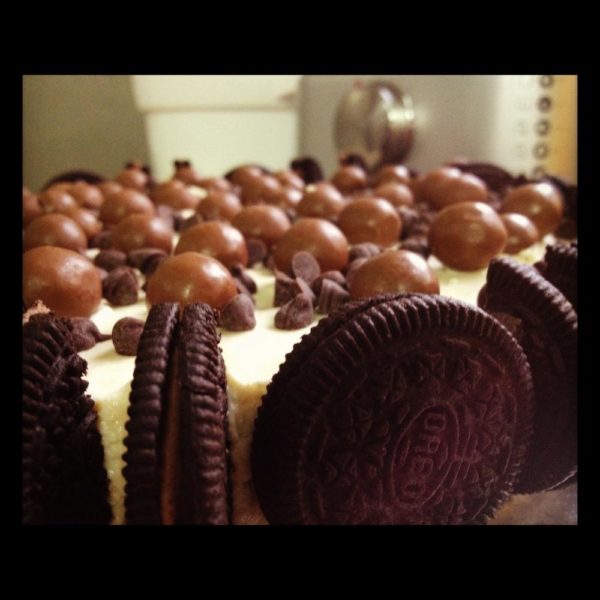 The Oreos Baileys Cheesecake
One of my life's passion is the consumption of Cheesecake (remember this is our special no-judgement zone guys!). When my friend Motunrayo made Bailey's Cheesecake I think I died a little and it was the inspiration for my dessert. I spiced my version with Oreos and I replaced the chocolate base.
What You Need
Cheesecake filling
1 cup cream
1 teaspoon Vanilla essence
1teaspoon butterscotch essence
Half cup (or little more ) Baileys
500g cream cheese Philadelphia 
2 teaspoons gelatine
Base
1 stick/100g Butter (melted)
5 packs Oreos biscuits. (2 Extra peanut butter flavored packs for decorating)
Tumbles chocolate balls or Malteasers
Chop chips for sprinkling
First things first. Start with the base and you do this by crushing the Oreos till it's crumbly with a few chunky ones and mix with the melted butter.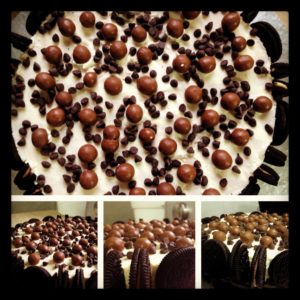 Set out the mix in a cake tin (I used a springform tin) and bake in the oven for about 10 mins at 180•c. Leave to cool completely before adding the cream cheese mix
The cream cheese mix
Mix all the ingredients for that in a bowl and spread it over the base and leave to set for at least 6 hours. When it's set, take the remaining Oreos and cut in half with a sharp knife and alternate circles and semi circles and finish off with the sprinkles of chocolate. Do whatever decoration comes natural to you.
Chocolate mousse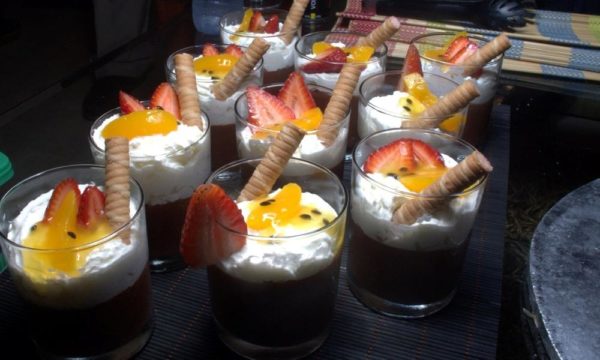 400g dark chocolate 70% cocoa solids (I used Lindt)
1/4 cup cream
1/2 cup whipped cream mixes with 50g sugar
3 egg whites whipped stiff with 80grams sugar
2 yolks
Passion fruit pulp (I got mine from shoprite)
Peach slices to garnish
Strawberries to garnish
How To
In a saucepan get the 1/4 cup of cream till almost boiling then add the chocolate and stir over low heat till it's all melted. In the alternative, you can melt the chocolate over a steam bath of boiling water that has a heatproof bowl over it (don't allow the water touch the bowl just the steam)
When the chocolate is melted add the yolks and stir quickly then allow to cool down slightly. Add the whipped cream then fold in the egg whites. Fold by slowly incorporating the whites and not stirring because that would let the air get out
Pour the mixture into glasses or whatever mould you have, then drizzle the passion fruit pulp into the glasses or mould. Cover with cling film and aloof to set in the fridge for at least 6 hours
Presentation Is Key
Put some whipped cream and top with peach slices and strawberry halves
So there you have it, a chocolatey dose of goodness. Try either of these recipes this weekend and send an email with pictures of your desserts to features(at)bellanaija(dot)com
Okay, I'm off to enjoy a skinny chocolate shake( TeamWeightWatchersUnite)
Ciao!!!!!!