Hi Everyone, it's Thursday!
As you know, it's that day of the week, when yours truly – BellaNaija.com – Africa's pace setter for all things entertainment, fashion, lifestyle, music and more, keeps you constantly updated with all the most buzzed about events and places of interest to be spotted with your loved ones this weekend.
Lagos is definitely one city to be in as it is fully packed with loads of events including the unveiling of the Inception Collection by Eclectic by Sasha, the design label of Nigerian rap star Sasha P as well as another exciting event which is one of 2012's most anticipated show "Summer Jam Fest" featuring live performances by Rick Ross, Flavour, Eva, Vector, Dammy Krane and many others. So sit back, relax and see for yourself where you need to be seen this weekend, Stay safe, eat healthy and just keep on heading for your dreams.
See you all next week. Ciao!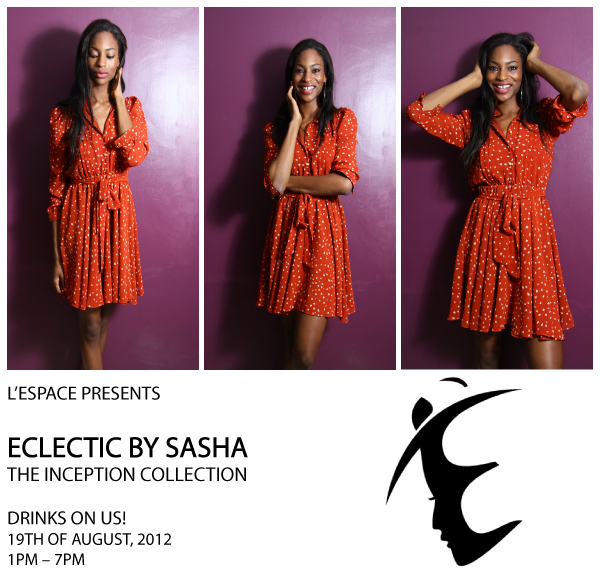 The Launch of Ecletic by Sasah's Debut Collection "Inception"
Nigerian rap star Sasha will unveil her label's Ecletic by Sasha debut collection "Inception Collection" at the L'Espace Store, Victoria Island, Lagos. Following the huge success of the label's test run at L'Espace, Sasha who said the prices of the new collection will be affordable and range from N 8500 to N 14,000. Attendees will get the exclusive first look at the collection as well as get a 5% discount off all purchases. Admission is free for all!
Date: Sunday 19th August 2012
Time: 1 PM – 7 PM
Venue: L'Espace, 19 A Olosa Street, off Karimu Kotun, Victoria Island, Lagos __________________________________________________________________________________________________________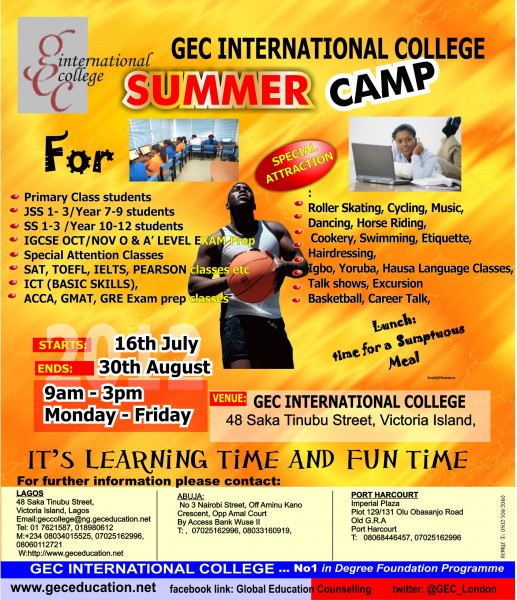 GEC International College Summer Camp 
Treat your kids this season to an exciting time of fun and learning at the GEC International College Summer Camp. All students from primary to tertiary institutions will be taught numerous educational subjects as well as take part in the following activities roller skating, cycling, hair dressing, cooking, basketball and so many more. The summer camp kicked off  last month but be sure to get in touch for details on how to join.
Date: Thursday 16th August 2012 – Monday 30th August 2012
Time: 9 AM – 3 PM Daily
Venue: 48 Saka Tinubu Street, Victoria Island, Lagos
Contact: For more information and general enquiries, call 08034015525 for Lagos | 08033160919 for Abuja | 08068446457 for Port Harcourt | e-mail [email protected] | follow them on Twitter @GEC_London | log on to their Website ____________________________________________________________________________________________________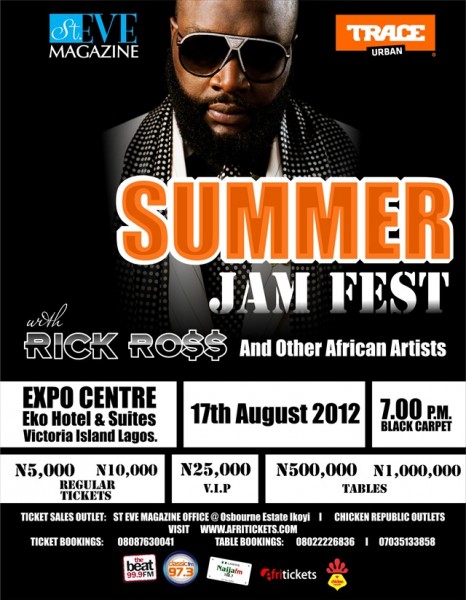 Summer Jam Fest with Rick Ross, Flavour, Eva, Terry G & More!
Nigerian Lifestyle publication St. Eve Magazine in collaboration with Trace Urban presents Summer Jam Fest – a show geared to set the tone for an annual concert to promote health and proper lifestyle, set to take place at the Eko Hotel & Suites, Victoria Island, Lagos on Friday 17th August 2012. The music show kicking off at 7 PM with a red carpet session will see International rap star Rick Ross, perform live on stage alongside other African acts including Flavour, Eva, Terry G, Vector, Dammy Krane, Flowssickk, Burna Boy, Fuse ODG from Ghana and Liquideep from South Africa. Nigerian disc jockey pro DJ Jimmy Jatt will also be present at the event.
Date: Friday 17th August 2012
Time: 7 PM
Venue: Expo Centre, Eko Hotel & Suites, Victoria Island, Lagos
Ticket Prices: Regular Tickets N 5000 | N 10,000 | VIP N 25,000 | Tables N 500,000 | N 1 Million
Ticket Locations: By calling 360 Delivery on 08105004000 | Purchasing online at www.Afritickets.com | St. Eve Concepts, 15 Udi Street, Osborne Estate, Ikoyi, Lagos | Chicken Republic Outlets – Ikeja City Mall, Lagos | 2 Jagal Close off Ikosi Road, Oregun, Lagos | 190, Awolowo Road, Ikoyi, Lagos | 60A, Adeola Odeku Street, Victoria Island, Lagos | Ajose Adeogun Street, Victoria Island, Lagos | E-Center, Domino Plaza, TOS Benson Avenue, Sabo Yaba, Lagos | Oando Filling Station, off Ikorodu Road, Maryland, Lagos | Oando Filling Station, Itire/Ishaga Junction, Lagos
Contact: For more info and general enquiries on tickets and tables bookings, call 08022226836 | 07035133858 ___________________________________________________________________________________________________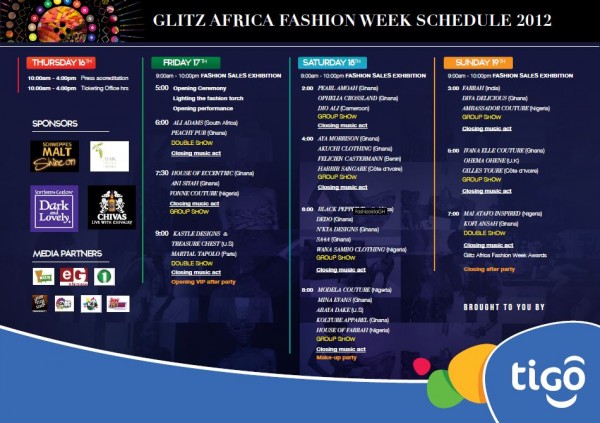 Glitz Africa Fashion Week 2012
Glitz Africa Magazine, a Ghanaian owned celebrity and lifestyle magazine that embraces fashion and celebrates fashion designers across Africa has announced that its inaugural Fashion Week will hold in Accra this weekend. The Glitz Africa Fashion Week is tailored to provide the platform for Africa's Fashion industry to showcase its talents, network, celebrate each others and expose them to unchartered markets. It will be international 3-day event at the Accra International Conference Centre on the 17th, 18th and 19th of August 2012.Top designers of African origin in Ghana, UK, US and the entire African continent including Mai Atafo, Ali Adams, Vonne Couture, Kastle Designs & Treasure Chest, Akuchi Clothing, Wana Sambo Clothing, Farrah, N'Kya Designs, Ivana Elle Couture, Ohema Ohene, Aya Morrison, Peachy Pur, Ani Siyah, Kofi Ansah and Felicien Castermann, will all showcase at 1 venue with 10 fashion shows in 3days,  40 models, Seminars/Exhibition and International press.
Date: Friday 17th August 2012 – Sunday 19th August 2012
Time: From 9 AM Daily
Venue: Accra International Conference Centre, Ghana _______________________________________________________________________________________________________
i2X Media Company Limited & Images Concept present Word-Up
This Saturday, experience a one of a kind spoken word poetry and soul music event – Word Up – featuring A-list Nigerian poets including Sage Hasson, Chiedu Ifeozo, Bob Ekat, Uche Uwadinachi, Atilola, Nini Efem, Torpedo Mascaw, Efe Paul Azino, Plumbline, Olulu, Enigmatic Olumide, Ndukwe Onuoha, Tofarati, Soonest and Donna K. The event kicking off at 3 PM, will also see these Nigerian stars – Sound Sultan, W4 and Yeancah of Soundcity – take to the stage and perform their very own poetry, and promises to be an evening of poetic expressions in words and sounds and feature live soul music performances by D'Tone, Kafayat Quadri and Etcetera. Admission is free for all!
Date: Saturday 18th August 2012
Time: 3PM – 6PM
Venue: Lecture Theatre, University of Lagos Guest House, Akoka, Lagos _____________________________________________________________________________________________________________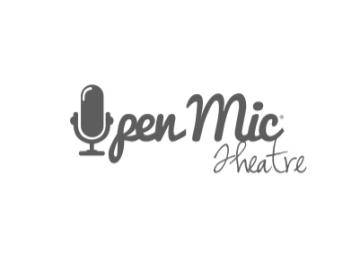 Open Mic Theatre
The fun and exciting Open Mic Theatre is back with a bang for its 7th edition and the beginning of "The Celebration Series". After previous editions of Open Mic Theatre, this edition will see attendees spend more quality time focusing on these actors – Angelina Jolie, Leonardo DiCarprio, Bimbo Akintola and Desmond Elliot and their works. Scheduled to attend this edition are Bimbo Akintola, Najite Dede, OC Ukeje, Okey Uzoeshi, Kehinde Bankole, Kemi Lala Akindoju, Uzo Osimkpa, Bikiya Graham-Douglas, KC Ejelonu, Wole Ojo, Ijeoma Agu, Seun Ajayi, Paul Alumona, Seun Kentebe, Leelee Byoma, Abiodun Kassim, Ayo Ajike and more. Ebisan will also be present to perform. Admission is free for all!
Date: Saturday 18th August 2012
Time: 6 PM
Venue: Terra Kulture, Plot 1376, Tiamiyu Savage, Off Ahmadu Bello Way, Victoria Island, Lagos __________________________________________________________________________________________________________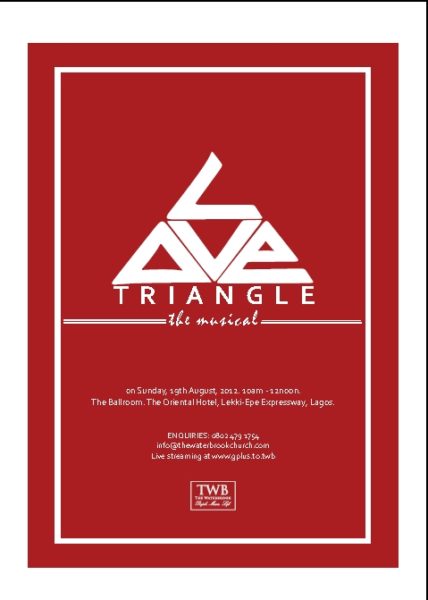 The Waterbrook Church presents The Love Triangle This Sunday, The Waterbrook Church (TWB) invites you to the exclusive viewing of the musical – The Love Triangle. It is a musical production portrayed by members of Expressions, TWB's in-house drama group. It is a heartwarming tale based on the biblical story of Jacob and the daughters of Laban, Rachael and Leah. Although this is one of the more famous stories in the bible, its typically told from either Jacob's or Rachel's point of view. In the Love triangle, the focus is on Leah. Her pain, frustrations and depression of being used as a bargaining chip and being married to a man who had his affections elsewhere. Admission is free for all!
Date: Sunday 19th August 2012
Time: 10 AM – 12 Noon
Venue: The Ballroom, The Oriental Hotel, Lekki-Epe Expressway, Lagos ____________________________________________________________________________________________________________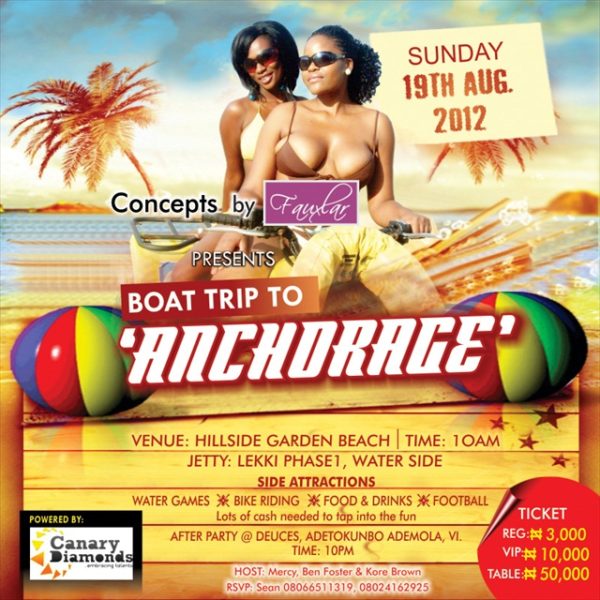 Boat Trip to Anchorage
On Sunday, Concepts by Fauxtar will hold a private beach party at the Hillside Garden Beach, Ilashe, Lagos. Side attractions include water games, bike riding, food drinks and football as well as guest performances. An after party will be held at Deuces, Adetokunbo, Ademola, Victoria Island, Lagos.
Date: Sunday 19th August 2012
Time: 10 AM | After Party 10 PM
Venue: Hillside Garden Beach, Ilashe, Lagos
Ticket Prices: Regular N 3000 | VIP N 10,000 | Table of 4 N50,000 – Call 08066511319 | 08024162925 | Log on to www.Grabdis.com for tickets
________________________________________________________________________________________________________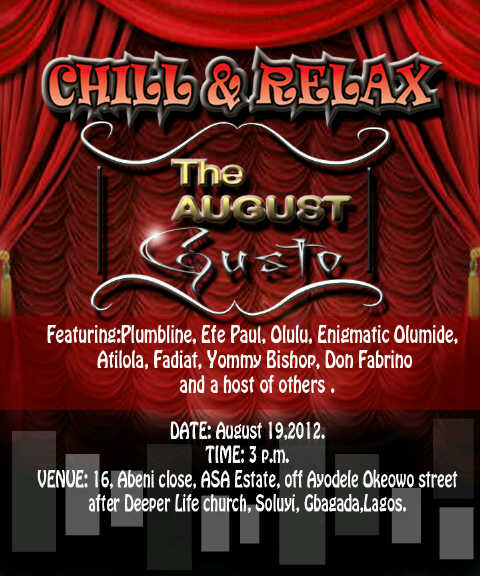 Chill & Relax presents the August Gusto
The August edition of Chill & Relax – a performance poetry and spoken word open mic session where everyone and anyone can step up and rock the mic – tagged "August Gusto" will take place this Sunday. Lagos' finest poets will also be present. Admission is free for all!
Date: Sunday 19th August 2012
Time: 3 PM
Venue: 16 Abeni Close, ASA Estate, off Ayodele Okeowo Street, After Deeper Life Church, Soluyi, Gbagada, Lagos _______________________________________________________________________________________________________________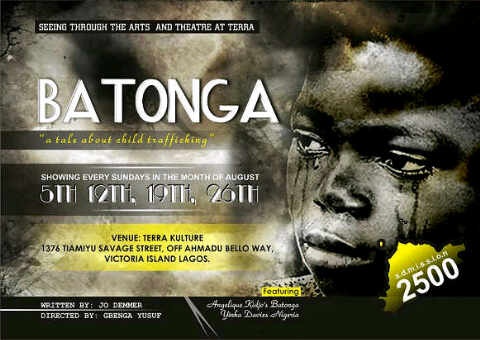 Batonga – The Tale of Child Trafficking
Experience Jo Demmer's stage play "Batonga – The Tale of Child Trafficking" live at Terra Kulture, Lagos this Sunday. The play which features Yinka Davies, promises to be fun and interesting from beginning to the end. Admission is free for all!
Date: Sunday 19th August 2012
Time: 1st Show 4 PM | 2nd Show 6 PM
Venue: Terra Kulture, Plot 1379 Tiamiyu Savage Street, off Ahmadu Bello Way, Victoria Island, Lagos
Ticket Prices: N 2,500 _________________________________________________________________________________________________
Photopower Nigeria Charity Photo Auction and Exhibition titled "Beyond the Frame"
Photopower Nigeria – a volunteer and charity initiative to empower youth through the use of photography – will hold an exhibition tagged "Beyond the Frame". The pilot project of this initiative worked with the Hope for Survival Orphanage Gishiri Abuja and 15 teenagers (ages 15 to 19) were taught to express themselves through photography. The exhibition will showcase work by these teenagers and raise funds for their orphanage as well as awareness.
Date: Monday 20th August 2012
Time: 1 PM
Venue: Thought Pyramid Art Gallery, 62 Parakou Crescent Opp Hotel Dabras/Mr Biggs Wuse II, Abuja _________________________________________________________________________________________________
BellaNaija.com is not responsible for the organization or further promotion of these events, neither do we have a stake in their sales or popularity. Inclusion in "Events This Weekend" is Free. Contact – adsales (at) bellanaija.com on or before Wednesday every week if you will like your event to be included. Note that BN reserves the right to choose which events are featured. "Pay to attend" parties attract a fee