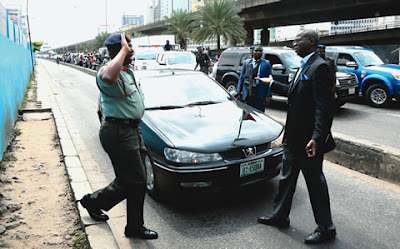 The buzz surrounding the arrest of two military officers for driving on the dedicated lane for Bus Rapid Transport (BRT) has evidently not died down.
On July 17, 2012, the Lagos State Governor, Babatunde Fashola received praise for stopping his convoy to accost two military officers who were driving on the BRT lane at the Outer Marina in Central Lagos.
Still in the wake of that news, the National Orientation Agency (NOA) has said that Governor Fashola will receive N30,000 from the agency for stopping soldiers driving on the dedicated BRT lane.
Mr. Mike Omeri, Director General of the agency told PM News that Fashola had shown courage by stopping the soldiers on the lane meant only for the BRT bus.
He added that every Nigerian that did a good including Fashola would be honoured by the agency.
The agency also gave a $200 reward to a taxi driver who found and returned $120,000 forgotten in his car by a passanger.
Similarly, Governor Fashola has signed the new Lagos Traffic Bill into law yesterday. According to Daily Times, the law prohibits eating, counting money, making phone calls and engaging in other dangerous activities while driving.
The provision prescribes a fine of N30,000 for violators.
The law also compels commercial bus drivers and their conductors to wear identification tags, while property owners are to report cases of abandoned vehicles in their vicinity or risk punishment.
Officials of the Lagos State Traffic Management Authority (LASTMA) are empowered to administer breathalysers on drivers to detect their drunkenness, while owners of commercial vehicles are compelled to obtain operating licences from government.