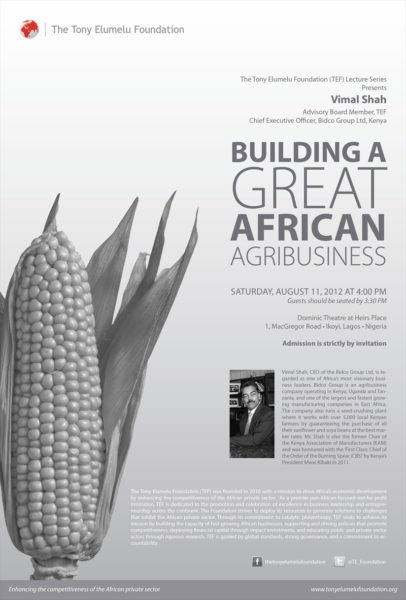 This Saturday, the Tony Elumelu Foundation Lecture Series will hold a seminar on Building a Great African Agribusiness at Dominic Theatre at Heirs Place, Ikoyi, Lagos.
The event kicking off by 4 PM will see in attendance Vimal Shah (Advisory Board Member, TEF and Chief Executive Officer, Bidco Group Ltd, Kenya), who has been regarded as one of Africa's most visionary business leaders. The event is strictly by invitation, for a chance at attending, send an e-mail to [email protected].org.
The great thing about Nigeria and the rest of Africa, is that there is a tremendous opportunity for work, business and entrepreneurship. In the last  decade, the continent has experienced a quantum leap as the rise of comparatively good governance, investment and strong business leadership has made the continent a more attractive place to invest.
As African businesses begin to take their place on the world stage, it has become crucial to have homegrown leaders and policy advisors who are able to combine solid learning with home experience – this is where the African Markets Internship Programme (AMIP) comes in. Created by the Tony Elumelu Foundation in 2011 (TEF) as its flagship programme for its commitment to African business leadership.
The 10 week internship attracts students from all over the globe enrolled at some of the finest institutions in the world. The emphasis is providing students hands-on experience in some of the continent's most exciting workplaces with the goal of fostering African business leaders and entrepreneurs by exposing them to fast growing exemplary businesses on the continent, and to develop potential non-African partners that understand what Africa is about. Last year, the AMIP associates were privileged to be a part of two strategy sessions hosted by Harvard Business School Professor – Michael E. Porter. This year, the second AMIP cohort is set to graduate next weekend, coinciding with TEF's 4th Advisory Board Meeting.
A series of events will be held to mark the occasion, one of them is the seminar Building a Great African Agribusiness with Vimal Shah. So be sure to get in touch with them to attend. The Tony Elumelu Foundation will also start accepting applications for AMIP 2013 in October – log on to their website for more info.
Date: Saturday 11th August 2012
Time: 4 PM
Venue: Dominic Theatre at Heirs Place, 1 MacGregor Road, Ikoyi, Lagos
Contact: For more info and general enquiries;
__________________________________________________________________________________________________________
Sponsored Content