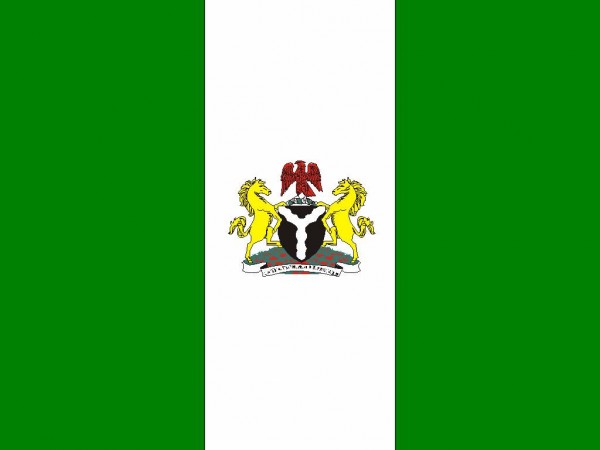 Hello BellaNaijarians, how are you all doing!
It's Thursday and as you know, it's that day of the week, when Africa's pace setter for all things entertainment, fashion, lifestyle, music and more – BellaNaija.com, keeps you constantly updated all the most buzzed events and places of interest to be spotted this weekend.
Nigeria will be 52 on Monday! To celebrate yet another Independence day, BN searched high and low for exciting events that will surely make this weekend a fantastic one of never ending fun and excitement.
Stay safe be true to who you are and keep dreaming BIG. See you all next week, Ciao!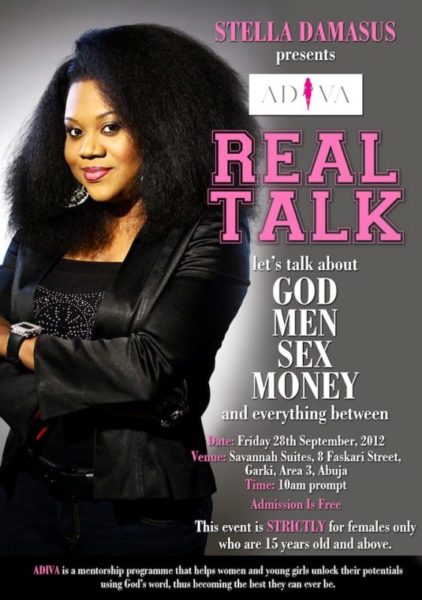 Stella Damasus presents Adiva: Real Talk
Tomorrow, Nollywood star, Stella Damasus will be talking with female Abuja residents on God, Love, Sex, Money and everything in between at the Savannah Suites, Abuja via her Adiva programme, a mentorship programme that helps women and young girls unlock their potentials using God's word, thus becoming the best they can ever be.
The event is strictly for females only who are 15 years old and above. Admission is FREE for all.
Date: Friday 28th September 2012
Time: 10 AM
Venue: Savannah Suites, 8 Faskari Street, Garki, Area 3, Abuja
_______________________________________________________________________________________
Rap Stars, MI & Naeto C to perform "Bartender" Live
Tomorrow, two of Nigeria's favorite rappers, MI and Naeto C, who are also this year's Hennessy Artistry headliners, will make their first Hennessy Artistry club appearance at Deuces Bar & Lounge, Lagos. Attendees at this event which will also see in attendance rising music stars, Dammy Krane and Burna Boy, will witness the very first performance of the Hennessy Artistry theme song "Bartender" by the music superstars.
Date: Friday 28th September 2012
Venue: Deuces Bar & Lounge, Victoria Island, Lagos
___________________________________________________________________________________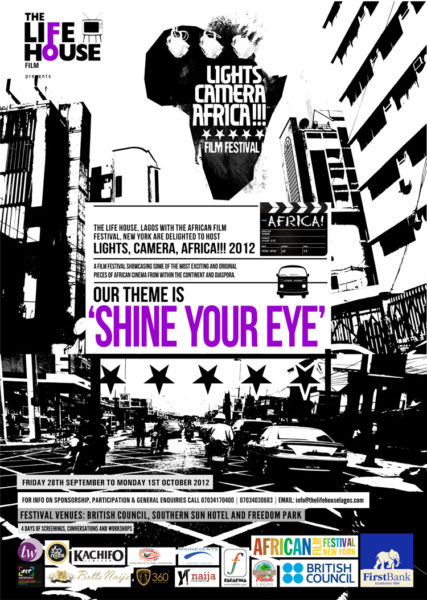 Lights, Camera, Africa!!! 2012 Film Festival – Shine Your Eye
The Life House Lagos, through its film programme and in partnership with the African Film Festival, will host the 2nd edition of its Lights, Camera, Africa!!! Festival from Friday 28th September to Independence day, Monday 1st October 2012. This edition themed Shine Your Eyes, will bring to you the very best of the brightest ideas in African cinema and includes a special prize for the festival's favourite. For full details of the festival, check out their Facebook page
Date: Friday 28th September 2012 – Monday 1st October 2012
Time: Friday – Sunday 10 AM | Monday 3 PM
Venue: British Council, Victoria Island, Lagos | Southern Sun Hotel, Ikoyi, Lagos | Freedom Park, Victoria Island, Lagos
Contact: For more info and general enquiries, call 07034170400 | 07034030683 | e-mail [email protected]
_____________________________________________________________________________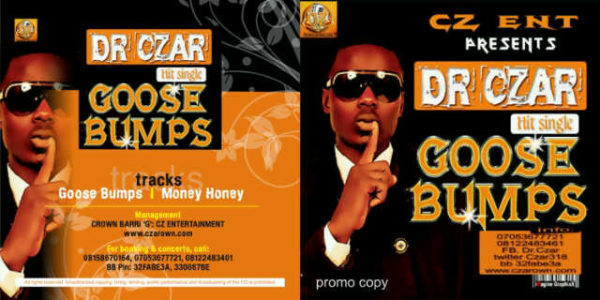 The Album Launch of Dr. C'Zar
Budding Nigerian artiste/Entrepreneur, Dr. C'Zar will launch his album this Friday at the Bomas of Kenya, Nairobi Kenya. The artiste who recently released his single, Goose Bumps, will perform alongside other artistes including Red Cross, D'Pee and Honey Bee and G-Dog on the D-Day. Anchored by Kofi Doma, the event which will kick off at 5 PM, promises to be a fun, thrilling and entertaining event. For table bookings and tickets, call 07030410335.
Date: Friday 28th September 2012
Time: 5 PM
Venue: Bomas of Kenya, Kuwinda  Nairobi, Kenya
______________________________________________________________________________________________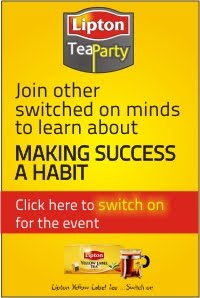 Lipton Tea Party
One of Nigeria's tea producing brands, Lipton Tea will hold a fabulous tea party this Friday at the Federal Palace Hotel, Victoria Island, Lagos. The event is a networking gathering and an opportunity to meet as well as interact with great minds. For an invitation, send your name, phone number and place of employment to [email protected]
Date: Friday 28th September 2012
Time: Yellow Carpet 5 PM
Venue: Federal Palace Hotel, Victoria Island, Lagos
______________________________________________________________________________________
Guinness VIP Black Party
Yesterday was the Arthur Guinness Day celebration and a Guinness VIP Black Party will be held today, Friday 28th September 2012 at the La Mango Restaurant and Bar, Ikeja, Lagos, to celebrate the epic day. All Guinness Foreign Extra Stout lovers, are invited to come and join in the celebration and raise their glasses to the remarkable heritage of Arthur Guinness. To win tickets to the event, like their Facebook Page – www.Facebook.com/GuinnessVIP, to join million of other people around the world in celebrating Arthur Guinness. The dress code for the event is black and trendy. The energetic DJ Xclusive will be present at the event to deliver the best of music on the wheels of steel.
Date: Friday 28th September 2012
Time: Black Carpet 7 PM
Venue: La Mango Restaurant & Bar, 2 Adekunle Fajuyi Way, GRA, Ikeja, Lagos
_________________________________________________________________________________________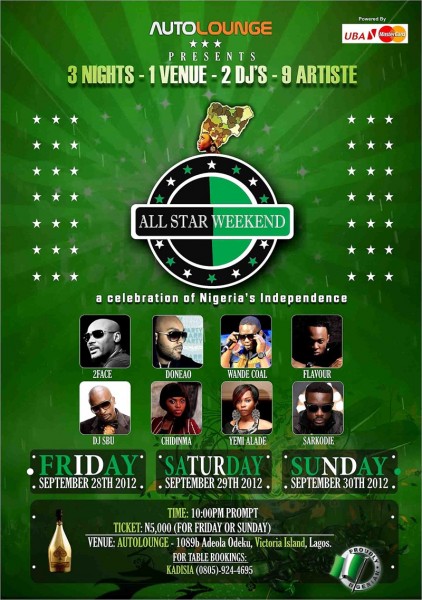 Auto Lounge presents its All Star Weekend
Get yourself ready to party with some of your favourite stars for 3 Days at Auto Lounge, a prestigious bar and lounge set in the heart of the vibrant Victoria Island, Lagos, presents its All Star Weekend. The event organised to celebrate Nigeria's 52nd independence day will kick off on Friday 28th September 2012 and will run till Sunday 30th September 2012. To keep you entertained from day 1 to 3 are 9 of Africa's most wanted entertainers –  2Face Idibia, Flavour, Wande Coal, Sarkodie, Chidinma, Donae'o, Yemi Alade, L.O.S and Burna Boy. Top disc jockeys, DJ SBU and DJ Jigs will also be present live. So you are definitely in for a treat.
Dates: Friday 28th September 2012, Saturday 29th September 2012 & Sunday 30th September 2012
Time: 10 PM Daily
Venue: Auto Lounge, 1089B Adeola Odeku, Victoria Island, Lagos
Ticket Prices: N 5,000 (For Friday or Sunday) – They can be purchased at the venue.
Contact: For more info and table bookings, call Kadisia on 08059244695
_______________________________________________________________________________________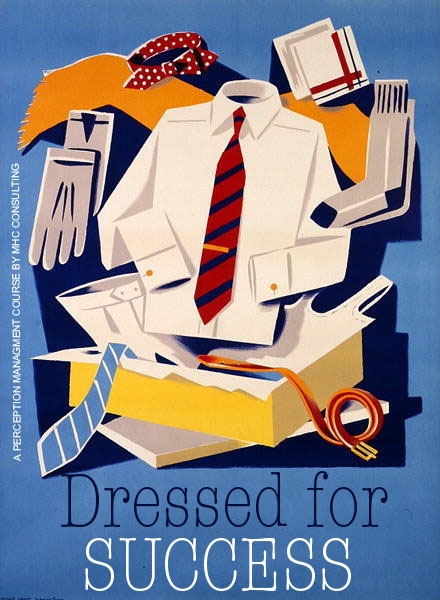 Dressed for Success
Dressed For Success is an event that is about helping you improve on your presence, your attitude and the way you make people feel. It is designed to create a paradigm shift in the minds of individuals and lead to a change in the way success in working environments is perceived. For more details, call 08022545519 and send an e-mail to [email protected]
Date: Saturday 29th September 2012
Time: 9 AM – 4 PM
Venue: Canton Concourse, Beside Shoprite, Lekki, Lagos
_________________________________________________________________________________________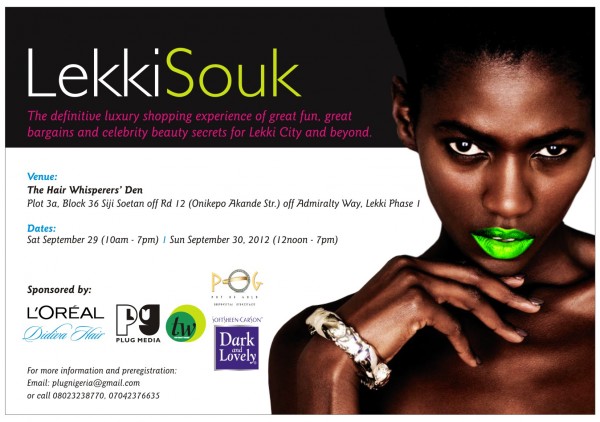 Lekki Souk
Lekki Souk, one of the finest luxury shopping events in Lagos, for great fun, great bargains and celebrity beauty secrets, will take place this weekend. The creative team behind the shopping extravaganza, Ebun Feludu and Dayo Adeyinka, have teamed up with world giant make-up brand, L'Oreal Central West Africa to give free professional hair and networking opportunities for attendees as well as get a sneak peek of 2013 collection. There will also be free consultation by Mandi Osoba Omakomaiya and all guests will enjoy a fun filled day. To register for the free beauty clinic, send an e-mail to [email protected] with your name, phone number and e-mail address.
Date: Saturday 29th September – Sunday 30th September 2012
Time: Saturday 10 AM – 7 PM | Sunday 12 Noon – 8 PM
Venue: The Hair Whisperers' Den, Plot 3A, Block 36, Siji Soetan Street, off Road 12 (Onikepo Akande Street), off Admiralty Way, Lekki Phase 1, Lekki, Lagos
______________________________________________________________________________________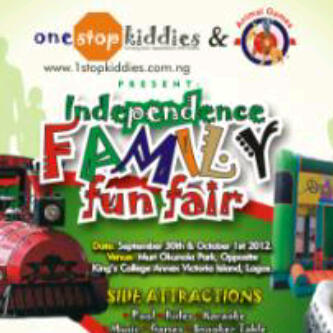 Independence Family Funfair
Enjoy a fun day out with the family at the Muri Okunola Park, Victoria Island, Lagos. There will be lots of side attractions like music, games, fun rides and more.
Date: Saturday 29th September 2012 – Sunday 30th September 2012
Time: 10 AM – 6 PM
Venue: Muri Okunola Park, Victoria Island, Lagos
Ticket Price: N 1500
_______________________________________________________________________________________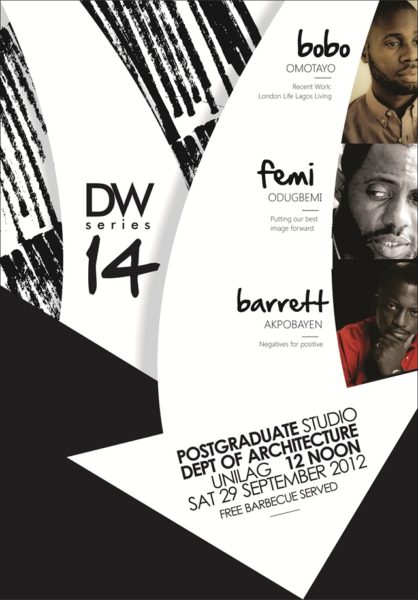 Designer Workshop Series with Bobo Omotayo, Barrett Akpobayen & Femi Odugbemi
This Saturday, another edition of Designer Workshop Series,  a socio-interactive workshop series that bridges the gap between leading practitioners and students in the fields of art, design and culture, will hold at PG Architecture Studio, University of Lagos. Speaking at this edition are Barrett Akpobayen, artist, photographer and designer, Femi Odugbemi, director of iREP documentary film festival and founding content producer of Tinsel and Bobo Omotayo, author of "London Life, Lagos Living". Admission is  free for all, but you have to RSVP by registering here
Date: Saturday 29th September 2012
Time: 11:30 AM
Venue: PG Architecture Studio, University of Lagos, Akoka, Yaba, Lagos
________________________________________________________________________________________________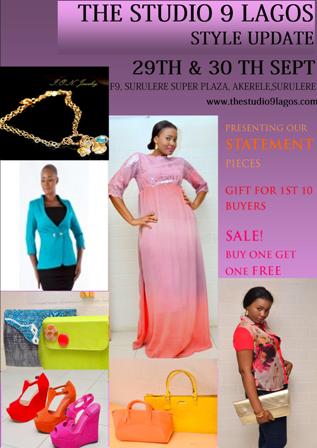 The Studio 9 Lagos Style Update
Shop for Underwear- N300, Jewellery pieces -N750, Shoes- N4000, Hand bags/ Clutches-N5000 and Dresses- N3000 at the Studio 9 Lagos Style Update event taking place on Saturday and Sunday. Admission is free for all.
Date: Saturday 29th September 2012 – Sunday 30th September 2012
Time: 12 Noon
Venue: Suite E9, Surulere, Super Plaza, Opposite Havana Hospital, Akerele, Surulere, Lagos
__________________________________________________________________________________________________
Lady Biba Garden Party
Nigerian design label, Lady Biba presents a one of its kind shopping experience – The Lady Biba Garden Party. This fashion gathering will feature the latest collection from the fashion house as well as the opportunity for attendees to view samples not yet publicly available for buying. Other vendors at the event will provide an additional array of interesting buys including confectionery and accessories. It promises to be a relaxed environment for customers to shop, eat and drink. A percentage of the proceeds will be pledged to charity. Admission is free for all.
Date: Saturday 29th September 2012
Time: 12 Noon – 7 PM
Venue: 51B Bishop Oluwole, Victoria Island, Lagos
___________________________________________________________________________________________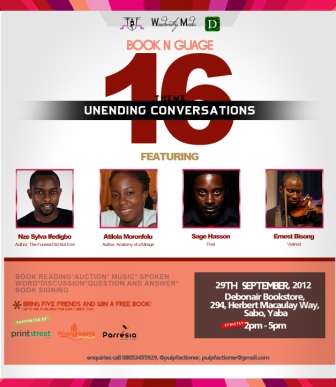 Book N Gauge 16: Unending Conversations
Book N Gauge, the monthly Book Culture event, will feature Sylva Nze Ifedigbo author of the recently published collection of short stories, The Funeral Did Not End and Atilola Moronfolu, author of Antonyms of a Mirage. The event, in its sixteenth edition, will draw from the theme: Unending Conversations.  It will seek to explore how literature is fuelling never ending conversations about issues that are dear to the hearts of the organizers. In the boundless spirit of unending conversations, the 16th edition will also feature Nigeria's premier spoken word Poet, Sage Hasson and Violin aficionado, Ernest Bisong.
Date: Saturday 29th September 2012
Time: 2 PM – 5 PM
Venue: Debonair Bookstore, 294 Hubert Macaulay Way, Sabo, Yaba, Lagos
_________________________________________________________________________________________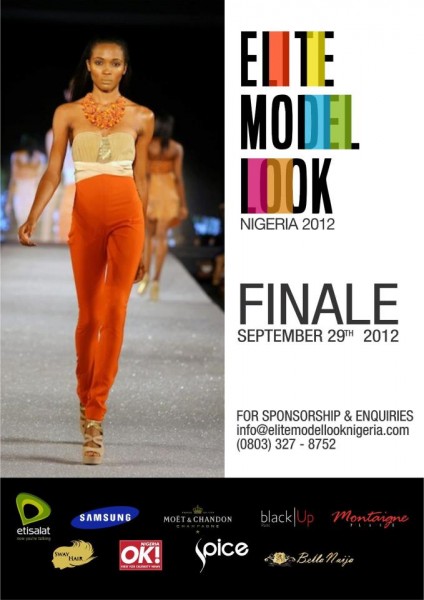 Elite Model Look Nigeria 2012 Finale
The prestigious international acclaimed modelling competition, Elite Model Look Nigeria, which has immensely accelerated the careers of many aspiring and upcoming talents to become international top models, will hold the finale of its 5th edition Male & Female Search on Saturday 29th September 2012 at the Federal Palace Hotel, Victoria Island, Lagos. At the finale, the 20 finalists from all walks of  life, will strut the runway, whereby the lucky contestant in each category (Male & Female) who is up to the criteria required by the judges to earn the prestigious title of the Elite Model Look Nigeria 2012 would be chosen. It promises to be a thrilling and exciting event from beginning to the end.
Date: Saturday 29th September 2012
Time: 7 PM
Venue: Federal Palace Hotel, Victoria Island, Lagos
Ticket Prices: Regular N 10,000 | VIP N 25,000 | Platinum VIP N 50,000
Ticket Locations: Ticket Hotline 08033278752 | black|Up Paris Store, Ikeja City Mall, Alausa, Ikeja, Lagos | Montaigne Place, 266B Muri Okunola, off Ajose Adeogun, Victoria Island, Lagos | Blush, 1388 Tiamiyu Savage, Victoria Island, Lagos | The Studio, 71 Raymond Njoku, Ikoyi, Victoria Island, Lagos
Contact: For more info and general enquiries, e-mail  [email protected] |[email protected]
________________________________________________________________________________________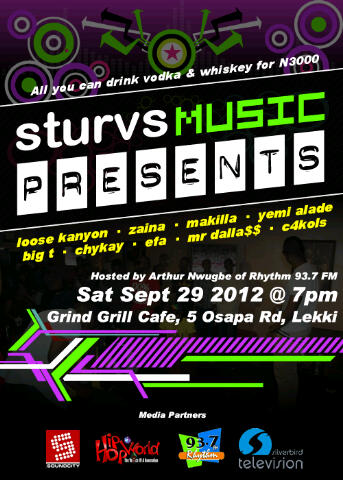 Sturvs Music presents a Night of Music with Rising Music Stars
On Saturday, Sturvs Music in collaboration with Grind Grill Cafe, Lagos, will hold a fun evening of non stop musical performances by these rising Nigerian music acts – Loose Kaynon, Efa, Yemi Alade, Big T, Makiller, Phizzle, Mr. Engager, Zaina and Mr Dalla$$. The event will kick off by 7 PM and will be hosted by Rhythm 93.7 on-air-personality, Arthur Nwugbe.
Date: Saturday 29th September 2012
Time: 7 PM
Venue: Grind Grill Cafe, Osapa London, Lekki, Lagos
___________________________________________________________________________________________
Runway Meets Church
Runway Meets Church, is a Waterbrook Church organised event where top Nigerian fashion houses including Tiffany Amber, Ituen Basi, Jewel by Lisa, Lanre Da Silva Ajayi, Mai Atafo, Okunoren Twins, Unania and Enthyst Clothing will be present live to showcase their fab pieces. To attend, call 08024791754.
Date: Sunday 30th September 2012
Time: 10 AM
Venue: Oriental Hotel, Lekki, Lagos
________________________________________________________________________________________
NS1463 & 3CNC Independence Day Charity Cookout
On Sunday, join clothing brand, NS1463 and 3CNC for their Independence Day Charity Cookout, where attendees will get buy NS1463 items at a 50% discounted rate, eat, drink, mingle as well as help raise funds for the less privileged. Admission is free for all.
Date: Sunday 30th September 2012
Time: 11:30 AM – 8 PM
Venue: Bics Garden Lekki, off Admiralty Road, Lekki Phase 1, Opposite B20,Wole Olateju, Crescent, Lekki, Lagos
_____________________________________________________________________________________________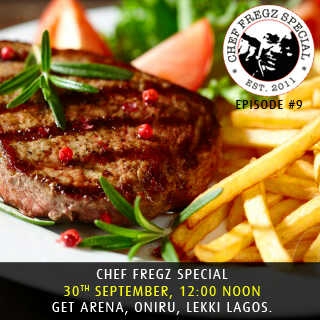 Chef Fregz Special
It's going to be one yummy weekend! Another edition of Chef Fregz Special will take place this Sunday at the GET Arena, Lagos. Admission is free for all!
Date: Sunday 30th September 2012
Time: 12 Noon
Venue: GET Arena, Oniru, Lekki, Lagos
____________________________________________________________________________________________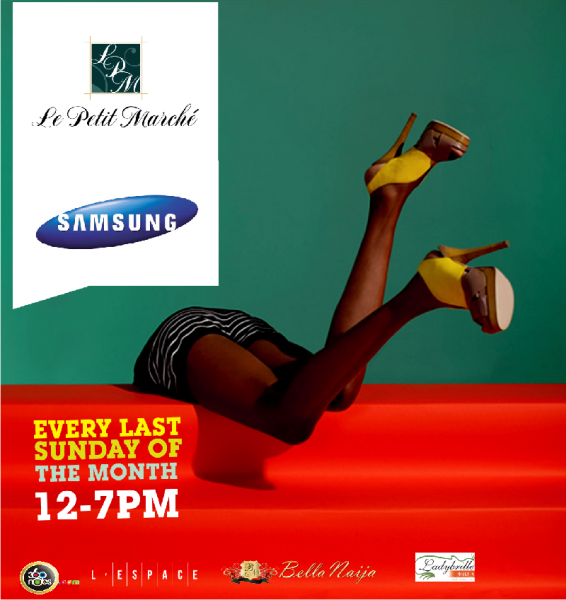 LPM September 2012
This September edition of the monthly shopping fiesta, Le Petit Marche, will take place in grand style this Sunday at the GET Arena, Lagos. Attendees will get to shop for clothes, shoes, bags, accessories, food, home ware and more from vendors stocked with items from Nigeria and beyond. Lots of designers and entrepreneurs will also be present.
Date: Sunday 30th September 2012
Time: 12 Noon – 7 PM
Venue: The GET Arena, Oniru, Victoria Island, Lagos
________________________________________________________________________________________________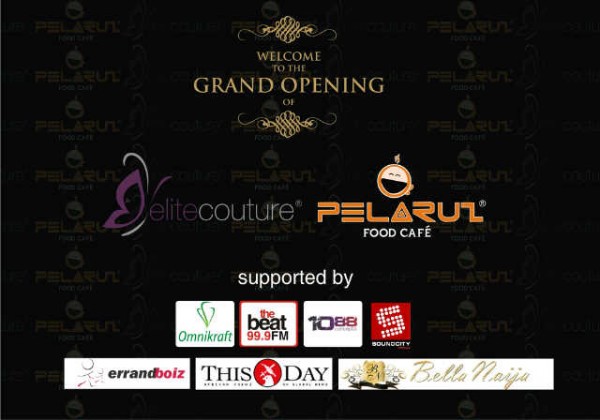 Grand Opening of Elite Couture & Pelaruz Food Cafe
All roads lead to Ikoyi, Lagos this Sunday for the grand opening of Elite Couture and Pelaruz Food Cafe. The cafe located at the heart of South-West, Ikoyi, has a wide variety of meals and drinks on its menu. The opening promises to be a grand affair with a great opportunity for networking, munching amazing food and a delightful fashion show, which will see all clothes showcased at the venue will be sold for a discount rate of 10 – 25%
Date: Sunday 30th September 2012
Time: 3 PM
Venue: 11 Keffi Street Opposite BEAT FM, Ikoyi, Lagos
Contact: For more info and general enquiries, call 08081513389 | 08069636973 | 07033675330 | e-mail [email protected] | Like their Facebook page
______________________________________________________________________________________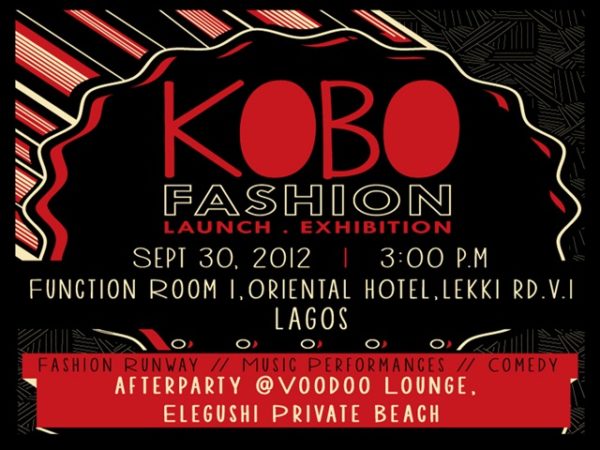 Kobo Fashion Launch & Exhibition
Budding Nigerian fashion brand, Kobo will officially launch this Sunday at the Oriental Hotel, Lekki, Lagos. The event will feature a fashion presentation by the label as well as see attendees buy Kobo's outfits at a discounted rate musical and comedy performances by some of Nigeria's most wanted. Admission is free for all.
Date: Sunday 30th September 2012
Time: 3 PM
Venue: Function Room 1, Oriental Hotel, Lekki Road, Victoria Island, Lagos
___________________________________________________________________________________________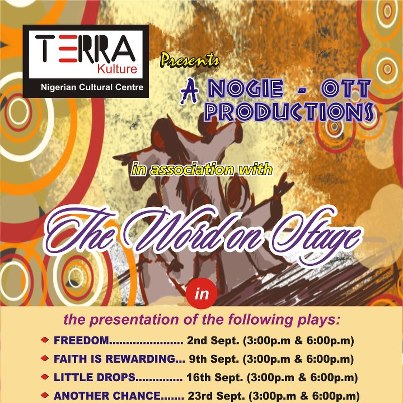 Terra Kulture presents The Word On Stage
Head down to Terra Kulture for a fun day of drama presentation. It promises to be exciting.
Date: Sunday 30th September 2012
Time: 3 PM & 6 PM
Venue: Terra Kulture, Plot 1376, Tiamiyu Savage,Off Ahmadu Bello Way,Victoria Island, Lagos
________________________________________________________________________________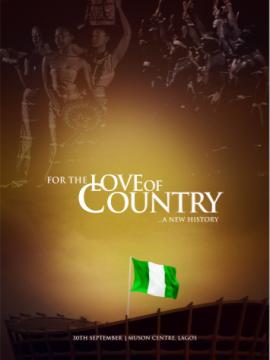 For the Love of Country
Nigeria's 52nd Independence Anniversary is taking place on Monday and to make the celebration a memorable one for all, a musical show, For the Love of Country featuring performances by Onyeka Onwenu, Timi Dakolo, Bez, Kemi "Lala" Akindoju, Omoye Uzamere, Yinka Davies, Tosin Martins and Modele, will hold this Saturday at the MUSON centre.
Date: Sunday 30th September 2012
Time: 4 PM
Venue: MUSON Centre, Onikan, Lagos
Contact: For more information and enquiries; e-mail [email protected] | Visit their Facebook page | Follow them on Twitter @Cre8iveNigeria | Visit their website
____________________________________________________________________________________
The Tosho Woods Woman
Nigerian design label, Tosho Woods will be presenting its latest collection "The Tosho Woods Woman". Make it a date. Admission is free for all.
Date: Sunday 30th September 2012
Time: 4 PM
Venue: Suite E9, Surulere, Super Plaza, Opposite Havana Hospital, Akerele, Surulere, Lagos
___________________________________________________________________________________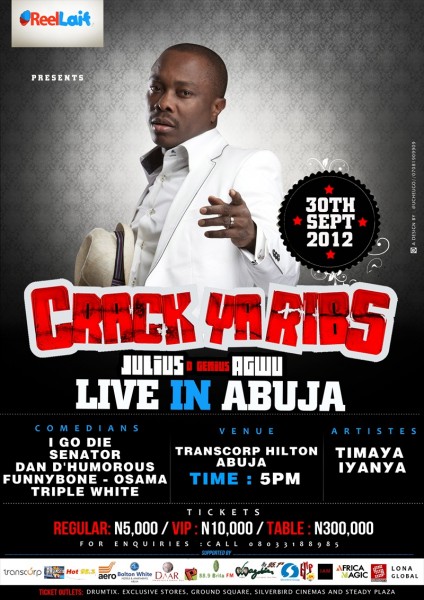 Crack Ya Ribs with Julius D'Genius Agwu – Live in Abuja
After staging spectacular concerts in Glasgow, London, New York, Houston and Dallas, Superstar Nigerian comedian and musician, Julius Agwu is billed to thrill all Abuja residents at the 2012 edition of Crack Ya Ribs show set to take place on Sunday 30th September 2012 at the prestigious Transcorp Hilton Hotel. To deliver rib cracking jokes alongside Julius Agwu are I Go Dye, Senator, Dan D'Humorous, Funny Bone, Osama and Triple White and there would be musical performances by Timaya and Iyanya. It promises to a fun filled night that the residents of the Nation's capital city will never forget.
Date: Sunday 30th September 2012
Time: 5 PM
Venue: Transcorp Hilton, 1 Aguiyi Ironsi Street, Maitama, Abuja
Ticket Prices: Regular N 5,000 | VIP N10,000 | Table N 300,000
Ticket Locations: You can get your tickets at the following places, Drumstix, Wuse II, Abuja | Ceddi Plaza, Abuja | Grand Square, Abuja | Exclusive Stores, Plot 1202, Adetokunbo Ademola Crescent, Wuse II, Abuja | Silverbird Cinemas, Plot 1161, Memorial Drive, By Musa Yar'adua Center, Central Business District, F.C.T, Abuja
Contact: For more info and general enquiries, call 08033188985
________________________________________________________________________________________________
The Stage – "Talents & Skills"
This Sunday, a music, fashion, dance, visual arts, poetry, comedy and other creative arts gathering all about showcasing the best of Nigerian talents and skills, The Stage, will take place at Koga. Admission is free for all.
Date: Sunday 30th September 2012
Time: 5 PM
Venue: Koga, 2 Bolaji Street, Oregun, Ikeja, Lagos
________________________________________________________________________________________________
VGC Live
VGC Club in partnership with Africa Related present a special anniversary evening blending jazz, Afrobeat and cultural old school classics to celebrate Nigeria's Independence Anniversary and VGC club at 5, VGG Live. The event will take place on Sunday and will be hosted by Nigeria Info on-air-personalities, Michelle & Katherine, and will feature a special presentation by the Iroko Percussion of Africa as well as live performance by afrobeat jazz band, Ayetoro with directions in music by Funsho Ogundipe. The event is free for all VGC Club members but non members will be required to pay N 2,000 at the gate.
Date: Sunday 30th September 2012
Time: 7 PM – 11 PM
Venue: Poolside, Victoria Garden City Club, Ajah, Lagos
________________________________________________________________________________________________
Ella & Gabby Pop Up Shop
Nigerian design label, Ella & Gabby is cordially inviting you to its pop up shop event taking place this Monday in Lekki, Lagos. Attendees would be able to shop the Ella & Gabby diffusion line and enjoy an exclusive discount on its luxury line. Admission is free for all.
Date: Monday 1st October 2012
Time: 10 AM – 5 PM
Venue: 2 Bergamot Street, Northern Foresure Estate, Chevron Roundabout, Lekki, Lagos
_____________________________________________________________________________________________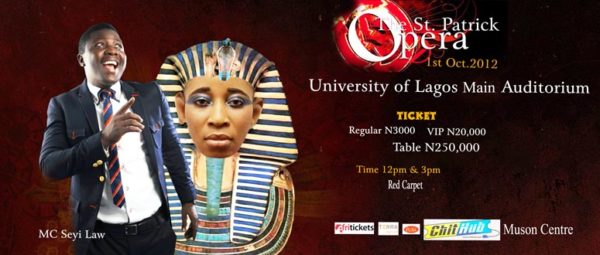 The St. Patrick's Opera
A world class acclaimed opera/musical shall be staged in grand style this Monday to mark the Nigerian Independence day. The event is all about well-coordinated music, orchestra performances, colourful drama, energetic dance and ball room performances and loads of comedy by award winning comedian, Seyi Law. For VIPs, VVIPs and Tables, call 08060778114 | 07031648750
Date: Monday 1st October 2012
Time: 12 Noon & 3 PM
Venue: University of Lagos, Main Auditorium, Akoka, Yaba, Lagos
Ticket Price: N 3, 000
_________________________________________________________________________________________________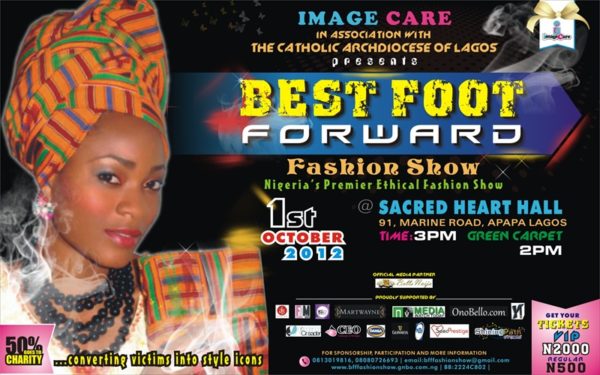 The Best Foot Forward Fashion Show
On Monday, Image Care in association with Catholic Archdiocese of Lagos presents the Best Foot Forward Fashion Show, a premier ethical fashion event with the aim of finding a solution to the problem of inappropriate dressing in the society. There would be 10 creative African designers, 30 models, an exhibition, a runway show, comedy and musical performances, contests and lots of celebrities and socialites in attendance. This event will also award fashion empowerment scholarship to two indigent youths to enable them be self reliant.
Date: Monday 1st October 2012
Time: Green Carpet Starts 2 PM
Venue: Sacred Heart Hall, Marine Road, Apapa
Contact: For more info and general enquries, call 08130198616 | e-mail [email protected]l.com
__________________________________________________________________________________________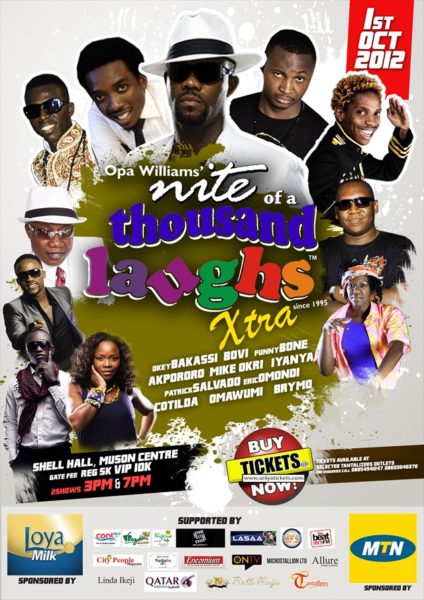 Nite of a Thousand Laughs Xtra
After putting an end to the Nite of a Thousand Laughs franchise, Opa Williams, the creator of the show which has been thrilling Nigerians since 1995, is bringing it back with a bang this Independence Day. The first edition of the Nite of a Thousand Laughs Xtra will take place on Monda at the MUSON Centre, Onikan, Lagos. It promises to be a fun day for all, as attendees will enjoy rib cracking jokes from some of the Nation's most hilarious, which include Okey Bakassi, Bovi, Funny Bone and Akpororo. East Africa's most funniest including Patrick Salvado and Cotilda from Uganda as well as Omondi from Kenya, will also be present at the event to thrill all. There would also be musical performances by Brymo, Omawumi, Iyanya and Mike Okri.
Date: Monday 1st October 2012
Time: First Show 3 PM | Second Show 7 PM
Venue: Shell Hall,  MUSON Centre, 8/9 Marina, Onikan, Lagos
Ticket Prices: Regular N 5,000 | VIP N 10,000
Ticket Locations: At Selected Tantalizers Restaurants | www.AriiyaTickets.com
Contact: For more info and general enquiries, call 08054941247 | 08033046370
_____________________________________________________________________________________________
BellaNaija.com is not responsible for the organization or further promotion of these events, neither do we have a stake in their sales or popularity. Inclusion in "Events This Weekend" is Free. Contact – adsales (at) bellanaija.com on or before Wednesday every week if you will like your event to be included. Note that BN reserves the right to choose which events are featured. "Pay to attend" parties attract a fee