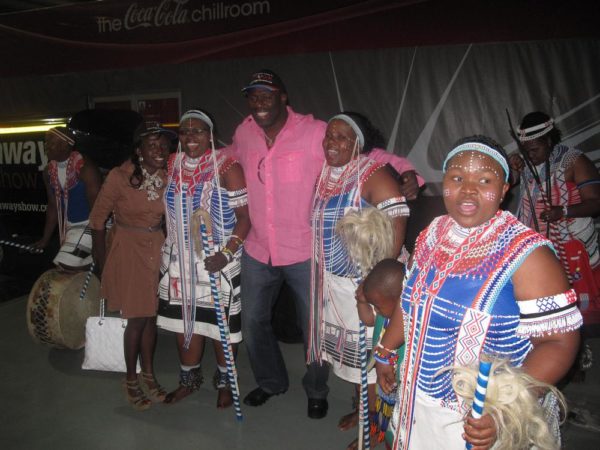 I am now convinced that I have one of the best jobs in the world. Of course it gets hectic, indeed a lot of times, but work-cum-vacation doesn't get better than an all expense paid trip to one of the choicest destinations in the world.
The past few days have been some of the most exciting and fun-filled days I've had in a very long time. I am currently in South Africa under the invitation of the South Africa Tourism with a delegation of journalists from Nigeria and it has so far been quite an interesting trip.
As part of our itenerary, we witnessed the Tourism Month Launch which started in Johannesburg yesterday 31st August, 2012. The Nigerian Tourism Minister, Edem Duke, who is also in South Africa opened the event along with the South African Tourism Minister, Marthinus Van Schalkwyk.
The two ministers are re-visiting the 'Cooperation in the field of Tourism Agreement' signed in 2008 which would allow both countries forge partnerships and working relationships that would further boost and grow the tourism sectors to provide employment opportunities.
The tourism agreement between South Africa and Nigeria covers interactions between tourism and travel trade officials; the exchange of tourism research and statistics and human resource development. It also includes investment, exchange programmes, joint marketing, the establishment of a joint commission, entry formalities and environmental matters between the two countries.
Aside from the Tourism Month Launch, we are being taken on a whirlwind of fun filled activities which has left us feeling heady and I have already developed a soft spot for the beautiful country and its friendly people.
From Johannesburg to Cape Town, we have experienced the best of South African hospitality, tasty cuisine and feasted our eyes on the country's beautiful scenery. Our visit has included lodging in 6 star hotels, an exhilarating boat cruise, lovely night life experience an of course, lots of shopping!
I am so glad to be on this trip to one of Africa's greatest and most beautiful countries and I will be sharing with you more pictures and stories of my trip. In the mean time, I'd just have some more fun so that I can have more to share with you.
Photos from the Tourism Month Launch
The event also featured an exhibition where several manufacturers and service providers displayed their products and services to visitors. I had an interesting time touring the stands.
More details of my South African experience coming soon on BN Travel!